Bowmore is releasing a 36-year-old single malt matured in the same parcel of Sherry casks used to create the rare Bowmore Sea Dragon.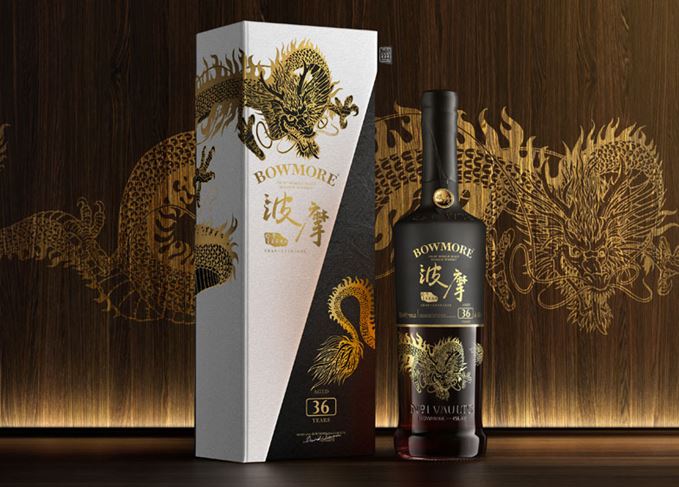 Bowmore Dragon Edition is the first in a series of four whiskies being released in honour of the 'Four Guardians' that feature in Chinese mythology – the Azure Dragon of the East, the Vermilion Bird of the South, the White Tiger of the West, and the Black Turtle (also called Black Warrior) of the North.
The Dragon Edition has been created from the same parcel of casks used for the Bowmore 30 Year Old Sea Dragon released in a ceramic bottle in the 1990s, as well as two later editions bottled in glass in 2006 and 2012.
Containing some much-revered Bowmore single malt distilled in the 1960s, the now rare expressions have become regarded as classic examples of the Islay distillery's character at the time.
David Turner, Bowmore distillery manager, said: 'This new expression is a homage to the 30 Year Old Sea Dragon that's been much loved and collected by Bowmore fans across China.
'We've taken this amazing legacy and renewed it for the next generation of whisky drinkers.'

Rare icon: Bowmore Sea Dragon was a 30-year-old whisky released in the 1990s

Just 888 bottles of the Bowmore Dragon Edition are being made exclusively available at Whisky L Shanghai (10-12 August), and through selected retailers in China.
Matured exclusively in ex-Sherry casks, the whisky is said to have aromas of 'tropical fruit, toffee apple and caramelised orange', with notes of 'dried fruits… roasted coffee beans and dark chocolate' on the palate.
Bowmore Dragon Edition will be available to purchase for US$2,000 per bottle.