Macallan distillery in Speyside has been named one of the world's 100 must-visit destinations by Time magazine, ranking alongside the Star Wars: Galaxy's Edge park at Disneyland, and Australia's Uluru.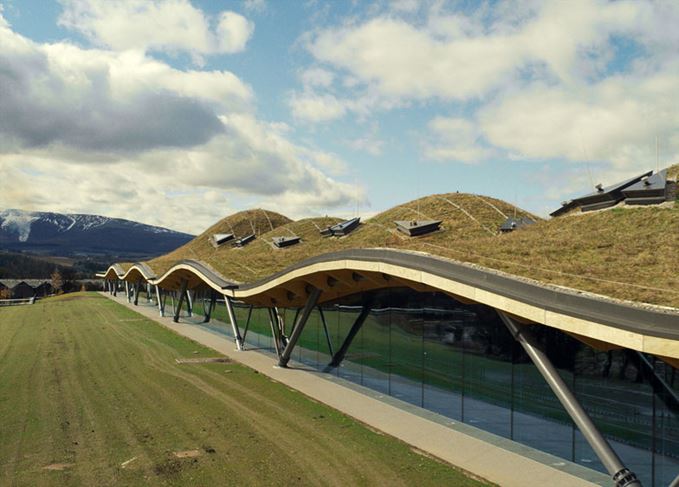 The subterranean Scotch whisky distillery, which opened to the public in June 2018, was named among the influential US magazine's 2019 Greatest Places.
Designed by Rogers, Stirk, Harbour + Partners, the £140 million distillery is housed within an underground space fitted with an undulating, grass-covered roof to mimic the rolling hills of the surrounding Spey countryside.
Macallan's original distillery, which is also situated on the Easter Elchies estate in Speyside, was decommissioned in October 2017.
Since its opening, the new Macallan distillery has won a series of accolades for its unique architecture, including the RIAS Award 2019 and the RIBA Award for Scotland 2019, and is shortlisted for the RIBA Stirling Prize, which will be announced in October.
Time's second annual list of the world's top destinations features a selection of museums, parks, restaurants and hotels compiled by its own editors, correspondents and industry experts.
The nominated locations were then evaluated based on key factors, 'including quality, originality, sustainability, innovation and influence'.

In the round: Macallan's 36 copper pot stills are arranged in circular 'pods'

Commenting on the selection criteria the magazine's editorial team wrote: 'How does one measure the greatness of a place – in miles covered, dollars spent, or visitors captivated?
'Such metrics can play a part, but also important is something that many travelers [sic] aspire to experience: the sense that one has stumbled upon the extraordinary.'
The list also features two other UK landmarks: the V&A Museum in Dundee, and the University Arms Cambridge.
Fiona Hyslop, MSP for Culture, Tourism and External Affairs, said both the V&A Dundee and Macallan distillery 'represent the very best of Scotland's tourism experience'.
She added: 'Whisky tourism continues to grow and last year visitor numbers to distilleries hit two million for the first time ever.
'The Macallan distillery is an architectural wonder and in its innovative telling of the story of whisky is helping to lead whisky tourism.'
Visits to Scotland's whisky distilleries have increased by 56% since 2010, according to figures compiled by the Scotch Whisky Association, which the body has claimed reflects a 'growing curiosity about Scotch whisky'.
Macallan expects to eventually welcome around 50,000 visitors a year through its doors alone.
Igor Boyadjian, managing director for Macallan, said: 'We look forward to continuing to welcome visitors from all across the world to our brand home, which is a reflection of the vision, commitment and collaboration from our team and partners.
'Together, their unwavering commitment to excellence enabled us to deliver this unique and striking piece of contemporary architecture.'
Laurie Piper, operations manager of Moray Speyside Tourism, added: 'News that the new Macallan distillery has reached Time magazine's 2019 World's Greatest Places list is no surprise to us here in Moray Speyside – we've seen the effect it's already had on tourism in the area, and as the true home of malt whisky, it can only be a good thing for the region's tourism industry that such a fantastic, inspirational and innovative building at the heart of Speyside is recognised at worldwide level.'
Other worldwide drink destinations that made the Time 2019 Greatest Places list include the DogHouse Hotel and Brewery in Columbus, Ohio; House of Sandeman in Porto, Portugal; the Long Bar at Raffles Hotel, Singapore; and CO Cellars in Burlington, Vermont.