Arran distillery has created a 'new identity' for its single malt range with updated packaging and the launch of two new single malts.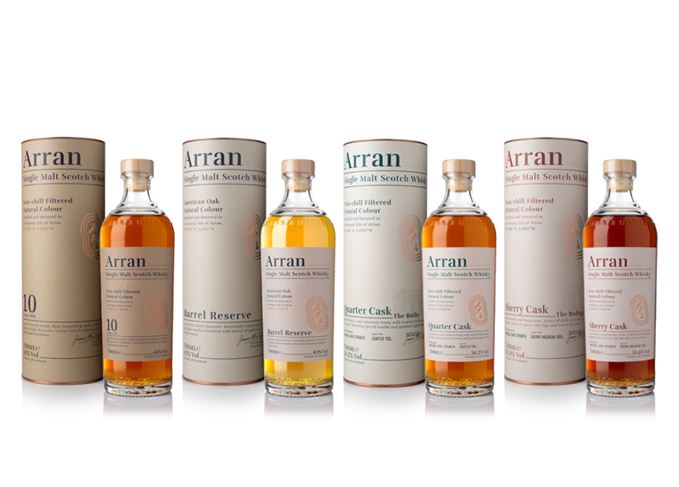 Arran's 'fresh' new look follows the recent opening of Isle of Arran Distillers' second distillery at Lagg, on the south of the island.
James MacTaggart, distillery manager at Arran, which is situated at Lochranza on the north coast, said: 'With the opening of our second distillery at Lagg it felt like the right time to make the clear distinction between the unique and very different spirits produced at each of our island homes.
'We've taken inspiration from the elements that make Lochranza so special to produce a unique and beautiful new pack, which does justice to the liquid it contains.'
The new labels and outer packaging, designed by London agency Stranger & Stranger, incorporate an icon in the shape of Arran, a pair of the island's native eagles and ripples to reflect the island's mountain waterfalls.
The packaging will be applied to Arran's entire core range, including two new additions.
Arran Single Malt Barrel Reserve is a new, no-age-statement whisky matured in American oak casks, bottled at 43% abv and said to be full of 'citrus and light vanilla sweetness' on the palate.
The second expression, named Bodega, is also a no-age-statement malt matured in ex-Sherry hogsheads.
Said to contain notes of 'dark chocolate, spice, ripe figs and sweet cherries', the whisky is bottled at a cask strength of 55.8% abv.
Both expressions will be available from 16 September on the Arran Whisky website, shipping to the UK and international markets excluding the US, Canada, Australia and New Zealand.
Two more single malts – an 18- and a 21-year-old expression – will be added to the core range in October.
The four new whiskies will join the distillery's 10-year-old flagship single malt, and its quarter cask-matured Bothy expression.