Two ruined farmsteads found in the depths of a Highland forest in Scotland may have produced illicit whisky 'on an almost industrial' scale in the early 19th century, archaeologists believe.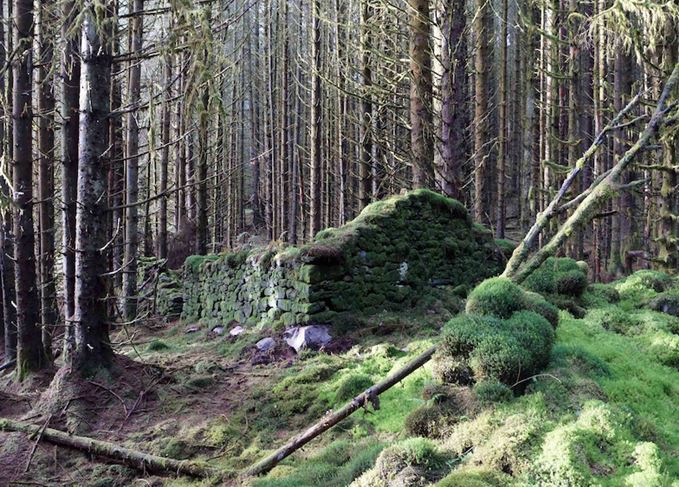 The 18th-century farmsteads of Wee Bruach Caoruinn and Big Bruach Caoruinn, which have large corn-drying kilns, had lain hidden in Loch Ard forest, north-east of Loch Lomond, until they were discovered by Forestry and Land Scotland (FLS).
Local historians drew the attention of FLS to the possible significance of the buildings, and the farmsteads were recorded by laser scanning before the trees around them were carefully felled earlier this year.
'Set in a relatively inaccessible area, yet close to Glasgow, in close proximity to water and with strong associations with a number of the important families in the district, it is possible that the site was a hidden distillery, producing illicit whisky in the early 19th century,' said FLS archaeologist Matt Ritchie.

In ruins: The farmsteads shown on a 1st edition Ordnance Survey map from the 1860s

He added: 'You can malt grain in a corn-drying kiln, and the long narrow buildings would have been perfect for fermenting and distilling whisky.
'I wonder if there had been illicit whisky being made at Bruach Caoruinn on an almost industrial scale? There is no surviving evidence, bar historical whispers. But is this really surprising?'
Archaeologists used the latest laser scanning techniques to build a three-dimensional digital model of the site for digital documentation, which allows them to look at the buildings from any number of angles.

As it was?: Alan Braby's artist's impression was inspired by the archaeological research

'These views, together with the artists' impressions that they inspired, have helped reveal the special character and atmosphere of the once-afforested ruins and how they may have looked in times past,' said Ritchie.
The farms were abandoned in the 1840s and had fallen into ruin by the 1860s, but the narrow, roofless buildings were left surprisingly intact, protected by the forest surrounding them.
The buildings were unaffected by the tree felling, but there are no plans to conserve or promote them further, given their remote and inaccessible location, FLS said.
The archaeological survey of the site and historial archive research were carried out with the assistance of the Scottish Vernacular Buildings Working Group, AOC Archaeology, Alan Braby and Mairi Stewart.
This video explains how the corn-drying kilns would have functioned: