The picture-postcard beauty of Loch Lomond and its islands conceals an ever-changing character that extends beyond the Scottish weather to the area's history, geology and whisky-making. Richard Woodard reports.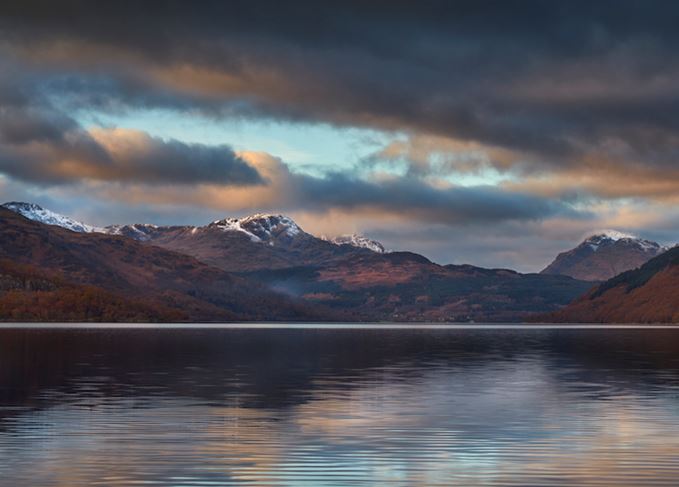 Stand on Conic Hill and look south-west: a succession of islands emerges from the surface of Loch Lomond in a plumb-straight line: Inchcailloch, Torrinch, Creinch, Inchmurrin. On the same bearing, the gentle slopes of Ben Bowie can be seen on the far shore.
There's more to this vista than a pleasing symmetry. You're seeing a physical manifestation of the Highland Boundary Fault, the centre of a battle some 400 million years ago between the rock on your right and the rock on your left. When the former rose up and the latter receded, the Highlands and the Central Lowlands were created.
Turn and look around, and you can see the results. There's an unmistakable gentleness to the landscape extending southwards into the Vale of Leven, while the loftier peaks to the north – including Ben Lomond, the most southerly of the Munros – are often cloud-shrouded and forbidding.
It's such a peaceful scene today – hikers and pleasure boats, the distant throb of a jet-ski – that you'd be forgiven for thinking that nothing much has happened here since all that seismic activity during the Devonian age.
Surprising, then, to read the verdict of Dr Samuel Johnson, who wrote this following his visit to the loch's islands in 1773:
'Had Loch Lomond been in a happier climate, it would have been the boast of wealth and vanity to own one of the little spots which it encloses, and to have employed upon it all the arts of embellishment.
'But, as it is, the islets, which court the gazer at a distance, disgust him at his approach, when he finds, instead of soft lawns and shady thickets, nothing more than uncultivated ruggedness.'
Then again, Johnson may have unwittingly touched upon a hidden truth: for all its photogenic qualities, this border country is steeped in violence, intrigue – and illicit whisky.

Highland fault: The view from Conic Hill over Inchcailloch, Torrinch, Creinch and Inchmurrin

Loch Lomond's islands offer a microcosm of Scottish history, reinforced by their strategic location on the cusp between Highlands and Lowlands. Some of them aren't strictly islands at all, but are centuries-old, man-made crannogs, including Inchgalbraith, constructed by the Clan Galbraith because they were so fed up with being attacked every time they held a gathering on the loch's shores.
Inchlonaig is called 'island of the yews' because Robert the Bruce reputedly ordered yew trees to be planted there – providing the raw material for the bows wielded at the battle of Bannockburn.
The islands also provided a means of correction or punishment: Luss was once known as 'prison island', while Inchmoan was an impromptu 'rehab' centre for alcoholics and a place of reform for ladies of easy virtue (presumably not at the same time).
It's not hard to see why the islands were also once a hotbed of illicit whisky production. Beyond the advantages of isolation, all the raw materials were on hand: wood to fire the stills, peat on the island of Inchmoan, grain from the Vale of Leven.
There are traces of stills on the island of Inchconnachan, and Inchfad was home to large-scale illicit distillation as far back as the 17th century, until a government revenue cutter swept through the loch in the mid-19th century. The island then hosted a legal distillery, complete with canal, the ruins of which are still visible.
Like the loch itself, modern whisky distillation in the area spans the Highland Fault: the original Loch Lomond distillery operated at the northern end of the loch, near Tarbet, but today's plant sits beyond its southern shores in the town of Alexandria (confusingly, Loch Lomond is still classed as a Highland malt because the whisky boundary with the Lowlands lies further south).

Mood lighting: The loch's scenery offers a contrasting and changing picture

Here the picturesque scenery of the loch gives way to the industrial heft of the Vale of Leven, epitomised by the grandiose façade of Alexandria's Argyll Motor Works, which at one point was the busiest car factory in Europe, employing 2,000 workers and holding the World Land Speed Record before its closure in 1914. A young chap called John Logie Baird was once an engineering apprentice here.
Textiles, however, were the prime industry, with Alexandria's Croftengea works winning Europe-wide renown for its production of the sought-after, vivid red and colour-fast 'Turkey Red' dyed yarn from the 1820s.
Alexandria's textile industry was consolidated into one site at Croftengea, known as 'The Craft', before its eventual closure in 1960. The vast site was given over to various new uses including, in 1964, the construction of a new Loch Lomond distillery, which became operational two years later.
From the start, things were always done a little differently at Loch Lomond. Opened by Littlemill owner Duncan Thomas and Chicago-based Barton Brands, the new distillery copied Littlemill by installing a pair of pot stills with long, straight necks containing rectifying plates (indeed, it took Littlemill's stills too when that distillery closed for good in 1992).
But things stepped up a pace in 1986, when Sandy Bulloch's Glen Catrine business took over the by now mothballed plant. Refusing to be reliant on the whims of the industry giants when it came to purchasing grain whisky and reciprocal trading, the producer of the High Commissioner blend and Glen's vodka set about transforming the distillery in order to make it self-sufficient.
More straight-necked pot stills were added, then continuous stills to make grain whisky, a pair of pot stills with traditional swan necks, and then another continuous still to produce grain whisky from 100% barley.

Hot toast: Loch Lomond distillery reconditions casks at its own cooperage

The result is a Heath Robinson operation that has even seasoned whisky experts scratching their heads. Throw in extended fermentation times, the use of wine yeasts, different filling strengths and varying peating levels and you have a single distillery capable of producing more than 10 different styles of spirit. Oh, and it has its own cooperage too.
What was once both a necessity and a gesture of defiance (not to mention a means of producing a fast-maturing spirit) has been transformed into a virtue by Loch Lomond's new owner, private equity firm Exponent, which bought the plant in 2014.
'Never follow' is the motto as the business is gradually transformed under CEO Colin Matthews into a more conventional (in decidedly relative terms) Scotch whisky company.
An estimated £25m has been invested in the past 18 months, upgrading facilities at Glen Scotia in Campbeltown, and adding new stills and warehousing at Alexandria. The entire range of products has been rebranded, and a company that had previously operated in 30 countries now sells its wares in more than 100 markets.
There's a renewed focus on single malts: as well as the eponymous Loch Lomond range, the fruit-driven Inchmurrin and the earthy smoke of the peated Inchmoan pay tribute to the nearby loch's history-laden islands.
But perhaps the most obvious sign of Loch Lomond's fresh ambition is the imminent release of a 50-year-old, single cask single malt that ran off those straight-necked stills on 19 November 1967.
'It means we want to be among the best,' says operations director Bill White. 'With the change of ownership there was an obvious change of mentality at this business. If you want to be an internationally-regarded distiller, you can't have inferior liquid out there.'

Heath Robinson: Loch Lomond's quirky collection of stills can be confusing

But for that change of ownership, Loch Lomond 50 Year Old might never have been bottled. 'I had my first taste of this probably close to 10 years ago now, and at that point the company wasn't all that interested in single malts,' recalls master blender Michael Henry.
'Every year or two I'd give it a quick nose, a quick taste to see how the flavour was developing, making sure the cask was in the right conditions and the right warehouse.
'You don't get to taste a whisky like this very often. To be able to taste a liquid that is 10 years older than I am is something special. It kind of comes with a mixture of privilege and pressure. You have to be very precise in what you do with it – you can't afford to make any mistakes.'
Matured in an American oak hogshead for 31 years, the whisky was moved into a European oak hogshead in 1978 to add some spice, complexity and mouthfeel. Remarkably, it has retained some of the intense fruity characteristic of those idiosyncratic straight-necked stills.
Packaged in a remarkable, indigo-stained Tempest Chest designed by West Lothian-based 'architects of objects' Method Studio and with 60 decanters priced at £12,000 each, Loch Lomond 50 Year Old should be on the market by the end of the year.
Its release, and the bigger changes at this most versatile and fascinating of Scotch whisky distilleries, signal the start of another new chapter for an area that has a remakable, shifting and sometimes contradictory character – whether we're talking about its whisky, its history or its geology.