A bottle of what appears to be Scotch whisky has been discovered within a time capsule containing items from the 1890s.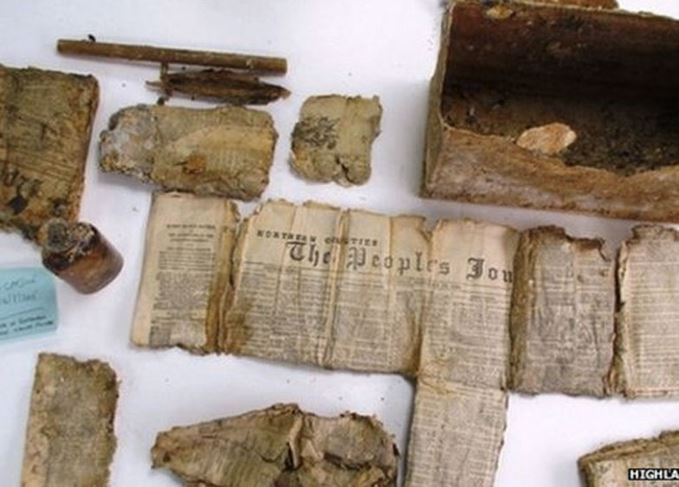 Engineers unearthed the capsule – a small metal box – from inside a stone pillar supporting the Ruthven Road Bridge near Kingussie in the Cairngorns during restoration work.
Buried in the box along with the bottle were two newspapers, one of which is dated Saturday 29 September 1894, and what seems to be a paper flag. As the zinc box had corroded over time its contents are badly water damaged.
The construction workers donated the box and its contents to the nearby Highland Folk Museum in Newtonmore, which is currently working to dry the items out.
According to Rachel Chisolm, curator (collections) at Highlife Highland, operator of the Highland Folk Museum, the newspapers are dated the day after the Ruthven Road Bridge was erected.
'It would suggest that the local council or townspeople put the time capsule in the bridge as a memento of that period,' she said.
Although the newspaper is clearly marked as The People's Journal, a weekly Dundee publication, Chisolm remarked that there is no way to tell where the whisky, bottled in a small medicine bottle, originates.

The origins of the small medicine bottle of whisky are unknown
'There was a local distillery in Kingussie but it didn't start producing whisky until 1896 – two years after the time capsule was buried,' she said.
However, Chisolm is keen to speak with whisky experts who may be able to uncover its origins.
'It would be interesting if someone could help us identify it; it's a long time ago – 121 years,' she said. 'We haven't opened the whisky but you can actually smell it anyway.
'There's a little cork in the top of it and maybe with it drying out the cork has shrunk. If you smell the top of the bottle you can definitely tell it's whisky.
'If there was an expert out there interested in helping out I'd be delighted if they got in touch. For now we will just put it into the collection.'
The pupils at the local Kingussie Primary School have now created their own time capsule that has been placed back into the new pillars supporting the bridge.
Contained inside are mobile phone, photographs, a shinty ball, school sweatshirt, moshi monsters, school lunch menu and coins among other things.