World-leading Scotch whisky brand Johnnie Walker has launched what is claimed as its biggest ever global marketing campaign, activated simultaneously in more than 50 countries worldwide.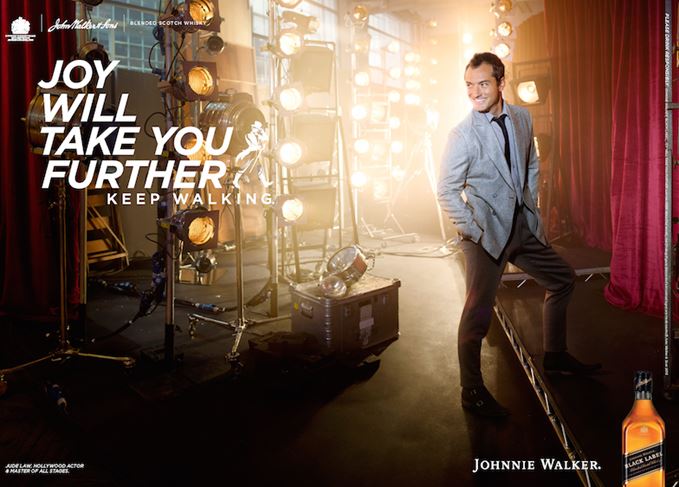 Joy Will Take You Further – an evolution of the brand's well-known Keep Walking campaign – is aiming to reach nearly 270m consumers around the world within weeks of its launch on Wednesday night (16 September).
The campaign, featuring celebrities such as actor Jude Law, racing driver Jenson Button and supermodel Montserrat Oliver, 'represents a new perspective on personal progress', Johnnie Walker owner Diageo said.
Amanda Fève, chief strategy officer for Walker global creative agency Anomaly, said the idea was to 'flip the formula' of Keep Walking by suggesting that happiness could lead to success, rather than the other way around.
The execution of the campaign follows international research involving consumers and psychologists to discover what progress meant to people today – and which discovered rising levels of insecurity and stress.
Joy Will Take You Further encompasses print ads featuring Johnnie Walker ambassadors in mid-stride, contextual advertising (where ads incorporate an explicit link to their location), a 10-minute film featuring Jude Law and premiered at the Rome Film Festival and the creation of 'Blenders' Rooms' to showcase the skills of whisky creation and to mentor up to 2m consumers.
Diageo CEO Ivan Menezes said it was the 'right time' to revamp the marketing surrounding Walker, which he said was 'at another inflection point'.
Johnnie Walker sales volumes fell 1.7% to 18.8m cases in 2014, according to the IWSR, with the brand suffering declines in markets as diverse as the US, Brazil and Thailand.
'We have to acknowledge that recent trading conditions have been tough,' said Guy Escolme, Johnnie Walker global brand director.
However, he added that there was 'enormous headroom' for growth in emerging markets and said: 'There's a whisky renaissance and we believe that we have a major part to play in that.'