EXCLUSIVE: Independent bottler Compass Box has removed detailed information about two new whiskies from its website after being informed by the Scotch Whisky Association (SWA) that it had broken the law.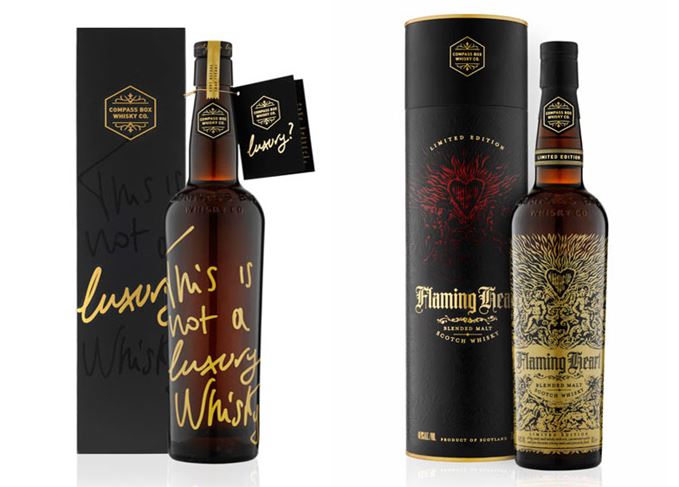 The company revealed the precise 'recipes' for two new bottlings, This Is Not A Luxury Whisky and Flaming Heart, including the distilleries involved, the cask types, the ages and their proportions in the final blend.
But the SWA, acting on a complaint from an unnamed member, contacted Compass Box to point out that revealing so much information – specifically with regard to component age – was in breach of EU law.
'We have always told people our recipes,' Compass Box founder John Glaser told Scotchwhisky.com. 'We've always been open about the distilleries we use, the types of cask we use. In this case, we have been completely transparent on everything, including age.'
'Following a complaint from a brand owner, we contacted Compass Box to point out that the advertising did not comply with the law,' said Magnus Cormack, SWA director of legal affairs.
Cormack explained that, under Regulation 12.3 of the Spirit Drinks Regulation No 110/2008, any mention of a maturation period or age could only refer to the 'youngest alcoholic component' in a spirit.
This rule applies to the 'description, presentation or labelling' of a spirit drink – including advertising, promotion and images.
'We believe Scotch producers should have the freedom, but not the obligation, to disclose all of the components of a blend,' said Glaser. 'Consumers have the right to know.
'In the past, when consumers asked the question [about what was in a blend], the industry response was: "We can't tell you, it's a secret," which was always marketing bullshit.
'If they are now going to say: "We can't tell you because it's against the law," how ridiculous is that? It will make consumers sceptical. It will hurt over time, so we need to look at it as an industry.'
Cormack said the law applied to all aged spirits sold in the EU, adding that the UK has no power to derogate from the rule – meaning that any change in the law would require the agreement of all 28 EU states, and the support of other spirits sectors.
Meanwhile, Compass Box is deciding on its next move in taking the matter further. 'Watch this space,' said Glaser.