Compass Box has continued its fight for increased transparency in the Scotch whisky industry with the release of Enlightenment, a limited edition blended malt.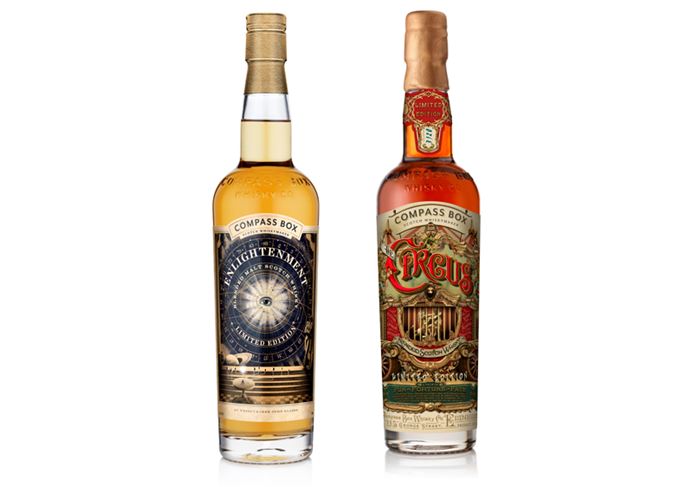 The new whisky – launched alongside The Circus, a new blend – is said to have been inspired by the Age of Enlightenment, with the name also reflecting its light style.
But it also marks a continuation of Compass Box's Scotch Whisky Transparency Campaign, launched earlier this year in an effort to change the rules forbidding producers from revealing details of the ages of all component whiskies in whiskies.
Marketing materials accompanying the launch detail the percentage of each single malt component in the final product, as well as the type of cask in which it was matured.
However – unlike previous Compass Box releases such as This Is Not A Luxury Whisky and Flaming Heart, which ignited the transparency debate – the age of those components is withheld.
'By law, we're not allowed to tell customers the age of the component whiskies used to create Enlightenment,' said Compass Box founder and whiskymaker John Glaser.
'We can tell you that Enlightenment is a blend of malt whiskies from the Clynelish, Glentauchers, Balblair and Mortlach distilleries.
'We can tell you that you will find a bright apple-and-pear quality on the nose, soft spice and light citrus fruit notes on the palate, with a mouthwatering finish full of an alluring apple peel waxiness.
'We can tell you the casks the whisky was matured in – but crucially we can't tell you how long for.'
Bottled at 46% abv, Enlightenment will be available in Europe from 18 May and in the US from 1 June, priced at £60/$85/€79, with 5,922 bottles available.
Glaser said he remained hopeful of a positive outcome to Compass Box's transparency campaign, following 'receptive' feedback and more than 7,000 people supporting the campaign online.
The Circus, inspired by a 1928 Charlie Chaplin film, is composed mainly of old parcels of blended Scotch and blended grain, left in cask to marry for several years – similar in concept to previous Compass Box release The General, but different in character.
Bottled at 49% abv, The Circus will be available in Europe from 18 May and in the US from 1 June, priced at £190/$275/€235.