Diageo has rebranded The Singleton with an ambition to develop the whisky into the world's number one single malt.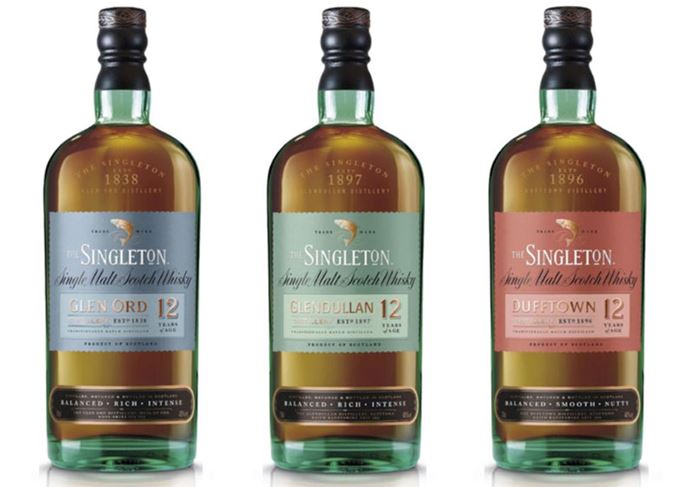 Although Diageo is the leading producer of single malts by value, The Singleton, its largest brand by volume, is currently less than half the size of the three category leaders – The Glenlivet, Glenfiddich and Macallan.
The Singleton brand is currently available in three different versions, from three separate distilleries, that are exclusive to certain regions.
The Singleton of Glen Ord was available only in Asia, The Singleton of Dufftown was exclusive to Europe and The Singleton of Glendullan was only found in North America.
The Scotch producer will now roll out a new look for the Singleton brand, and make each of its three core expressions available globally as a trio.
David Gates, head of premium core spirits, said the new strategy for the brand allows Diageo to combine the volume of the three distilleries to drive forward growth, as well as occupy more shelf space.
'This will give us real scale,' he said. 'The Singleton is our mainstream malt. It has already been extremely successful but we believe the opportunity is even bigger.'
The brand's packaging has also been updated with a consistent style to make it simpler for consumers to navigate through the range's different distilleries and ages.
'Within 10 years of its launch The Singleton is already the #5 malt and is still the fastest growing,' Gates said. 'But we want to push on and we have an ambition to make The Singleton the world's #1 malt whisky brand.'

The Singleton brand was rolled out across Asia, the US and Europe in 2006-7, and now includes the no-age-statement expressions from Dufftown, Tailfire and Sunray, launched in 2014. Spey Cascade was released in summer 2015.
According to IWSR figures, the single malt category grew at a CAGR rate of 6.9% in the last three years, while Diageo's malts portfolio grew 11.1% volume and 17.1% by value.
Gates added that while Diageo leads the single malt Scotch whisky category in terms of overall volume, 'it doesn't necessarily feel like we lead the category'.
He said: 'Ours has historically been a 'string of pearls' strategy. We have the largest portfolio of any competitor, spanning price points from premium to prestige.
'The sheer number of liquid expressions we can share with consumers is unparalleled. But at the end of the day, there are a handful of mainstream malts that set the tone and ours isn't one of them. Yet. And this represents a shift of emphasis in our strategy.'
The move represents the first time Diageo has separated one of its malts as a growth driver.
The Singleton will be positioned as Diageo's 'recruitment malt' as the single largest contributor of volume, while its 'discovery' malts, such as Talisker and Lagavulin, and prestige malts, such as Mortlach and the Special Releases, will sit either side.