Mists, mellow fruitfulness… and warming Scotch-based drinks to stave off the cold and damp. Here's Alice Lascelles on the seasonal serves to watch this autumn.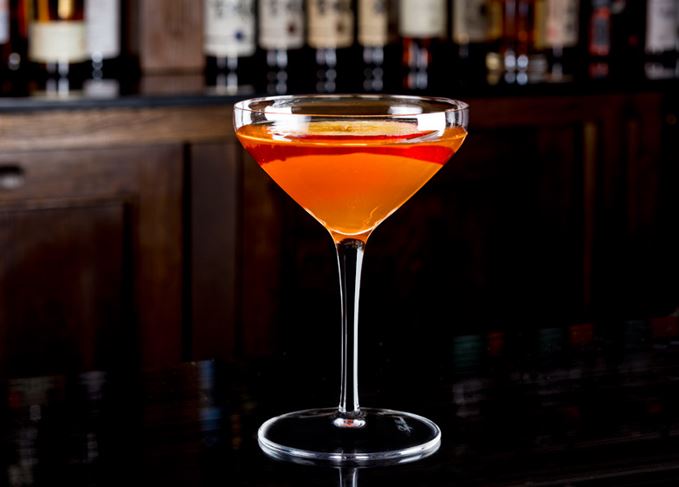 One of the big trends in cocktails in the last few years has been a move towards more seasonal flavours. And, as we head into autumn, that means a lot more orchard fruit.
That's good news for Scotch whisky, a spirit that naturally boasts a harvest festival of orchard fruit flavours: wonderfully mixable, from the heady, magic-marker sweetness of pear slices and sweet-and-sour toffee apple, to caramelised quince and more spicy dried fruit.
The effects of wood and peat also imbue Scotch with some wonderfully evocative notes of bonfires, nuts and mushroomy forest floors that can make you feel like you're taking a misty walk in an autumnal wood.
If you're in the market for orchard fruit, then a good place to start would be the whiskies of Speyside, which are often big on apple and pear characters.
The Glenlivet Founder's Reserve, with its green apple, pear and fudge notes, is a great example – try using this instead of Calvados in an Apple Cart, a sour which is essentially a twist on the famous Sidecar: shake 50ml The Glenlivet Founder's Reserve, 25ml Cointreau and 25ml lemon juice with ice and strain into a cocktail glass garnished with an apple slice.
If you like it a touch sweeter, you could add a dash of sugar syrup or, even better, a little maple syrup for a more complex flavour.
Whisky and cloudy apple juice also goes very well together – it may sound ridiculously simple, but the Baxter Inn in Sydney has gained a cult following simply by serving exactly this combo, using a range of apple juices pressed right before your eyes at the bar.

Ridiculously simple: whisky and cloudy apple juice​

The Singleton of Dufftown has caramelised apple, fig and warming ginger notes that would be great here – simply pour 50ml whisky over ice, top up with juice and garnish with an orange or lemon twist. For a bit more spicy oomph, try adding a dash of fiery The King's Ginger Liqueur.
A BARTENDER SPEAKS:
Marcis Dzelzainis, bar manager, Mission E2, London
'People say you can't mix with Scotch, but that's nonsense – you're going to see a lot of Scotch on our menu at Mission in the coming months. I particularly like mixing with whiskies that have a lot more of those lighter, fruity flavours.
'A great mixing whisky for me is Great King Street Artist's Blend by Compass Box – I also love using their Asyla blend. Overall, I think that sort of "aperitif whisky" category is really unexplored at the moment. For something autumnal, I think quince and Scotch is a match made in heaven.'

QUINCE AND WHISKY FIZZ
25ml Sicoly Quince Purée
20ml rosehip syrup*
50ml Great King Street Artist's Blend
25ml lemon juice
Top with soda
* Bring a saucepan of water to the boil, add a few handfuls of dried rosehips, and leave to infuse for 30 minutes. Then use this 'tea' to make a normal 1:1 syrup by dissolving 1 cup sugar in 1 cup rosehip tea.
Method: Shake the first four ingredients with ice and strain into glass over ice and top with soda.
Glass: Collins
Garnish: Cob nut
If the rain's pelting down and you're in need of a lift, then how about a fortifying Rob Roy made with Glenrothes Select Reserve, a chewy Speyside malt with plum and walnut characters that go well with the red wine spice of red vermouth.
Shake 50ml whisky with 25ml red vermouth, two dashes Angostura bitters and half a teaspoon of syrup from a jar of Luxardo Maraschino cherries. Strain into a martini glass and garnish with a Maraschino cherry.

Cherry on the top: Rob Roy is a classic autumnal whisky cocktail

There is nothing, though, that makes me think of autumn more than the smell of woodsmoke. Super-peaty whiskies can easily overwhelm a cocktail unless you're careful, so I like to use something with more subtle smoke that's not too medicinal.
For instance, the great blend Black Bottle, which creates a superb twist on the Old Fashioned: stir 50ml of Black Bottle with 5ml sugar syrup (2:1 formula – simply dissolve two cups sugar in one cup water over a low heat and leave to cool) and two dashes Angostura bitters with ice in a rocks glass – and garnish with an orange twist.