Dave Broom, Scotchwhisky.com's chief engineer and globally recognised whisky writer, has been named the Spirit of Speyside International Brand Ambassador of the Year.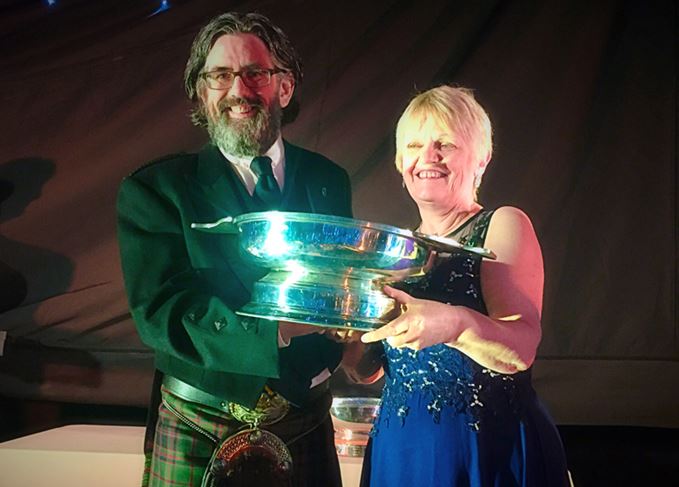 In an awards ceremony held at Auchroisk distillery in Keith to mark the opening of the annual whisky festival, Dave was recognised for his 'enthusiasm and knowledge' of whisky, as well as his work to increase the global visibility of Speyside.
He accepted the award – in the form of a giant Quaich filled with whisky – from 2015 International Ambassador Martine Nouet, in front of 200 of Speyside's whisky workforce.
Dave, who is the author of many whisky books and regularly hosts educational masterclasses around the world, said: 'I'm surprised and deeply honoured to get this award.
'I'm also conscious that they tend to get given to people who are in the public eye. In reality, all we do is pass on information, hopefully in an understandable and entertaining fashion. The real ambassadors for Speyside are the men and women who make this region's whiskies. Without them, their care and attention to detail, the passion for their craft and traditions we would be nowhere - and the world a poorer place. This is an endlessly fascinating and complex part of Scotland. I look forward to continuing to learn more about its secrets for years to come.'
Dave's award was one of three presented on the night to whisky personalities believed to have made a significant impact on the region's whisky legacy.
The top award of the evening, recognising a lifetime of achievement in the industry, went to Richard Forsyth, managing director of copper pot still forger Forsyth's of Rothes.
Under his tenure, Forsyths has branched out into carbon and stainless steels, employs over 350 people in Speyside and generates a turnover of £46 million.
Forsyth said: 'We're really pleased to be a part of this really close-knit industry. This award is not only for me; I've a great team and they've done well over the years. I have a great family and this is for them.'
The final award of the evening went to Hugh Fraser of Speyside Visitors' Centre, who was named Ambassador of the Year, for his community work in Aberlour that is said to have 'lifted the profile of the area'.
James Campbell, chairman of the Spirit of Speyside Whisky Festival said: 'Each award recipient has, for very different reasons, played an important part that has helped put Speyside firmly on the global whisky map.
'We are delighted to present these awards and recognise three examples of sterling service and continued commitment to the Festival, the Speyside whisky industry and the international whisky business.'
The Spirit of Speyside Whisky Festival takes place 28 April – 02 May at various distilleries, pubs, restaurants and other locations across the region.