Don't talk to the Whisky Virgin about the creeping Bourbonisation of Scotch whisky – he's all over it. After all, an injection of testosterone is just what 'girly' Scotch needs, right?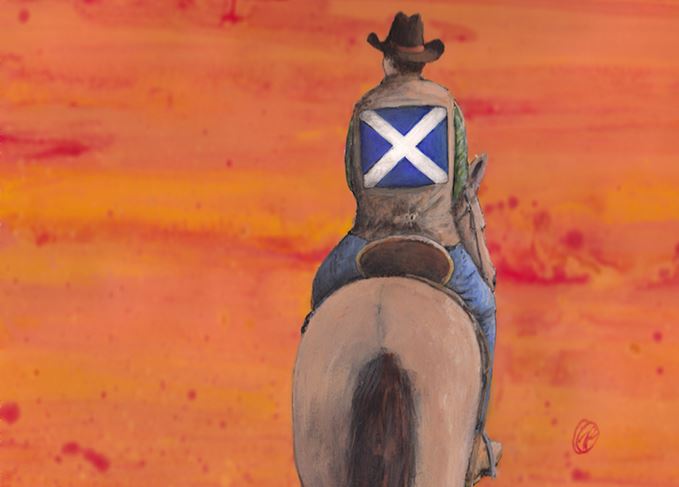 It has been explained to me that my esteemed and charmingly knowledgeable Scotchwhisky.com colleagues have been less than impressed by Scotland's wooing of the Americanised taste bud, particularly our (yes, quite: I am one quarter Scottish) apparently growing infatuation with making whiskies that are meant to taste like a Bourbon.
I say 'explained', but I have to admit that I find it difficult to concentrate on the details of the argument. Apart from the fact that they're made in different countries, the distinctions between Scotch and Bourbon elude me.
Besides, at the time of my education, which took place over a long lunch at the Xy, I was distracted by a pair of beautiful and slightly menacing dragonflies which, after much flipping and soaring, settled to mate on a leaf of my rocket salad. I was strangely excited by this.
All the same, fear not. I am here to contribute. While my lunching companions' elucidations as to the differences between corn and barley may have gone dessus de ma tête, I am absolutely head-over-heels in love with America and Americans.
America gives me television, the mobile, Facebook, zips and masking tape. It speaks to me in the voice of the south, a voice that makes me think of the movement of cowboys, of presidential speeches and of beautiful, well-toned men making beautiful, well-toned things.
For this reason alone, and with the lowest of curtseys to my aforementioned colleagues, I must welcome with open arms our Scottish American whiskies, in particular the loins-loosening Dewar's Scratched Cask, the enigmatic Barrelhound and the non-American American Ballantine's Hard Fired. Let's explore.
First, any whisky called Scratched Cask has my vote and my heartfelt thanks. Not because it is inspired by an old letter ordering some Scotch whisky for a President I've never heard of, or tells us secret, complicated things about how it's made in an American style, but rather because the word 'scratched' holds me.
It moves me. It stirs those parts of me that other names cannot reach. It's a name that has allowed for the use of a word pregnant with what the late Lévi-Strauss might have called its lost value. Say 'scratched cask' and I am that cask, completely. Fill me up.
Next, praise be the poet who came up with Barrelhound. I'm not sure what our old friend Lévi-Strauss has to say about the power of the made-up word, but this one has opened the floodgates of creativity.
Again, it's not the intended – the 'unleashed' whisky makers, a 'new breed of Scotch' or even the 'bound for the USA' – that catches my breath. I am almost blind to such higher order humour.
I'm much more enamoured with the Deep South package design, though that's not it either. It's more the wonderfully baffling claim for Barrelhound being '"the best barking whisky" around'. Is this literal? I hope so.
Finally, my favourite: Hard Fired. OMG. Hard fired. What and why? I don't know. No one at lunch could tell me whether it was definitely an American-inspired nomenclature, but if anything pulled me away from the sight of my copulating dragonflies, then this was it, a name so damn man as to have been spawned by a Cormac McCarthy-like visionary, a copywriter with a fetish for the dark cowboy.
Think All the Pretty Horses, Blood Meridian, Child of God etc. It's that kind of name. It's the kind of name I daren't say. Hard Fired: it's the apocalypse in a hat and spurs.
Anyway, there you have it: my two cents. Time's run on, so a final thanks to my lunch hosts, who not only gave the conversation over to all things America, but also smilingly suffered my commentating at length (in a Dallas accent) on the insectile romp that took place in my salad.
Last, a quick kiss on the Americanised cheeks of the marketing departments responsible for Scratched Cask, Barrelhound and Hard Fired. Ladies, gentlemen: keep up the good work. Scotch is just way too Scottish – and girly.