It's long been regarded as smooth, sweet and excellent for mixing, but Irish whiskey is proving it is a more complex dram than the outdated stereotypes would suggest. The Whisky Virgin goes on a spirited journey in search of the true style of the Emerald Isle.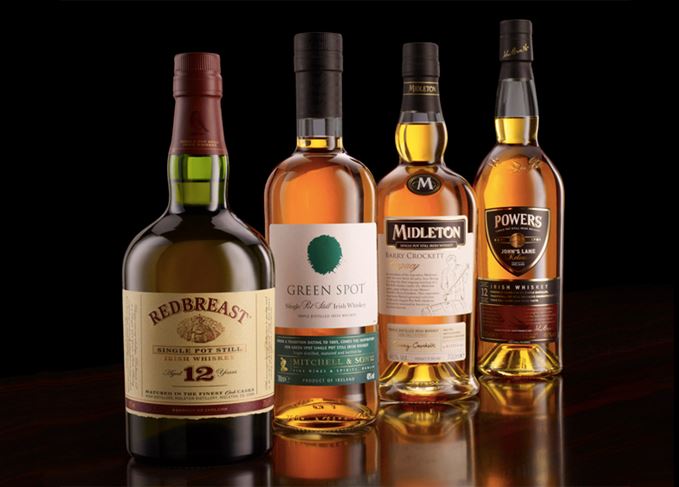 Like everyone else in the Western Hemisphere, I claim to have a few shamrocks growing on my family tree. If I drink more than one Guinness or I hear a Stiff Little Fingers song on the Sonos, I'll basically try to tell you that Gabriel Byrne is my cousin. But, if I'm honest, I don't know that much about Ireland or Irish whiskey – just what I've gleaned from knocking down whiskey gingers on St Patrick's Day.
Keen to connect with my roots across the sea, I looked at my options: I could painstakingly trawl through parish records to trace my family line; I could spit in an envelope and post it to Big Pharma so they could data-mine my DNA; or I could go out and drink some Irish whiskey. I wanted get a handle on the spirit of my great-great nannies and grandads, and hopefully come up with a hot take about what defines Irish whiskey.
Which is how I wound up at my local Irish-themed pub with my elbows on the bar, a shot of something called Connemara under my nose, and a confused look on my face. I'd had Irish whiskey down as soft and simple; good for mixing and easy to pigeonhole.
But then here was this glass of something pale and oily, smelling like an orchard fire, trying to confuse me. I'd ordered something Irish for research purposes, but I'd obviously been handed an Islay Scotch for a joke.
'Nice try, pal,' I said to nobody in particular. 'But if this is indeed an Irish whiskey, then I'm going to have to reassess my preconceptions on this whole category, aren't I?'
And reassess I did.

Smoky source: Ireland has its own peat bogs, and its own peated whiskey (Photo: jmenard48; CC BY-SA 2.0)

My idea of Irish whiskey was based on two things I'd been told in the past: It's always unpeated; and it's lighter than Scotch because it's distilled three times instead of two. This whiskey was neither of those things.
A little digging told me that Cooley distillery in Ireland's County Louth (shouts go out) deals a whole line of peated, twice-distilled whiskies under the Connemara name – proof that Irish whiskey doesn't have to be all sweetness and light.
Being that Scotland and Ireland are both rainy places with bogs aplenty, it made sense to me that peat could make an appearance in whiskies from both places. Not all Scottish distilleries use peat to make their whisky, and some Irish distilleries do. Seems fair enough to me.
But if being sprightly and smokeless doesn't define Irish whiskey, then what does?
I was tempted to order a Guinness to chase my Connemara and find some Irish people with whom to talk about my heritage. But instead I pressed on with more whiskey research.
Connemara was great and it definitely taught me a lesson about making whiskey generalisations. But it also reminded me of drams I'd had from other places around the world. I wanted to follow it up with an Irish classic, something you just wouldn't find anywhere else – the floor-filling banger to complement Connemara's interesting B-side.
With that in mind, I copped a glass of Redbreast 15-year-old. I was told it was not a single malt, not made from actual robins, and not to be missed if I wanted to learn about Irish whiskey.
One slug of spicy, tropical, raisin-like Redbreast and I was ready to move to Dublin to make a new life working at a poetry factory. It sort of reminded me of Scotch that had done time in a Sherry cask, because there was plenty dried fruit and leather flavours rolling around my glass – but there was something else going on too.
Something intense, but charming and likeable, like my cousin Gabriel Byrne when he was in The Usual Suspects. But why make Redbreast so different to the other whiskies I'd tried?

Select cereals: As an Irish pot still whiskey, Green Spot uses unmalted barley in its mashbill

The answer, apparently, is that Redbreast is what's called a single pot still whiskey. Made in a copper pot like your old pal single malt, but from a mash-up of malted and unmalted barley.
The upshot of this freestyle approach to cereal selection is that single pot still hooch is grassy, earthy and full of juicy fruit – or at least that's what I figured after sampling Redbreast and a few additional drams of its lighter cousin, Green Spot.
This was exactly the sort of whiskey I imagine my ancestors drinking: characterful and a little left-of-centre. Come to think of it, they were probably tough, peat-cutting whiskey farmers from the west coast, or cosmopolitan Sherry cask salesmen from Dublin.
Was I mythologising my Irish family connections a little too much? Maybe. Had I got the measure of Irish whiskey in all its variety after a few drams? Maybe not.
There was definitely a deep fruitiness to the Irish whiskeys I had tried. From the cheaper (but still definitely class) blends I'd had on Patrick's Days past, to smoky ol' Connemara, and the single pot stills that seem to be the benchmark of Irish whiskey for a lot of people.
And I can see myself giving the Irish section of the off-licence a browse, if that's the sort of thing I'm in the mood for. But I don't feel like I can say that's the essence of Irish-style whiskey.

Fresh takes: New Irish whiskey lines, such as Method and Madness, are experimenting with flavour

The way I hear it, it's an exciting time for Irish whiskey-making. New distilleries and new players in the game are expanding, experimenting and rethinking what it means to make Irish whiskey.
My research also took me to a new line of whiskies called Method and Madness from the same people who make Redbreast and Green Spot. I'm told this fresh-looking set of whiskies are the result of Irish whiskey slingers getting creative with rogue cask types and pushing the limits of what an Irish whiskey can taste like.
I guess what defines Irish whiskey isn't being unpeated, triple-distilled or even being made in the style of single pot still. The style of Irish whiskey is changing and growing. So, while I haven't quite managed to nail the category down to a specific set of flavours, I can say it's an exciting time to drink Irish whiskey, and it's an exciting time to be Irish.
I mean, probably, I don't know how Irish I can actually claim to be. Maybe I'll try for one of those nice green passports and really trace that family tree.
Until then, whiskey friends, sláinte.