As well as destroying large amounts of maturing spirit, fires and collapses at Bourbon warehouses can have devastating consequences for the environment. Two weeks after fire swept through a Jim Beam rick house in Kentucky, Richard Woodard considers the broader issues.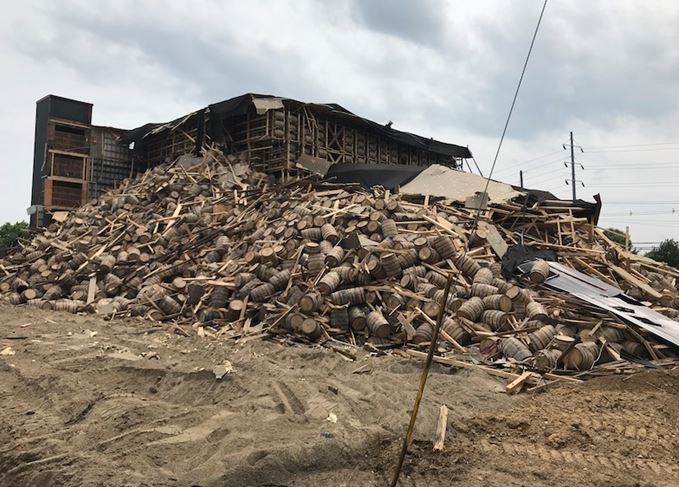 In terms that blend religion and insurance-speak, it was an 'act of God': on the evening of Tuesday, 2 July this year, lightning forked down and struck a Jim Beam Bourbon warehouse on McCracken Pike, south of Frankfort, Kentucky, containing some 45,000 casks of maturing whiskey.
If the fire that ensued wasn't devastating enough – crews from four counties fought the blaze, which lasted well into Wednesday – the knock-on effects on the local environment were nothing short of catastrophic.
Soon a 23-mile plume of leaked whiskey had fed into nearby Glenn's Creek, and then on into the Kentucky River. In the week that it took to drift downstream to the Ohio River and dissipate, the whiskey was fed on by bacteria, which rapidly multiplied and caused a severe depletion in dissolved oxygen levels in the water.
The result was death by asphyxiation for many thousands of fish, which were left floating on the river surface. Officials spent days using aerators to try to rebuild oxygen levels in the water, and counting the bodies. It will be several weeks yet before they can fully analyse the data and finalise the death toll.
By way of comparison, when a warehouse owned by Wild Turkey collapsed and caught fire in May 2000, a 28-mile plume of leaked whiskey flowed into the Kentucky River. An estimated 227,000 fish died in what was then described as the worst such incident in the history of Kentucky.
Wild Turkey was given a large fine, and officials have already indicated that Jim Beam owner Beam Suntory can expect similar treatment on this occasion, with both the Kentucky Energy and Environment Cabinet (EEC) and the state's Department of Fish and Wildlife Resources likely to issue separate penalties.

Sorry sight: 'Many thousands' of fish died in the aftermath of the Jim Beam fire

The Jim Beam fire is the latest in a recent run of similar incidents, including the partial collapse of another warehouse, Rick House H, at the OZ Tyler Distillery in Owensboro, on 18 June this year; and the partial collapse of Barrel Warehouse #30, at Sazerac-owned Barton 1792 Distillery in Bardstown, in June 2018.
Although infrequent, these incidents are nothing new: apart from the Wild Turkey collapse, Heaven Hill's production plant was devastated by a huge fire in November 1996, which destroyed 90,000 barrels of Bourbon; Jim Beam suffered another warehouse fire in August 2003; and a Buffalo Trace warehouse was severely damaged by storms in April 2006.
In the context of the several million barrels of Bourbon maturing in Kentucky at any given moment, the losses in whiskey terms are usually insignificant – a Beam Suntory spokesperson said the latest blaze involved 'relatively young' whiskey and would not impact product availability. Producers also mingle different product types and ages to spread the risk of any damage.
But the environmental effects can be disastrous, and the clean-up operation, recovery of barrels and making safe of affected warehousing is both costly and time-consuming.
In the case of the Barton 1792 collapse, the rest of the warehouse came down two weeks later, leaving Sazerac with the laborious task of recovering barrels from the wreckage. Some 500 fish were reported killed after the initial collapse.
A similar barrel recovery operation is now ongoing at OZ Tyler, where company owner Terressentia decided to bring down the rest of Warehouse H for safety reasons (only the northwest quadrant was affected by the initial collapse).

Initial damage: Only the northwest quadrant of the OZ Tyler warehouse was impacted at first

Here, whiskey losses were minimal, leaving no environmental impact, but OZ Tyler master distiller and director of operations Jacob Call expects barrel recovery to take another two months.
The process is painstaking, with an Ultra High Reach demolition excavator plucking one barrel at a time from the debris, to be inspected, repaired or disposed of as necessary, and rehomed in another rick house.
Both the OZ Tyler and Barton 1792 collapses appear to have been weather-related: Call reports 'severe storms with high winds and a great deal of rain' on the night of 16/17 June, while the Barton collapse occurred on the side of a hill after an unusually wet spring, which left the soil saturated with water.
Can anything be done to prevent such incidents in the future? Since the OZ Tyler collapse, Terressentia has entered into an agreement with StructuRight, a company that uses an app-based system to monitor the structural and environmental health of buildings.
'We will be able to continually measure distance, angle, vibration, temperature and humidity in the rick houses,' explains Call. 'All data, including any change notifications, will be transmitted to a cell phone via the app, and it will include back-up capabilities as well.'
On the environmental side, remedial action is often reactive, rather than proactive, involving the use of earthmoving equipment to create a barrier to stop leaking whiskey from seeping into watercourses.
Could more be done to prevent future environmental damage? 'Cabinet leadership will be meeting with industry representatives, and those questions will be part of the discussion,' says a Kentucky Energy and Environment Cabinet spokesperson.

Coming down: Following the OZ Tyler collapse, the whole warehouse was demolished

With demand for Bourbon high, warehouse space is at a premium, and some buildings are several decades old (the collapsed Barton 1792 warehouse was built in the 1940s, with a wooden structure covered in a thin steel skin). Are there concerns over their structural soundness?
'We can't really speak to if there is an issue with the expansion of Bourbon and a demand for warehouse space,' says Call. 'However, many big distilleries are still building rick houses today like they were 50 years ago and, even though you have better wind control and basing now, there is not a whole lot of difference in the overall structure.
'The design hasn't changed much over the years, so it's really critical that these buildings are continually monitored to keep abreast of any structural issues to help alleviate these disasters.'
Terressentia has only owned the OZ Tyler distillery (which it renamed) since 2015, at which point it hired experts to inspect every building on the 26-acre site, carrying out repairs to every rick house and inspecting them all regularly for any structural issues.
Similarly, Beam Suntory flags up its 'comprehensive warehouse safety programme', including regular inspections and 'rigorous protocols to promote safety and the security of our aging inventory'. The warehouse that caught fire during that storm on 2 July was fitted, ironically and, as it turns out, ineffectively, with lightning protection.
Still, accidents happen. Storms bring lightning, high winds and heavy rain, and sometimes disaster will follow. The question that remains is what more can be done to minimise the damage that such incidents cause in the future, particularly to the surrounding environment?