Annandale distillery
Lowland Single Malt Scotch Whisky
The modern Annandale distillery produces two types of single malt whisky, both matured in American oak barrels – an unpeated spirit that's described as "smooth and sophisticated", while a peated version is depicted as "strong and powerful". The contrasting styles are a reflection of the Lowlands' peated whisky past, and its modern reputation as a region that produces softer styles.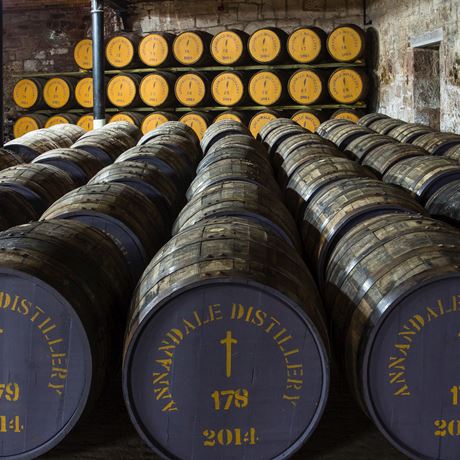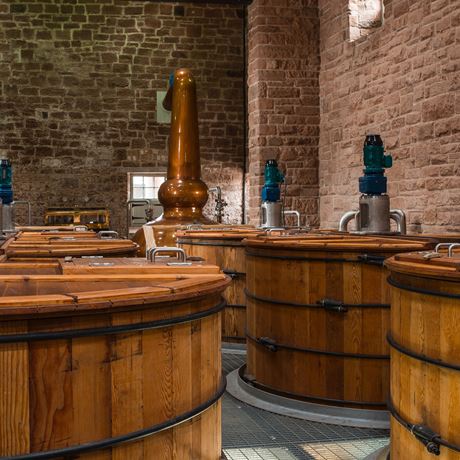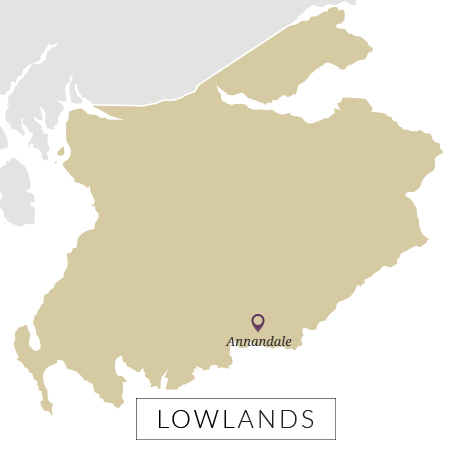 Region

Lowland

Production type

Single malt

Distillery Status

Working
Annandale History
The original Annandale Distillery was built in 1830 by former Elgin-based excise officer George Donald, who named the site after the valley in which it is situated. Using water from the Middleby Burn for the whisky and the Guillielands Burn for cooling and power, the distillery produced single malt whisky for 90 years.
Donald ran the distillery until 1883 when it passed to John S. Gardner & Son, the namesake of which kept cows, pigs and horses on-site, feeding the animals on the draff and leftover grain from the distillery. Under Gardner's tenure the distillery underwent a modest expansion, and at the height of its production was making 28,000 gallons of spirit annually.
Just 13 years later John Walker & Sons purchased the site, but the now renowned whisky group had grander ideas up its sleeve. Come 1919 the company decided to abandon Annandale to concentrate on developing its signature blended whisky, Johnnie Walker. By 1921 the distillery was closed, its fittings stripped for use elsewhere.
The site passed into the hands of the Robinson family, who were famous for producing Provost porridge oats. What was left of the distillery became a production line for the breakfast cereal brand, while the bonded warehouses were used to house cattle. The remainder of the buildings fell into a state of disrepair.
In 2007, the site was purchased by the Annandale Distillery Company, led by husband-and-wife owners David Thomson and Teresa Church, who also own market research operation, MMR Group. The duo set about painstakingly returning the site back to its former glory over a seven-year period that cost in the region of £10.5 million.
Production of two significant whisky styles began in November 2014, named Man O' Words after the poet Robert Burns, and Man O'Sword after Scottish warrior Robert the Bruce. Casks of both are available to purchase before the spirit is mature enough to be called whisky. The Annandale Distillery Company put a price tag of £1 million on the first cask filled on 15 November 2014.
Timeline
1830

George Donald, a former excise officer, builds the original Annandale distillery

1883

The distillery is sold to John S. Gardner & Son

1887

Annandale Distillery is rebuilt and extended

1896

John Walker & Sons buy the distillery for £2,000

1919

John Walker & Sons mothballed the distillery after making the decision to focus on its new blend, Johnnie Walker

1921

The site is officially closed and stripped of its equipment

1924

The distillery is purchased by the Robinson family for the production of Provost porridge oats

2007

Annandale Distillery Company purchases the site with a view to returning the distillery to its former glory

2014

The distillery begins operation for the first time in 95 years
Owners Current owner
Previous owners
Contact
Address

Annandale Distillery




Northfield




Annan




Dumfries and Galloway




DG12 5LL




United Kingdom

Phone

+44 1461 207817

Visitor Opening Hours

Monday

9am to 5pm

Tuesday

9am to 5pm

Wednesday

9am to 5pm

Thursday

9am to 5pm

Friday

9am to 5pm

Saturday

9am to 5pm

Sunday

10am to 5pm