BrewDog distillery
Highland Scotch Whisky
Renegade, transparent and ballsy – you'd expect nothing less from the distilling arm of 'punk' brewery BrewDog. Its BrewDog distillery (formerly known as LoneWolf) is a testbed for exploring the boundaries of whisky – both within and without the Scotch whisky regulations. Right from the outset BrewDog's equipment was designed to handle a variety of spirit styles, including gin, vodka, rum, absinthe, brandy and whisky.
The distillery is set up to process wheat, maize and rye, as well as barley, to create both single malt and single grain whisky – even a 'single blend' is possible down the line. Future plans include the installation of a mash filter, or a mash tun that aids the process of rye, a notoriously difficult grain to work with.
Taking influence from its brewing roots, BrewDog experimented with a variety of different barley varieties and roasting levels before settling on the exclusive use of Maris Otter and Golden Promise strains, with a grain bill that contains around 15% Munich malt – a pale malt roasted for slightly longer.
Fermentation takes place in the brewery's existing washbacks using a mixture of distillers yeast with a bespoke red wine strain to add a layer of fruitiness.
While one of its quirkiest traits is the uniquely-shaped 'triple bubble' wash still, which is designed to produce a light spirit style, BrewDog's 'forensic' approach to creating its new make spirit is fascinating. The spirit still is fitted with a precooler and set up to allow for a single pass distillation. That means head distiller Steven Kersley is able to cut the spirit into heads, hearts and tails without the need to distil a second time. The single-distilled spirit is then blended with traditionally double-distilled spirit to create an 'optimal new make' before filling into cask.
Cask types include ex-Bourbon, toasted virgin oak, ex-oloroso and PX Sherry, French oak and STRs. All standard varieties, but the kick is BrewDog's temperature and humidity controlled warehousing, which has the ability to mimic the environment of any climate in the world.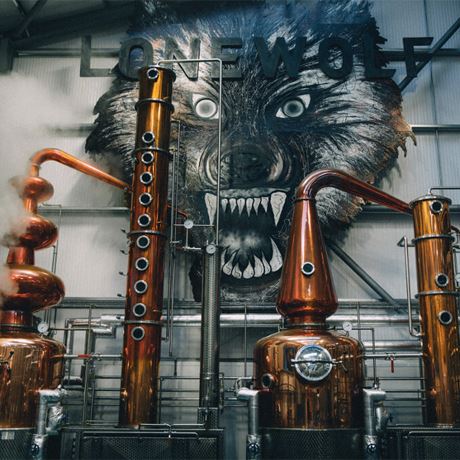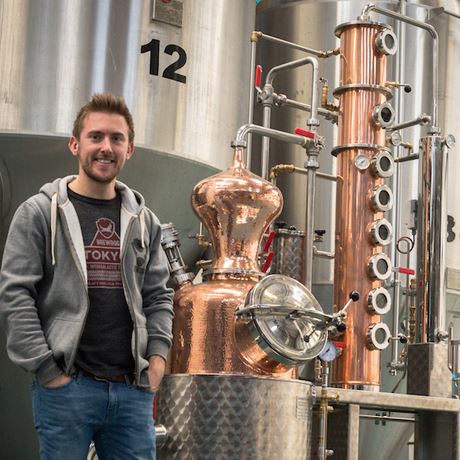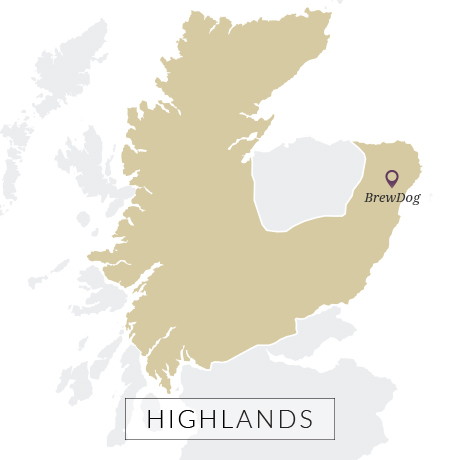 Region

Highland

Production type

Single grain
Single malt

Distillery Status

Working
BrewDog History
Martin Dickie and James Watt founded self-styled punk brewery BrewDog in April 2007 as an antidote to the 'industrially brewed lagers and stuffy ales' that dominated the UK beer industry.
Some outlandish claims and imaginative marketing campaigns, including the launch of Tokyo, the world's strongest beer, catapulted BrewDog into the news. As its reputation grew so did demand for its beer, prompting the team to sell shares off to its fanbase in an Equity for Punks drive, in order to bankroll expansion.
In 2010 BrewDog opened its first craft beer bar in Aberdeen. Six years later, with 46 bars under its belt, the company opened a new eco-friendly brewhouse in Ellon, 16 miles north of Aberdeen, within which it established a craft spirits distillery named LoneWolf.
While experimenting with different mashbills for its vodka and gin neutral spirit, LoneWolf head distiller Steven Kersley took any discarded runs and laid them down in cask 'to understand how it worked in wood'.
After spending some time experimenting with 'doing 100 whiskies in 100 different ways', working with different grains, barley roasts and cask types, the distillery has now honed its single malt recipe.
While it waits for its whisky to mature, LoneWolf has released a vodka and juniper-forward gin.
In 2018 David Gates, formerly managing director of Diageo Futures and previously Johnnie Walker global brand director, joined the company has head of BrewDog Distilling.
LoneWolf was subsequently renamed BrewDog distillery.
In April 2019 BrewDog released a series of bespoke whiskies designed to pair with its beers for an in-house boilermaker menu.
Timeline
2007

Martin and James found BrewDog in Aberdeen

2010

The brewery opens its first beer pub in Aberdeen

2016

The business branches into spirits with the opening of the Lone Wolf distillery at its new brewing complex in Ellon

2016

Lone Wolf becomes one of the first Scottish distilleries to experiment with rye distillation

2019

The distillery's name is changed from LoneWolf to BrewDog to address the 'disconnect' between the two brands
Owner
Current owner
BrewDog Distilling Co.

2016 - present
Contact
Address

BrewDog Distillery




Balalmacassie Commercial Park




Ellon




Aberdeenshire




AB41 8BX




United Kingdom

Phone

+44 (0)1358 724 924

Visitor Opening Hours

Bar open 10am-9pm
Tours available in the afternoon and evening