Grant's Profile
Blended Scotch Whisky
Grant's Family Reserve can be seen as a classic Speyside-style of blend – well-mannered, smooth and sweet, with pear and summer fruit notes on the nose, malt, vanilla, and floral influences on the palate, and a long, sweet finish with just a hint of peat. The key grain component is sourced from Grant's own Girvan distillery in Ayrshire, while principal malts among the 25 or so that go into the blend include the firm's own Glenfidddich, Balvenie, Kininvie and Ailsa Bay whiskies.
In addition to the 'standard' Family Reserve blend, sold in some 180 countries globally, there is an Ale Cask Finish, a Sherry Cask Finish, a 25-year-old and a Signature expression.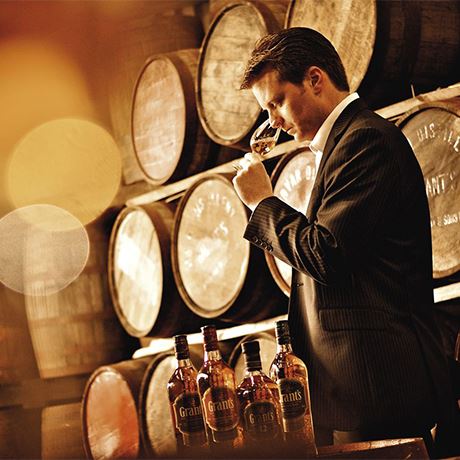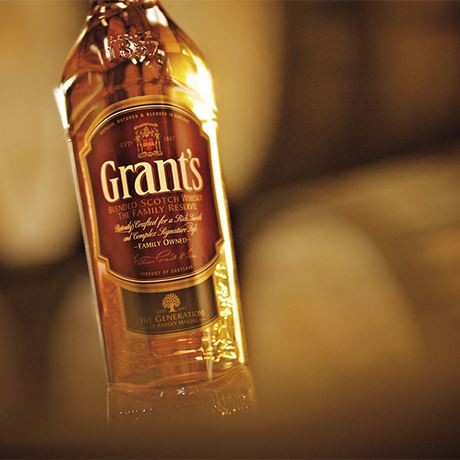 Production type

Blended Scotch
Grant's History
Company founder William Grant first began to sell blended whisky in 1898, a dozen years after the Grant family had established Glenfiddich distillery on the outskirts of the Speyside village of Dufftown. A number of names were given to early blends created by Grants, including Best Procurable, Hare and Hounds, Liqueur, and even Grant's Shannon, an Irish-style blended whiskey. The one that stuck, however, was Standfast – after the Grant clan motto 'Standfast Craigellachie!'.
In 1903 William Grant recruited his son-in-law Charles Gordon to the family firm as sales director, in order to establish a base in Glasgow from which to sell Standfast, aided by William's third son, Charles. The pair set up a duty-paid warehouse in the Gorbals district of the city, and somewhat unconventionally, the premises occupied the basement of the Gorbals Parish Church. There pre-blended whisky was decanted from casks sent by rail from Dufftown to Glasgow into two-gallon stoneware jars or 'pigs', which were supplied to the local licenced trade.
Initial progress in marketing the new blend was slow, with Charles Gordon famously making 181 calls before selling his first case! Grant's gradually became established both at home and abroad, however, enjoying notable success in post-war North America. In 1957 it appeared in its now familiar triangular bottle, designed by Hans Shleger, a refugee from Nazi Germany.
Having been known until the mid-1980s as Grant's Standfast, the blend was re-branded as Grant's Family Reserve, reflecting the fact that William Grant & Sons remains an independent company in family ownership. The presentation has since undergone a number of makeovers, including embossing the Grant coat-of-arms and motto onto the bottle, and adding 'Est 1887' and the legend 'Independent Family Distillers for Five Generations.'
For some years, 12 and 18-year-old variants of the Grant's blend were available, but these have now been discontinued, while the travel retail-exclusive Voyager expression has been introduced, along with the non-chill-filtered Distillery Edition, exclusive to the Glenfiddich distillery visitors' centre. Grant's Ale Cask Reserve is the only Scotch finished in ale casks, while Sherry Cask Reserve completes its maturation in ex-oloroso Sherry casks.
2014 saw the most significant change to the Grant's blended Scotch portfolio in many years, when Signature was added to the range. Signature is an easy-drinking blend designed to appeal to younger consumers, but backed up by the Grant's name and remarkable family heritage.
Timeline
1839

William Grant is born

1887

First spirit flows from Grant's Glenfiddich distillery

1893

Opening of Grant's second distillery, Balvenie

1898

William Grant begins to market his first blended Scotch whisky

1909

Charles Gordon embarks on an epic world tour which establishes Grant's blended Scotch as an international brand

1957

Introduction of the now iconic triangular Grant's bottle

1963

Creation of Girvan grain distillery, increasing William Grant & Sons' independence in terms of securing grain whisky for blending

2001

Introduction of Grant's Sherry Cask Reserve and Ale Cask Reserve blends

2009

Grant's 25-year-old blend is introduced into the travel retail arena

2014

Grant's Signature is added to the company's blended Scotch portfolio
Owner