J&B Profile
Blended Scotch Whisky
The principal expression is J&B Rare, which is a light-coloured and light-bodied whisky, ideal for mixing. Fresh, grassy and nutty on the nose, J&B offers malt, spice, fruit salad and sweet grains on the well-balanced palate. The blend contains more than 40 individual whiskies, with Speyside malts at its core, and in particular its 'heart malt' Knockando, along with Auchroisk.
Other variants to have been developed include J&B Jet – smooth and distinctively packaged in a black bottle – and J&B Reserve – aged for 15 years, with a malty, elegant style – along with J&B Urban Honey liqueur.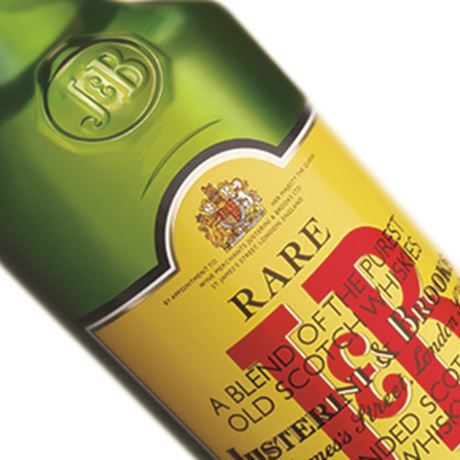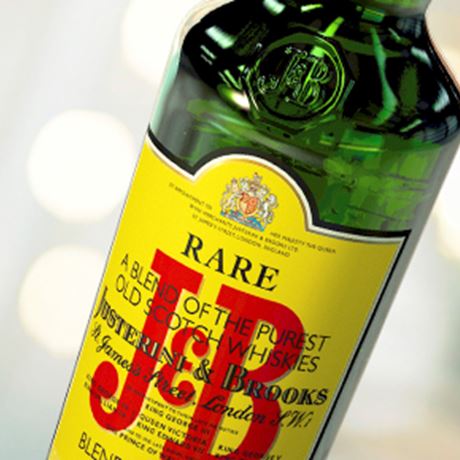 Production type

Blended malt
Blended Scotch
J&B History
The history of J&B begins in 1749 when Giacomo Justerini, from Bologna in Italy, travelled to London to woo the Italian opera singer Margherita Bellino. Failing to win Margherita's heart, he remained in London and set himself up as a wine merchant in fashionable Pall Mall, along with a business partner, George Johnson. In 1831 Alfred Brooks acquired the firm from the Johnson family and renamed it Justerini & Brooks.
When Scotch whisky began to establish itself as a serious alternative to brandy in polite London circles during the 1880s, Justerini & Brooks was quick to acquire stocks of old whisky in Scotland and soon introduced their own Club blend.
Prior to Prohibition (1920-33), Justerini & Brooks had sold modest quantities of whisky in the States, and when the firm's Eddie Tatham visited the US in 1930 he concluded there would be great opportunities for Scotch once Prohibition ended. Accordingly, in the early 1930s, J&B Rare was developed, designed specifically to appeal to the American palate and as a chief rival to another new-style blended Scotch – Cutty Sark.
J&B became a big hit in the States, and by 1963 was selling one million cases per year, having been introduced to Spain around a decade earlier, where it went on to become the leading blended Scotch whisky. Gradually expanding its sphere of influence, the brand was selling three million cases per annum during the 1970s. Justerini & Brooks became part of International Distillers & Vintners in 1962, and ultimately of the Diageo subsidiary United Distillers & Vintners (UDV) in 1997.
While J&B Rare remained the standard blend offered by the brand, backed up by Jet and Special Reserve, 2006 saw the company launch the innovative J&B -6C Scotch. This virtually-clear blended whisky was specifically intended to attract younger vodka drinkers, and was chill-filtered down to minus six degrees celsius, hence the name. It did not prove a commercial success, however, and was withdrawn the following year, when J&B also launched its first global campaign 'Start a Party'.
In 2014 J&B Urban Honey 'spirit drink' hit the market, carefully labelled as 'J&B Scotch whisky infused with honey' so as not to upset the Scotch Whisky Association.
Timeline
1749

Giacomo Justerini and George Johnson set up in business as London wine merchants

1779

Johnson and Justerini advertise in The Morning Post on 17th June, noting that among their stock is 'usquebaugh' – or whisky

1831

Alfred Brooks acquires the firm and re-names it Justerini & Brooks

1933

The end of US Prohibition sees the introduction of the new J&B Rare blended Scotch whisky brand

1958

J&B Rare is introduced to the Las Vegas club scene, where it is drunk on stage by stars such as Sammy Davis Jr, Frank Sinatra and Dean Martin

1962

J&B Rare goes on sale in Spain for the first time

2003

J&B Rare's reputation as a party drink starts with J&B Nightology boat parties on an 11.000- ton cargo boat

2006

Renowned chef Ferrán Adriá invents molecular gastronomic cocktails using J&B Rare. J&B -6C is introduced

2007

J&B -6C is withdrawn after just 12 months

2014

Diageo launches honey-flavoured spirit drink J&B Urban Honey
Owners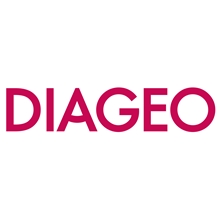 Current owner
Previous owners