J&G Grant Profile
Six generations of the Grant family have owned and run Glenfarclas distillery at Ballindalloch, with the company currently being headed by John Grant, whose son George acts as brand ambassador.
Glenflarclas has a high reputation as a blending malt, but also enjoys a passionate following as a single malt which is routinely matured in ex-Sherry casks. It is available at a wide range of ages, from eight to 40-years-old, and the distillery inventory is notable for its strength in depth.
This led to one of the company's great innovations, with the decision being taken in 2007 to market The Family Cask collection, comprising a single cask bottling at cask strength from every year between 1952 and 1994. The Family Cask range continues to evolve, with the very oldest expressions no longer being available, while younger bottlings have been added as time passes.
The Grants' philosophy is to present their single malts with minimum fuss in terms of packaging and at sensible prices. The aim is to get consumers drinking the whisky, even the really old bottllngs, and then come back for more. Essentially, Glenfarclas is a whisky for drinkers rather than collectors.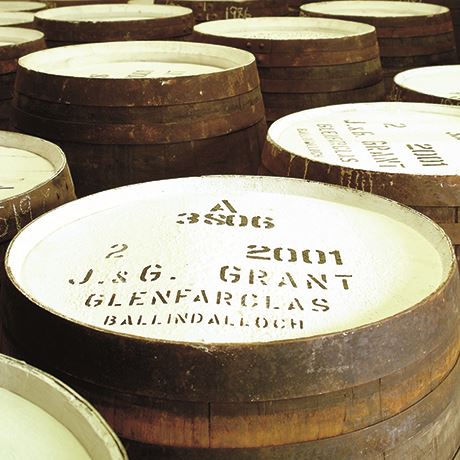 J&G Grant History
Glenfarclas distillery was established in 1836 by Robert Hay, and on 8 June 1865 John Grant, born in 1805, purchased the distillery for £511.19s.0d. He leased it to his cousin John Smith, until Smith moved on in 1870 to create nearby Cragganmore distillery.
John Grant and his son George began to run the distillery themselves, and when John died in 1889, George took over. He was to die the following year, however, at which time his sons, George and John, began to operate the distillery,
In 1895 they entered into partnership with Leith based Pattison, Elder & Co, in order to expand their operations, forming the Glenfarclas-Glenlivet Distillery Company. When Pattison went bankrupt in 1898 Glenfarclas encountered serious financial difficulties, but managed to survive, with the Grants resolving never to make themselves vulnerable to outside investors again.
1914 saw John Grant retire from the business due to ill-health, and his brother George continued alone. When George died in 1949 his sons, John and George took on the distillery. During the next three decades the distillery was substantially rebuilt and expanded, with sales increasing significantly and a strong export presence being established. The present John Grant took over the chairmanship of the company on the death of his father, George, in 2002. John's son, George, had entered the business two years previously.
Associated companies
Contact
Address

J&G Grant Limited




Glenfarclas Distillery




Ballindalloch




Moray




AB37 9BD




United Kingdom

Phone

+44 1807 500257