Poland's biggest whisky festival is making a lot of noise throughout Central Europe, leaving little room for boredom – much to the delight of its thousands of visitors. From village fair-style activities to rock concerts and an igloo bar offering relief from the sweltering heat, Rob Allanson tries to keep up.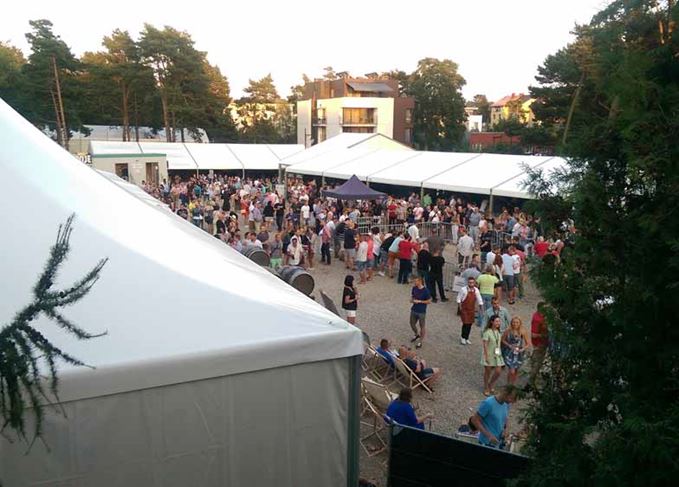 Now in its third year, the whisky festival held at Dom Whisky in Jastrzebia Góra has firmly planted the flag for the amber liquid in Central Europe. Attracting some 6,000 people, this year's show was bigger and louder than previous years, but still retained the atmosphere of a village fête, complete with quoit throwing and 'best in show' judging (whisky, not dogs or cattle, that is).
What really sets this show apart from its competition, though, is that while it feels like a whisky show – kilted brand ambassadors wandering around, the token piper randomly breaking into tune, vouchers for drinks, Glencairn on neck strings and some esoteric drams – it is a Jekyll and Hyde event.
You get some idea of how the Poles like to relax and let off steam once you start noticing the little details: the cigar stand doing a roaring trade, the time-lapse camera for uploading images online with your friends filmed in hipstermatic settings and, in one corner, a more bizarre form of art – tattooing bananas.
Once the sun starts to get a little lower in the sky – it takes time; this year the temperatures soared into the mid-30s – the show's other persona starts to unfurl its long hair and flex its muscles. It's a gentle transformation over a few hours. It starts with a three-piece band running through the numbers of The Beatles, Stones and other assorted easy listening tunes, with Tom Petty's Free Fallin' getting the crowd finally singing a little.
Then, depending on where you are, comes the heart-stopping, lung-emptying thump of a kick drum sound-checking. This can be particularly fun for those presenting and attending masterclasses towards the end of the day. Something loud and raucous this way comes – not over the hill like a monster, but demolishing the hill completely.
The whisky doesn't just take a back seat, it is bound and gagged in the boot as three of Poland's popular rock outfits take to the stage and whip the crowd into excitement. A whisky show that gives way to a rock event – genius.

Go bananas: Tattooing fruit is an unconventional form of entertainment for any whisky show

Behind Festiwal Whisky is whisky and bar entrepreneur Andrzej Kubis. His whisky journey (like most) started with a passion for the liquid, and his crowning glory came in 2009 with the construction of Jastrzebia Góra's Whisky House – Dom Whisky, the hub for the festival.
Step inside this impressive building and you are faced with a bar boasting more than 2,000 bottles of whisky, and this number is still growing. Upstairs in the tasting space are four pillars featuring some impressively old whiskies dating back to the 1950s. A sparkling copper spirit safe takes centre-stage, again filled with some enviable old liquids.
The cellar features an intimate tasting area and some of the older whiskies in Kubis' collection. But he did not stop with just this altar to whisky; Kubis extended his reach into Warsaw and Wrocław with smaller, but still incredibly well-stocked, whisky and cocktail bars.
He says: 'With interest in whisky growing in Poland, the main idea of the festival is to – through a series of tastings and lectures conducted by internationally renowned authorities in the world of whisky – show people the secrets of the amber liquor.'
The daytime persona of the festival would be much more recognisable to the whisky drinker; brands from across the world plying their wares, offering tastings of new and exciting expressions. There are accoutrements as well to support your whisky passion; cigar exhibitors, gadgets, whisky glass manufacturers and regional Kashubian products.
With the mercury often pushing past 30C, one of the more popular stands – which was sadly only there for one day – was Polish whisky bottler Stilnovisti's igloo. The ice structure was a popular spot not only inside, where you could sample a dram or two from the company's range, but also outside. It became a common sight to see people rubbing their faces – and sometimes their entire bodies – against the cooling blocks of ice.
The whisky explorers enjoyed a good pick of flagship whiskies and Bourbons, but digging a little deeper opened up a world of more esoteric drams. Some highlights this year included a stunning 18-year-old Benrinnes bottle under the name Puffin Whisky – a gentle, delicate dram with lots of orchard fruits and caramel. Holding up the Sherry-bomb end of things, Glendronach and Glenfarclas played their part – all Christmas spices and big, bold notes.
Given the rapid expansion of this festival, and the growing popularity of whisky in Poland, it is going to be interesting to see how this festival expands next year, when organisers are expecting attendance to break the 10,000-mark, and how the organisers follow this year's rumbustuous atmosphere.

Any ice with your drink?: One of the most popular stands was Stilnovisti's igloo