The fourth Arctic Whisky Festival in Tromsø featured the usual selection of whiskies from around the world – but it was the new local distilleries that stole the show. Dave Broom reports.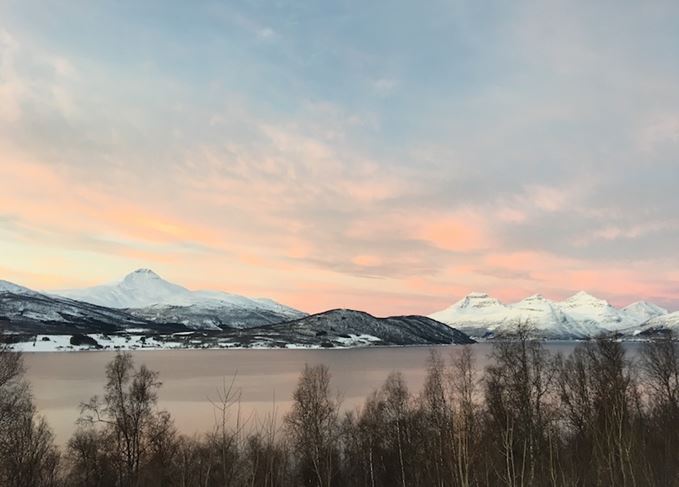 The whisky show calendar isn't just spreading across the entire year, but also heading north. Saturday, 13 January saw the fourth Arctic Whisky Festival, held in the island city of Tromsø in Norway.
It is organised by Norway's Mr Whisky, the indefatigable Chris Maile, who also operates shows in Trondheim and Oslo. As ever, any announcements are preceded by him playing the bagpipes, which certainly gets folk's attention, although no-one started dancing.
Yes, there was a wide selection of owner and independent bottlings, as well as whiskies from Japan, US, and Ireland, but it was clear from the outset where people's attention was drawn to this year.
And ok, there was also 'Kaupang', a 13-year-old Highland Park single cask which was everything you want from HP – rich and elegant, with sooty smoke and berry fruits – but the focus this year was the arrival of the Arctic as a whisky-producing region.
Norway now has two distilleries within the Arctic Circle. Aurora Spirits, which lies 87km west of Tromsø, has already released akvavit, gin and vodka under the Bivrost label, while other wild experiments (including a head-exploding sugar kelp distillate) are being made in this new distillery situated on an abandoned, and quite possibly haunted, NATO bunker.
The focus at Aurora will be whisky, however, and the team was showing a 1.2-year-old (about 14 months or so, in other words) work in progress called, appropriately enough, Odin's Share. Once it had opened fully in the glass, it showed a juicy, lightly cereal-accented, fruity core which bodes well for the future.

Social occasion: The festival spilled out of the main venue and continued into the night

It joins the (slightly) older Myken, from the island of the same name 32km off the Norwegian coast. Roar Larsen has been distilling since 2014, and the festival saw the Myken spirit passing the three-year-old mark, and becoming whisky.
Light, estery and with real sweetness, it showed huge promise, as did a 17-month peated example which had a spicy, heathery smoke that sat in balance with the light, sweet spirit. Both shared a salty, mineral finish. Location? The use of desalinated water? Who knows… but it was there, and also in the Aurora spirit.
The fact that it was the new, local whiskies which were receiving deserved attention was perfectly in tune with the nature of the event. It's easy to talk about 'the Nordic market', as if the same likes and dislikes exist across the entire region. The reality is a lot more interesting.
Norway is an amalgam of quirks and foibles – the trends in Oslo are different to those in Bergen or Stavanger, and once you get into the far north they have changed again.
Tromsø has, until recently, been a Cognac-drinking city, one where whisky was always a tough sell. Things are, however, changing. There's an increasingly active whisky club scene – including one all-women's society.
The city also has the youngest demographic profile in Norway, giving it a cosmopolitan air which is boosted by the number of foreign students and lecturers working and studying at the University of the Arctic.

Myken man: Roar Larsen's spirit has just passed its third birthday and is now whisky

Where there are students there are bars, and here Tromsø doesn't disappoint – it has the highest per capita concentration of watering holes in the country, a long-established brewery (Mack) and a burgeoning cocktail scene: that sea kelp spirit was made for its top bar, Bardus. There's movement in the north.
Instead of being a hardcore Scotch-drinking city, there is a sense of openness and a willingness to try all styles of whisky. 'Compared to Oslo, this is a joy in terms of getting people to try non-Scotch whiskies,' said one supplier. 'They are just happy to try everything.'
Maybe it's curiosity, perhaps it's a sense of knowing they have to catch up, but Maile has noticed that people here aren't just more wide-ranging in their tastes, but more generous.
Because of Norwegian alcohol regulations, all drams have to be purchased with tokens. Ten are included in the price of a ticket, and visitors can buy as many more as they wish for NOK25 (£2.30) each. Here, people were buying 40 extra from the outset.
By the end of the seven-hour event, the older, male-heavy demographic profile had changed to one which was younger, happily louder, and with more women.
By then, the conversations had spilled outside the tasting room and into the hotel's lobby café, where groups were chatting while sipping at their drams, then heading back in for top-ups. Not just a whisky show, then, but a social event which then continued long into the Arctic night.