Last weekend a small corner of Glasgow resembled a celestial sweetie shop for whisky lovers as the Old & Rare whisky show opened its doors for the third year running. Tom Bruce-Gardyne went to take a look.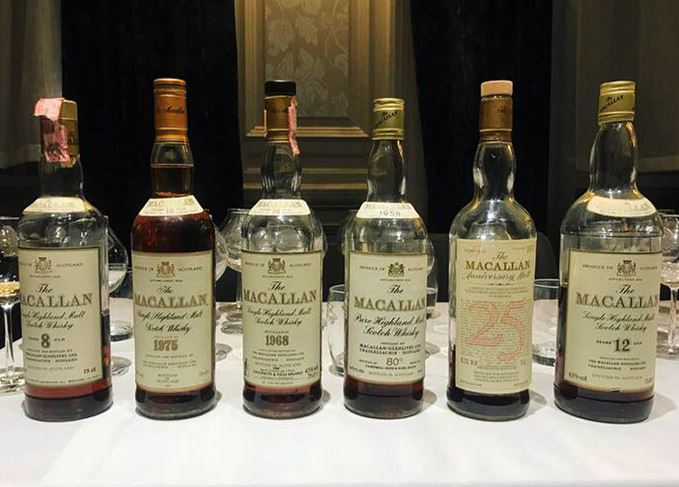 Entering the ballroom at Glasgow's Grand Central Hotel for last weekend's Whisky Show: Old & Rare I was reminded of the Italian collector Diego Sandrin's comment: 'When you drink a whisky, that's when it comes alive and that's when it dies.' However valuable the bottle, it is just an object until the cork is pulled or the cap unscrewed. Its sole purpose in life is to be drunk and shared, but in doing so you destroy its value forever.
Not that the 350 guests at the show on Saturday looked the least bit upset as they helped drain the life out of around 700 precious gems one sip at a time. Tickets for this year's show cost £75 for the day or £135 for the full weekend, and included a glass and a hot buffet lunch. Drams were dispensed in 1cl measures for as little as a pound for whiskies like The Famous Grouse 18-year-old (Taiwan edition) or a Glenburgie 1998, rising to £200 for Black Bowmore 1st edition or Macallan 1940. At least half of the bottles on show could be tasted for a tenner or less.
The show is now in its third year, and Annabel Meikle, Keepers of the Quaich director, hasn't missed it once. 'It's almost hard to tell who's an exhibitor and who's a guest,' she told me, looking round at the 20 or so stands. 'It's a wee bit interchangeable, and I think that's lovely – it somehow epitomises what the world of whisky is all about. The level of knowledge of both sides of the table is probably about equal, and what makes this show unique is that you've got this level of expertise, but a low level of whisky snobbery.'
Her first three drams, a 1964 St Magdalene, a 16-year-old Dallas Dhu and 'a very old Port Askaig', had clearly put Meikle in a good mood. Her one gripe was the absence of master blenders and distillers in the room. 'I know they've got archives of old whiskies of their own brands,' she said, 'but where's the hunger to see what their competitors were doing in the 1970s and 1980s? Whisky is such a long-term business you almost have to look back to look forward.'

Lofty setting: The Whisky Show: Old & Rare returned to Glasgow's Grand Central Hotel (Photo: Jonny McMillan)

The Dallas Dhu was a Scotch Malt Whisky Society bottling. 'The members know they haven't seen it for maybe 15 years,' explained Jim Coleman, the Society's ambassador who was impressed with the visitors to his stand. 'At some of the festivals, people will pay £35 for a ticket and be determined to drink £35 worth of whisky without really caring what they're drinking,' he said. 'Here they are more discerning and they'll sit down, write notes and share drams. It's the most civilised show, by a long way.'
'The amount of knowledge in this room is amazing,' added Jon Beach, who was exhibiting some of his treasures from his Fiddler's Inn in Drumnadrochit, including a few bottles of his beloved Port Ellen. 'It's a good one to collect if you're not interested in collecting everything,' he said. Already that morning he had tasted yet another single cask Port Ellen for the first time, a 29-year-old bottled in 1982 for Whisky Doris, and available at the stand of Swedish collector, Magnus Fagerström.
Having interviewed Beach last year about this urge to collect, I asked him if it was a very male thing. 'Yeah, it's like trainspotting,' he said. 'Have you ever seen a female trainspotter? Women are a bit more relaxed. They're like the French who love Scotch whisky, but you don't see many French guys here, whereas the further north you go it all gets a bit more obsessive. And women are obviously more intelligent than us.'
Yet hoary old clichés aside, this whisky show certainly wasn't entirely male and nor was it just about single malts. 'I think people have really started to understand old blends a lot more in recent years,' claimed Angus MacRaild, organiser of the show along with Berry Bros' Jonny McMillan and The Whisky Exchange.
'The great thing about blended whiskies, certainly from the 1950s and earlier is that they have a much higher proportion of malt whisky in them. So what you get after all those years in bottle is a flavour of malt whisky from that era. Of the whiskies here today, I'd says that blends are an important minority, though understandably malts are still the prime focus.'

Price range: Drams started at £1 and rose all the way to £200 for a pour of Black Bowmore 1964 (Photo: Jonny McMillan)

MacRaild had just hosted a masterclass on 100º Proof whiskies finishing with what he called 'an astonishing 1949 bottling of Smith's Glenlivet'. That afternoon's masterclass was the 'Man that made Macallan' – an homage to the firm's former MD Willie Phillips, in those innocent days before Lalique decanters and PR overkill. It was hosted by Phillips and Sukhinder Singh, co-founder of The Whisky Exchange, who explained: 'The foundations were laid by him and his team, and the reason why Macallan is fabled is because of what was produced, blended and bottled in that era of the 1970s-80s.'
'People have asked "are you doing Macallan because of the hype?"' he added. 'But you know what – I don't believe in that hype. Some of today's products are really good, and some are actually not so good which upsets me because I know what they're capable of. We're starting with an eight-year-old, and honestly it's better than a 15-year-old Macallan today. It's just beautiful.'
That chimed with another comment he made on whisky production 'being a little more artisanal' in the past. 'What worries me a little bit today is that everything is about efficiency,' he said. 'Diageo would say they're about quality, but I disagree – it's about efficiency. Of course the process is tip-top, but I'm sure that efficiency takes its toll on the final liquid.'
Dr Nick Morgan, Diageo's head of whisky outreach who was also there, might disagree, but one imagines that most people in the room would have been on Singh's side. The Whisky Show: Old & Rare is nothing if not a celebration of those post-war years when Scotch was almost absurdly undervalued and talented bottlers from Gordon & MacPhail to Samaroli were able to cherry-pick the best casks. It truly was a golden age.