Billed as a whisky show for beginners, the annual Whisky Weekender at London's Oval cricket ground offered more than just whisky. With gin, cocktails and the promise of a 'baptism', Becky Paskin went to find out more.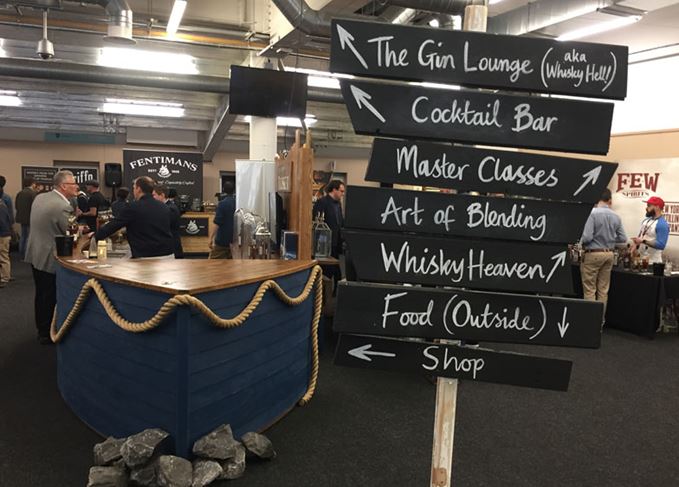 How does a whisky show designed for beginners keep people returning year after year? After all, once a newbie has become 'enlightened' (a theme of this year's show; I'll get to that soon), and graduated beyond a simple introduction to whisky, their natural curiosity will move them to seek out richer experiences. Yet somehow the Whisky Lounge Whisky Weekender (11-13 May), now in its 10th year and widely regarded as a 'beginner-friendly' show, has not only attracted a new audience of wannabe whisky lovers, it has retained a loyal following of graduated whisky enthusiasts as well.
This year's affair – held in a downstairs foyer of London's vast Kia Oval, home to Surrey County Cricket Club – embodied The Whisky Lounge's ethos to make whisky accessible for all. As such the event has more in common with a local food festival than a traditional whisky show. Food trucks and boutique cake stalls lined the entranceway, while back inside an adjacent annexe housed the Whisky Weekender's first 'gin lounge', featuring G'n'Ts, cocktails and gin blending masterclasses. Aside from cocktails, gin is a logical step toward attracting newcomers to whisky – come for the juniper, stay for the drams. After all, with 100-plus whiskies included in the price of a £25 ticket, it'd be foolish not to at least give them a go.
For those still feeling a bit lost at their first whisky festival, this year's Whisky Weekender hosted regular informal 'baptisms', a series of well-attended mini-masterclasses in which visitors could learn the basics before being let loose on the show. Set just to the side of the main exhibition space, the classes drew a lot of attention, though as a result would have benefited from some kind of sound system. Still, those able to hear the wise words of Whisky Lounge staff above the roar of 500 visitors were visibly more confident about now navigating the show themselves.

Baptism of fire(water): Knowledgeable festival staff gave curious newcomers an introduction to whisky

The whisky on offer was impressively diverse, considering the limited space in the foyer. Alongside the standard ranges from major Scotch single malts such as Bowmore, Talisker and The Glenlivet, there was an interesting selection from independent bottlers and a solid representation of world whisky producers, including Sweden's Mackmyra and High Coast (formerly known as Box), Vermont's Whistlepig and Melbourne's Starward. Even the 'under-the-counter' drams on which to spend those valuable tokens brought their 'A' game – among them Lagavulin Jazz Festival 2017, Johnnie Walker Ghost & Rare and an intensely fruity and vibrant SMWS 2.36 (1966 Glenlivet). It may be a whisky festival for beginners, but that's no excuse to stick to entry-level drams.
Unlike many other whisky shows, visitors weren't queuing outside for hours to be the first to taste a particular rarity (I'm reminded of an occasion in 2014 when two bottles of Pappy van Winkle ran empty just 20 minutes after the doors to Whisky Live Chicago opened). The pace at the Oval was relaxed, the atmosphere jovial and friendly, despite the squeeze of visitors all vying for exhibitors' attention. 'We had to move the fair downstairs this year as our usual space upstairs was double booked,' Whisky Lounge co-founder Eddie Ludlow explained.
Amid the bustle, one area that presented a relative oasis of calm was the new 'Whisky Heaven', a roped-off 'VIP' section to the side of the main exhibition space housing a selection of old and rare whiskies available for £10-20 a dram. With its black suede couches and oak furniture, Whisky Heaven presented the only real place at the festival to sit down (seating is quite important during a four-hour drinking session), but while all visitors were welcome to enter the space, a black rope and constant sentry made the area feel too exclusive, too elite, and ultimately off-putting for the most confident of whisky newcomer.
As a result, the space was largely unused save for a few intrigued enthusiasts and the handful of whisky experts asked to attend. 'We're a show for newcomers,' Amanda Ludlow, co-founder of the Whisky Lounge, explained. 'This year we had Whisky Heaven as a way of giving something back to our visitors who've been with us for the past 10 years, but the heart of the show is to introduce people to whisky in the first place.'

VIP Lounge: All visitors had the opportunity to sample some rarer drams in the seemingly-exclusive Whisky Heaven

Indeed, Whisky Weekender's appeal stretches across the spectrum of whisky drinker. A retired couple from Victoria, Canada, explained how keen they were to attend a whisky show while on holiday in the UK, simply because a) their choice of whisky in government-controlled Victoria is so limited, and b) tickets for the annual Victoria Whisky Festival sell out too quickly. I'd been told Whisky Weekender attracts the most diverse audience of any UK whisky show, and visitors certainly appeared younger than those attending the traditional festivals, but there was still a noticeable lack of female presence, at Saturday's daytime session at least.
The Whisky Lounge adopts annual themes to keep the London show fresh – a way of encouraging their dedicated members to continue returning year after year. Previous events have even featured an inflatable ball pit, which considering all the whisky consumed, doesn't sound messy at all. Whisky Heaven was also a one-time installation, and won't be returning in 2019. What next year's theme will be is anyone's guess (how do you go from ball pits to VIP lounges?), but what is certain is that the show will continue to be a breeding ground for converting beginners into life-long whisky lovers.