The traditional Bowmore camp-out for its distillery bottlings starts earlier every year, but it's not just the whisky that drives people to queue for 17 hours, writes Becky Paskin.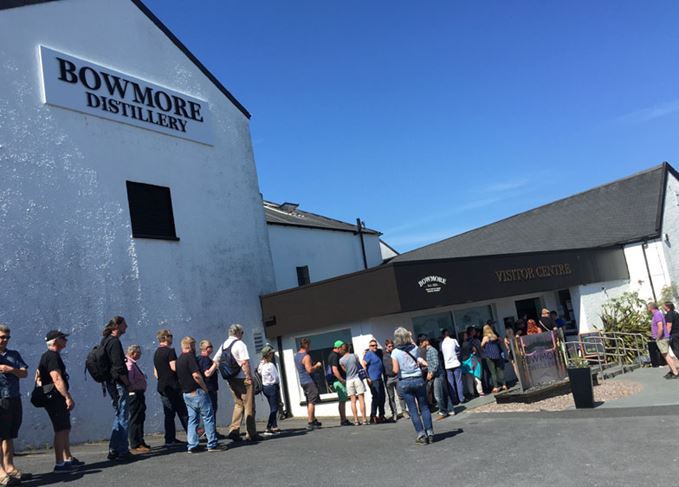 I was deeply considering the mango and papaya qualities of a 1973 Bowmore when I spotted David Turner struggling with the door to the No 1 Vaults. Walking back towards us, he shrugged his shoulders. 'We've been locked in from the outside,' he said, as though this is a regular occurrence. 'It's ok, someone will be along soon.'
What else to do when locked in a warehouse but to crack open a cask and have a dram? It was the end of the Memories with the Manager masterclass, in which Turner had selected five intriguing drams that reflected his career at Bowmore. Funnily enough, not a single person was worried about our temporary imprisonment.
The barrel-top tasting featured a very well-matured two-year-old, aged in American virgin oak, which has been produced entirely from barley floor-malted at Bowmore, plus a heavily Sherried sample of a new 21-year-old limited edition distillery exclusive, set for release early next year.
But that 1973 cask sample! Having spent 25 years in a second-fill oloroso Sherry butt and then a further 20 years in second-fill hogsheads, the whisky exuded a rich, tropical fruitiness so common in Bowmores of older vintages. 'That's my favourite,' Turner said, to synchronised nodding around the room.
Bowmore's Fèis Ìle open day featured a jam-packed roster of masterclasses, from chocolate and cheese pairings to blind tasting sessions and distillery tours. While the courtyard also featured the usual open day fare – burgers, pizza, drams and cocktails – the main attraction was undoubtedly the festival edition bottlings.

Warehouse lock-in: David Turner dishes out the cask samples in Bowmore's No 1 Vaults

It's become a ritual now for Bowmore lovers and bottle flippers to camp out outside the distillery gates overnight in anticipation of being one of the first to get hold of a bottle, but this year the queues began earlier than ever. By 11pm, there were more than 125 people camped out with deckchairs, sleeping bags and tents, while a whisky auction van was sadly parked only metres away, offering to collect bottles on purchase for submission in its next auction.
The need to queue for more than 17 hours to purchase a bottle of whisky may sound insane, but for many the communal experience of a camp-out at a distillery – that and the temperate weather – is just as appealing. Some even claimed it was the best night's sleep they'd had all week, though I'm not sure the local residents would agree.
Bowmore created two bottlings this year. The first – the most coveted with a run of only 212 bottles – was a 1989 single first-fill Bourbon cask, bottled at 28 years old at 44.7% abv and available for £400.
The second – a much larger run of 3,000 bottles – was a 15-year-old vatting of five first-fill oloroso puncheons, bottled at 52.5% abv and available for £85.
Half the allocation of the 15-year-old had already been sold over the weekend, leaving only 1,500 bottles available for Bowmore's open day. By midday, they had all been sold.
Luckily, distillery manager David Turner had a couple of samples tucked away, which we tasted on Bowmore beach: