Whisky in supermarkets is an alien concept in the Netherlands, but that is slowly starting to change. And there's one question playing on the minds of many Dutch whisky drinkers: is this a positive development? Thijs Klaverstijn reports.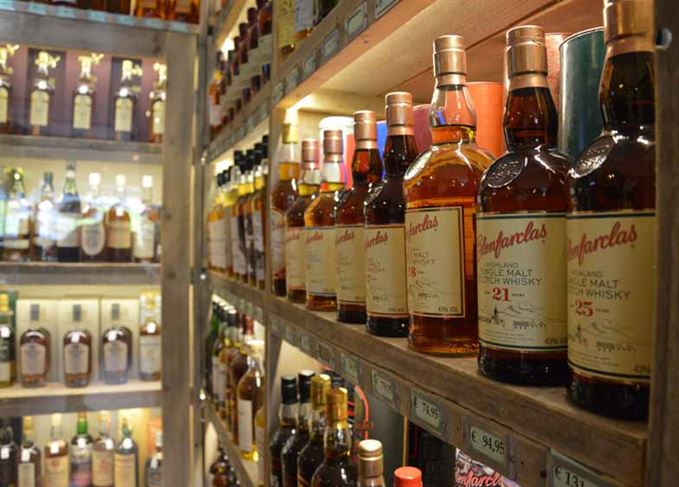 If you're fond of drinking Scotch whisky, you might want to consider moving to the Netherlands. The situation as it stands right now is as good as it gets. The choice of whisky on offer is overwhelming, both in terms of distillery bottlings and those from independent bottlers. And prices are good too (at least compared to most other countries).
That's good for us Dutch folk, but also for those abroad. As a result of the relatively friendly tax climate, Dutch online shops can count on many international orders. Interestingly enough, these orders even come from the UK, where whisky is often more expensive than it is over here.
However, the way whisky is being sold in the Netherlands differs from most other countries, where consumers are used to buying their spirits in supermarkets. Buying beer in Dutch supermarkets? Sure. Wine? Why not? But as soon as a drink surpasses 15% abv, legally it is not allowed to be on supermarket shelves.
It is a situation that works for some, but not for others. 'We are against the limitation of distribution of our products,' says Dirk van Ham, country director of Diageo Benelux, owner of brands including Johnnie Walker and Talisker. 'The goal of these regulations is to make sure the alcohol doesn't fall in the wrong hands, like those of minors. But it often has ill effects, encouraging illegal trade.'
Regulations in the Netherlands are fairly strict and date back to 1881, when the first liquor laws were put into place. Though not as extreme as the government monopoly in some Scandinavian countries, whisky (and other spirit drinks) can only be sold in specialist liquor stores.

Vast variety: There is a wide selection of whisky on offer in the Netherlands​

There are now close to 2,600 of these stores – an amazing number for a country as small as the Netherlands. A big chunk of them are part of national chains and about a quarter are still independently-run. The annual revenue of all of these stores is close to €750m, so it makes sense that supermarkets want their cut.
Luckily for them, they've been allowed their own 'borrelshops' ('borrel' being the Dutch word for an alcoholic beverage) after a change to the law earlier this millennium. A borrelshop is a shop-in-shop construction with its own supervisor, who has to be present at all times.
In reality, these borrelshops are frequently unmanned and customers have to ring for service, after which they are often helped by one of the (teenage) supermarket employees instead of the supervisor. Unsurprisingly, specialist liquor shops see this as unfair competition because they are obliged to employ specially trained staff over 21 years old.
Since 2013, Slijters Unie – an interest group for Dutch specialist shops – has sent out more than 500 requests to enforce the liquor law to local authorities. And even though they won an important legal case regarding sales in supermarkets a couple of weeks ago, it seems like only a matter of time before spirit sales in supermarkets are a reality.
Supermarkets and borrelshops (of which there are more than 1,000) are already responsible for 22% of the total revenue of all spirit sales in the Netherlands. And there's a push to further deregulate alcohol sales. It's a threat to specialist shops, and it might pose a threat to the wealth of choice that discerning whisky drinkers, whether living in the Netherlands or buying online, now enjoy.
'There's a shift among whisky drinkers to rarities and single casks. Meanwhile, the big brands are having their difficulties, so they'd love to be able to sell in supermarkets,' says Jan Beek, sales manager at Dutch importer Van Wees.

Borrelshops: There are more than 1,000 of the shop-in-shops selling spirits in the Netherlands

It's something that concerns Jock Shaw as brand ambassador at importer Bresser & Timmer. Growing up in Scotland, Shaw rarely saw any whisky being sold in supermarkets – a stark contrast to the current situation in his birth country. He hopes to avoid a similar development in the Netherlands.
'I'm happy with the way things are. If supermarkets are allowed to sell spirits, they'll treat them the same they do beer. Whisky will be offered at giveaway prices, in the process running specialist shops out of business [and] impacting the variety of whisky that'll be offered in the Netherlands. Just like Scotland, you'll be left with only a handful of specialists.'
Van Ham doesn't feel as uneasy as Shaw, comparing the situation to that in Belgium, where for as long as people can remember spirits have been sold in supermarkets. 'Belgians today are more inclined to buy their drinks at a specialist shop. I don't think owners and customers of the shops in the Netherlands have to worry. I doubt that people who might buy whisky in a supermarket would otherwise do so in a specialist shop.'
Beek partly backs up Van Ham. He is also convinced there will remain room for specialist shops, but probably not as many. 'You'll see more and more of these borrelshops and less liquor stores. To survive and be prepared for the future, shops will have to specialise.'
Right now, specialist shops in the Netherlands are still in a privileged position, which means whisky enthusiasts are also privileged. Laws protect them from big, bad conglomerates. They don't yet have to worry about their favourite shop closing because of overwhelming competition from large supermarkets, which happened to many greengrocers and butchers in the past.
But when supermarkets do get the right to sell spirits without having to meet any extra requirements, it's up to consumers to not forget about liquor shops, and vice versa. That's the only way the Scotch whisky landscape in the Netherlands will remain as diverse and rich as it is today.