Step into any whisky bar in Japan and you will be hard-pressed not to stumble upon a peculiar-looking bottle, the like of which you will have never seen before. From the label to the shape or name, each is obscurely designed to satisfy the nation's whisky lovers. Rachel Tranter Davies reports.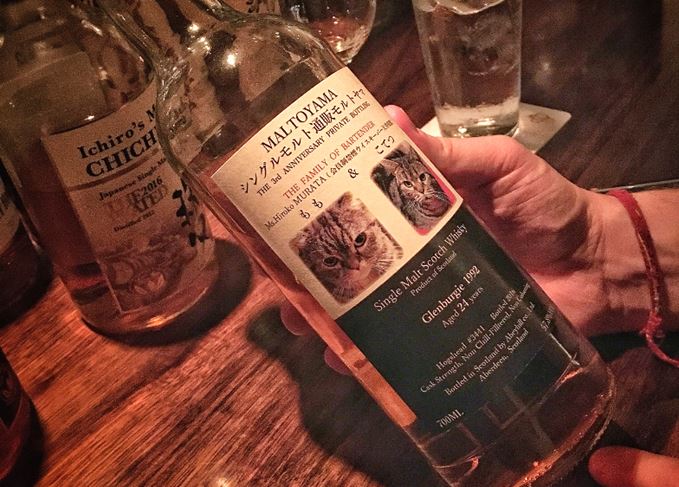 Japan's thirst for Scotch is growing fast. In 2016 alone, the country imported £82m-worth of the stuff, making Japan the 13th-largest market for Scotch whisky. And enthusiasts and bartenders alike are always on the look-out for something new with a strong point of difference.
Perhaps this explains the huge number of independent bottlers and bottlings on offer in the Japanese market. There are shelves full of obscure labels, from dinosaurs to old navy ships. Each one is special, representing a class of single malts from various Scotch distilleries, sold to blenders and bottlers who then design and market a completely new whisky for public consumption.
Japan's total whisky market has seen continuous growth since 2008 and moved up from 121.5m litres in 2014 to 147.9m litres in 2015, an increase of 14.5%. Scotch whisky made up a considerable portion of this jump.
One reason for this was the airing of Japanese TV show Massan in 2013, which dramatised the real-life story of Masataka Taketsuru, who founded whisky production in Japan in the early 20th century after studying in Scotland.
Massan became hugely popular and gave a considerable boost to Scotch whisky's expansion within the Japanese market after 2013. A large proportion of this was made up of new and exciting expressions from independent bottlers who could provide whisky connoisseurs with something they'd never experienced before.

Cartoon characters: Playful designs adorn a 17yo Benrinnes and 25yo Strathisla at the Kyoto Whisky Fair 2015

It's no secret that there are a number of UK-based independent bottlers, such as Gordon & MacPhail and Douglas Laing, often creating exclusive bottlings solely for sale within Japan. But this is only the tip of the iceberg.
Every whisky bar worth its salt has a stockpile of independent bottles that have been picked up from the vast selection available. There are some that go one step further and commission their own bottlings, such as a 17-year-old Benrinnes and 25-year-old Strathisla, both single malts finished in Bourbon casks made especially for the Kyoto Whisky Fair in 2015. The labels reflected whisky's fun side in Japan, depicting cartoon versions of famous Kyoto city sites frequented respectively by a rabbit and a frog.
It is a well-established fact that the culture of cuteness – kawaii – in Japan is huge, and the beauty in the design of the labels helps these bottles stand out on the back-bar and tempt customers into ordering a whisky. Indie bottlers are taking their inspiration for label designs from this kawaii culture, and these tend to be the most successful sellers, including a rather interesting Glenburgie 1992 bedecked with two feline faces, a bottle I happened upon in Bar Luckenbooth, Kyoto.
Even without the help of independent bottlers, the Scotch whisky market is vast and can be, at times, a little confusing. Add to the mix the scores of companies producing their own bottles in Japan and the market suddenly becomes even more of an adventure to be conquered – and Japan has long revelled in the challenge. And that's before we even take into account the influx of expressions imported from the likes of Sweden, Germany, Spain and the US.

Point of difference: Japanese consumers are seeking unusual whiskies at affordable prices

The competitive nature of the independently-bottled whisky world here makes it even more paramount that bottlers sell the highest-quality products around. From complex, heavily-peated expressions to more subtle, sweeter releases, the liquid inside the bottle is just as important to Japanese consumers as the striking label that adorns it.
This band of private whisky bottlers from around the world who select and bottle such a diverse selection of whiskies makes the Japanese independent Scotch whisky market what it is today – one of the most lucrative in the world. There is wide experimentation occurring within the industry, with maturation and cask finishing become an ever more prominent focus.
Bottlers are listening to consumer wishes where spending is high, and offering old, rare whiskies but, perhaps surprisingly, not at eye-watering prices. The freedom afforded to independent bottlers often makes their whiskies cheaper than distillery bottlings, and more flexible in design of both bottle and spirit. This is a source of great appeal to the Japanese market.
The beauty of independent bottlings is that they can span the entire flavour range of the Scotch market. From low-priced products to the finest (and rarest) upper echelons on offer, consumers are guaranteed something unique – and perhaps the chance to enjoy a completely different style of whisky from a distillery's core catalogue.
It is this intrigue that continues to make independent bottlings so popular in Japan. In a country where beauty is found in secrecy, and bars are obscured behind tiny unknown doors down dimly-lit alleyways, it's not surprising that the mystery shrouding these never-before-seen bottles holds a certain sway in the Japanese market.