Gaz Regan wasn't one to shy away from using single malt Scotch whiskies in cocktails during the 1990s. Fast-forward to the present day, and not much has changed – except for his Debonair cocktail recipe, which has been given a new lease of life with a few modern tweaks.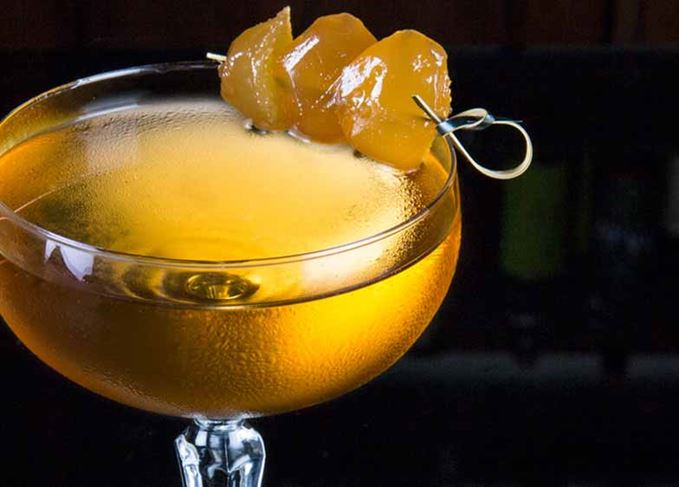 'Whisky is a grouchy old bachelor that stubbornly insists on maintaining its independence and is seldom to be found in a marrying mood,' wrote cocktail maven David Embury in his 1952 book The Fine Art of Mixing Drinks, and he wasn't too far from the truth. Though the fact is there are a couple of partners out there that flirt well with whisky, and ginger is one of them.
I spent four of my teenage years in the 1960s living over a pub in Bolton, Lancashire, in the UK, and my parents let me work behind the bar a couple of nights a week to make some extra cash. Most of the time I was just pumping pint after pint of real ale, and the closest drinks to a cocktail I served were staples such as Port and lemon, Brandy and Babycham, and the occasional Whisky Mac.
It was the Whisky Mac – a simple mixture of Scotch and green ginger wine – that steered me towards ginger when, in the 1990s, I found myself seriously involved in the world of cocktails.
By this time I was living in Manhattan and writing had become my trade, though I wasn't making much money with it. Still, though, it sure as heck beat working for a living and I kept paying the mortgage on time, so I stuck at it. And I never missed any opportunities for cheap self-promotion to give my writing career a push in the right direction.
Then the stars aligned in the late '90s when The Television Food Network started broadcasting and I not only had a few contacts there, but I also lived close to their studios. So I got to appear on their evening news show quite regularly, talking about drinks in all their hues and guises. And this is where the Whisky Mac came in very handy indeed.
I was asked to present a segment on single malts on the Food Network and I chose to feature single malt cocktails live on air. Back then nobody – and I do mean nobody – used single malts in cocktails, and my feature piece raised many an eyebrow among the hierarchy of the Manhattan food world. 'Single malt cocktails indeed,' gasped one haughty woman at a Food Network event. I knew I was on the right track…
One of the drinks I made on that TV show was called The Debonair, a name I confess to finding by consulting a thesaurus – and this was the phoenix that rose from the ashes of the Whisky Mac.
The Debonair was a simple mixture of 2.5oz (7.5cl) of single malt (I called for Oban or Springbank), mixed with 1oz (3cl) of Domaine de Canton ginger liqueur. The ingredients are stirred over ice, strained into a chilled cocktail glass, and the drink is finished with a lovely lemon twist as an aromatic garnish.

New and improved: The Thrust and Parry Cocktail

The Debonair made its way onto the cocktail list at New York's Rainbow Room, where my friend Dale Degroff, then the head bartender there, told me they sold enough of that one cocktail to polish off a whole case of Scotch every month. Not too shabby, huh? And the drink still surfaces from time to time on cocktail menus all over the world. But it's in need of an overhaul.
There have been incredible changes in the world of mixed drinks since The Debonair was introduced and, although I believe that the quaff still holds up, I've learned enough, I hope, in the last decade or so to dismember the drink and reassemble it in a slightly more intricate manner.
I've chosen to use 12-year-old Highland Park Scotch as the base of this new drink and I've added a couple of new ingredients to this version, seeking a more complex drink than its forebear. The Canton Ginger liqueur is staying put, though – it's a delightful dram that loves to thrust and parry with a damn good Scotch.
And I believe I've just found a name for the drink, too. Ask just about any bartender and they'll tell you that creating a new drink is nowhere near as difficult as naming the darned thing.
Without further ado then, I present to you the Thrust and Parry Cocktail – the whisky in this baby is anything but a grouchy old bachelor.
The Thrust and Parry Cocktail
Ingredients:
7.5ml (0.25oz) Del Maguey Vida Mezcal, as a rinse
60ml (2oz) Highland Park 12-year-old
22.5ml (0.75oz) Domaine de Canton ginger liqueur
3 small pieces of candied ginger on a cocktail skewer for garnish
Method:
Pour the mezcal into a chilled cocktail glass and swirl the glass to coat the interior with the spirit. Discard any excess. Stir the Scotch and ginger liqueur in a mixing glass with ice until the mixture is well chilled. Strain the drink into the pre-prepared glass and add the garnish.