Edinburgh-based John Crabbie & Co. has launched Crabbie's Yardhead, a no-age-statement single malt designed for mixing, and its 'most significant release to date'.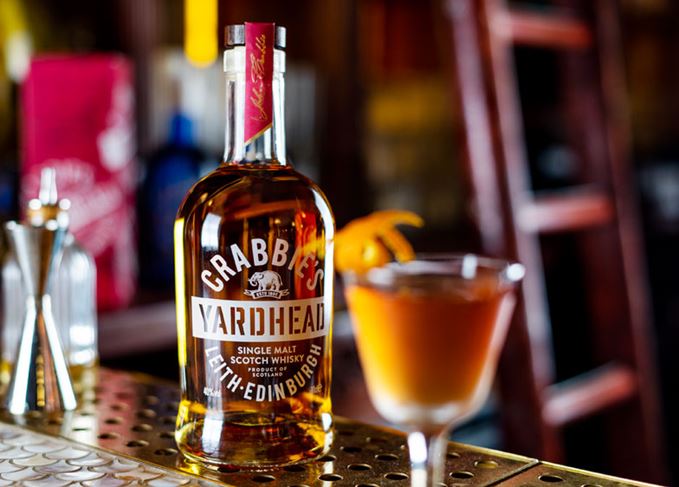 Crabbie's Yardhead is a single malt sourced from an unnamed distillery, created for young spirit drinkers who 'want to do more with whisky than just sip it'.
Described as a 'relatively young whisky' bottled at 40% abv, Yardhead is said to have 'biscuit, vanilla, citrus, sweet apple, caramel and toffee apple' notes, which Crabbie's claims pairs well with ginger beer and cola.
David Brown, managing director of John Crabbie & Co., said: 'We have seen the rise in popularity of American whiskey with younger consumers, largely drunk with a mixer over ice.
'Single malt Scotch whisky still tends to be consumed as a straight drink but it actually mixes really well.
'Blended malts have tried to tap into that market, but what we are launching… is a single malt which we believe offers a premium alternative and a different taste profile, ideally suited to be enjoyed long over ice with a mixer.'

'Disruptive' malt: Crabbie's Yardhead is designed to appeal to drinkers who don't want to sip their whisky

Brown added that Yardhead, which will be available to buy for £26 a bottle, represents a departure for the group from its age-stated whiskies.
'We've previously gone down the route of bottling whisky for sipping, but we're actively encouraging people to mix Yardhead,' he said.
'I've seen how young people are looking to get into whisky but they're put off by the more traditional aspects of Scotch whisky.
'They don't want to look fools by sticking ginger beer or ice in it.
'Ultimately it's their whisky – if that's what they want to do it's up to them. With Crabbie's we're giving them permission to drink it their way.'
The current Crabbie's range consists of an eight-year-old Highland single malt, a peated 12-year-old Island malt, and 25-, 30- and 40-year-old malts from Speyside.
Crabbie's Yardhead will not state which Scotch whisky region it has been sourced from in a bid to 'drop some of the old fashioned language associated with Scotch'.
Brown said: 'Region isn't a great descriptor of the whisky, and it's becoming irrelevant with people like us, being a Lowland distillery but not making Lowland whisky. Region doesn't mean anything.'
Crabbie's became the first new single malt whisky distiller in Edinburgh for 93 years when it opened the Chain Pier distillery at Granton Harbour in September 2018.
The company, which is owned by Halewood Wines & Spirits, is also in the process of building a second, larger distillery at Graham Street in Leith.
Crabbie's Yardhead takes its name from a distillery that operated in Leith in the 19th century, and whose warehouses had been used by John Crabbie & Co.