Creamy, floral, fruity and even smoky – the flavours that whisky can bring to springtime cocktails can sometimes surprise, showcasing its versatility. Here's Ryan Chetiyawardana with his personal guide to seasonal mixing with Scotch.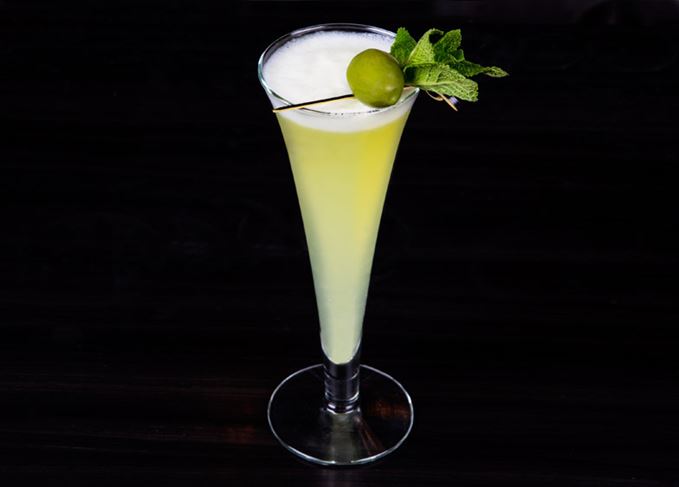 Intuitively, we eat to the seasons – when it's freezing out, we gravitate to rich, comforting serves, and when the sun starts to blaze, grilled dishes and salads suddenly start to appeal that bit more. But what about our drinks?
To some extent we disregard this, but I think this is simply that our relationship with fine drinks hasn't provided examples as readily, and we've thrown our net much wider. This was the focus of my book, Good Things to Drink with Mr Lyan and Friends, and it's a subject I often talk about – use drinks to add that extra magic to a setting and occasion.
Sure, drinks can transport – and the juxtaposition of a Piña Colada with a freezing night can be the escapism you need – but following the seasons can provide an amazing introduction to a drinks experience you might not have expected.
Our language often follows this too – I talk about spring-like versions of a cocktail when the particular profile is grassy, green and fresh, and use similar tasting notes for spirits, beers or wines; we naturally follow the rhythms of the calendar with our moods and descriptions.
So what follows are a series of suggestions for the part of the year we're just entering – and the timing couldn't be more fitting. These serves seem to reflect the emerging sunshine and lengthening days, and encourage that extra time spent outdoors.
Many friends of mine are happy to reach for a dram in winter, or towards the end of the evening, but this to me is missing one of the fundamental joys of whisky – namely its ability to traverse a wide range of occasions (every occasion!) due to its breadth of flavour profiles.
This means running the full gauntlet of styles – from grassy, green and citrussy, via floral and fruity, all the way to oily, smoky and rich. While you can follow like-for-like by drinking lighter-style drams, mixing a richer whisky can reveal new sides to the spirit that all of a sudden means a typically end-of-evening, fireside dram is fitting as an outdoor aperitif.
One of my all-time favourite drinks – a Scotch & soda – is ideal as a springtime cocktail. It's a drink I often have with friends as it channels the benefits of a good hi-ball; not being too boozy, retaining gentle complexity and providing time for me to chat away while it reveals new layers of flavour.
As a simple twist on this, I created a drink called the Paisley Pattern using Compass Box Asyla. The whisky has a lovely, gentle creaminess with clean apple and floral notes. Paired with elderflower cordial, lengthened with chilled soda, it has enough light complexity, sweetness and effervescence to while away a spring day outside. Add fresh tarragon for some extra springtime pep.
Similarly, a Whisky Sour is a bright and uplifting cocktail that is ideal for the warmer weather. Although there can still be a touch of chill in spring months, this is a cocktail with a bright, fresh feel that hints at the heady days of summer to come.
Made with a fruity whisky it definitely leans towards a summery feel, and introducing the dried fruit notes of a Sherried whisky, or a lick of smoke, can make for a very autumnal or wintry profile.
But a grassy, Bourbon cask-matured whisky can make for a distinctly spring-like serve. Glenfiddich 12, redolent with apple and pears, pairs perfectly with the accents of fino and pear in this serve, with the green lift of some absinthe giving a fresh twist. A Bastard Sour if there was one, but perfect for spring.
My final suggestion, Up in Smoke, comes with a pairing of some bubbles. Again, it shares the freshness that spring calls for, but this time borrows a light floral touch and a healthy whack of smoke.
Although smoke might suggest firesides and winter days, the sweetness of the smoke can also move towards other occasions, and mixing the whisky reveals the fruitiness beneath. I originally made this with some friends using the first Scotch Malt Whisky Society Kilchoman bottling, but one of their Bourbon cask expressions would work great. Paired with a hint of peach, some vermouth and some fizz, it will work wonders on a spring day.
Drink the seasons, friends, and following your intuition – and tasting notes – will lead the way.
SPRING WHISKY COCKTAILS: MR LYAN'S SELECTION

Paisley Pattern (from Good Things to Drink with Mr Lyan and Friends)
50ml Compass Box Asyla
10ml elderflower cordial
1 dash orange bitters
1 sprig tarragon (optional)
Lemon zest
Chilled soda
Fill a hi-ball with large cubes of ice. If using fresh tarragon, wrap a stem around the inside of the glass and add the whisky, elderflower and bitters. Stir gently, add more ice and slowly top with soda. Stir once, then garnish with a 'horse's neck' of lemon peel.
Bastard Sour
30ml Glenfiddich 12
10ml Tio Pepe fino Sherry
10ml Merlet crème de poire
20ml lemon juice
1 dash sugar syrup
2 dashes Maison Fontaine absinthe
1 egg white
Add all ingredients to a shaker, 'dry' shake without ice, then shake hard with ice and double-strain into a chilled flute. Garnish with a green olive and a mint sprig.

Up in smoke
1 sugar cube
Peach bitters
20ml Kilchoman 100% Islay (or Bourbon cask)
20ml Noilly Prat
Champagne
Add sugar cube to a coupette and coat in peach bitters. Stir whisky and vermouth over ice, strain into coupette and top with chilled Champagne. Garnish with a twist of grapefruit.
This is the last of our springtime Scotch whisky trilogy, following Dave Broom's exploration of his favourite seasonal drams, and Martine Nouet's investigation of spring-friendly food flavours.