If whisky doesn't already feature in your Christmas traditions, perhaps it's time to experiment with a little mixology this year. Whether you're after a pre-dinner cocktail to inject some life into the party or a drink to warm the cockles after a brisk Boxing Day walk, try one of these seven simple Christmas cocktails. By Alex Mennie.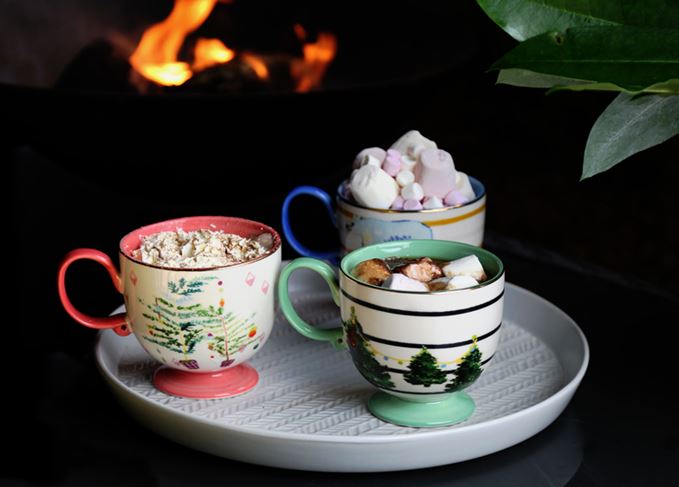 They say Christmas is a time for tradition, and it may be that whisky already features in a number of yours – whether it's 'feeding' the Christmas cake with a half bottle of a supermarket own brand, or leaving a tot out for Father Christmas as he does his rounds. For others, the festive whisky intake may be limited to some small respite with close friends or family over a dram; but there are plenty of other ways to get cosy with whisky at Christmas.
If you're looking to raise your game in this regard, the following recipes provide an excuse for a generous measure at several stages during the celebrations – whether it's a bright Sour before dinner, a rich, spiced Sazerac as a digestif or a sharp, vegetal Last Reel to wake everyone from their post-dinner nap and keep them going through to a peppermint Bourbon-spiked hot chocolate before bed.
Who knows, there may even be a recipe in here to convert the whisky denier in your family, or a recipe worthy of starting a new tradition...

Camomile Hot Toddy

Light sleeper: A Camomile Hot Toddy before bed will have you snoring before Santa visits


If you've not tried mixing camomile tea and whisky before (think camomile-infused Whisky Sour), this drink will be a revelation. This winter transposition is a simple twist on the classic Hot Toddy but is light and floral, so best suited to a whisky which carries the fresh notes of cut hay, such as Teaninich 10 Year Old, or the grassy, green oak of Compass Box Asyla. Of course, they say camomile can help you sleep as well, so one of these taken on Christmas Eve should ensure Father Christmas comes to call.
Ingredients:
45ml whisky
Camomile tea
10ml honey
Method: Brew a cup of camomile tea according to the instructions. Add the remaining ingredients and stir until the honey dissolves. Garnish with lemon peel and star anise.

Winter Whisky Sour

Fired up: This bright, sharp Sour uses falernum, a spiced syrup full of Christmas flavours


The combination of bright lemon and tart cranberry make this a great pre-dinner cocktail. An easy variation on a Whisky Sour, it uses falernum – a Barbadian rum-based spiced syrup more commonly found in tropical drinks. So how does it fit into your pre-Christmas dinner rituals? Well, falernum typically contains ginger, vanilla, cloves and allspice – all flavours traditionally associated with Christmas. These spices are the main reason a complementary whisky such as Compass Box Spice Tree or a Chivas 18-year-old would work best in this recipe.
Ingredients:
60ml whisky
15ml fresh lemon juice
15ml cranberry juice
15ml falernum (rum based spiced syrup)
One egg white (optional)
Two dashes cocktail bitters
Method: Combine all ingredients in a shaker and dry shake (without ice) to aerate the egg white. Add ice and shake again. Strain into a rocks glass over fresh ice and finish with a couple of dashes of aromatic bitters (cranberry bitters are a nice match, but Angostura or any other brand will suffice).

Winter Sazerac

Home experiments: Infuse your whisky with nutmeg to achieve this twist on a classic


The Sazerac is an institution and a fantastic post-prandial. Perhaps this is because its bright red colour and strong anise flavour make it look and taste almost medicinal. Because of the Peychaud's and the original drink's familiarity with peppery rye whiskey, a homemade nutmeg infusion can also work very well here. If you don't have the time (or the nutmeg) for that, you can dial back the spice by looking for a whisky which carries strong notes of nutmeg already. Balvenie Caribbean Cask or Glenmorangie's Nectar D'Or or Quinta Ruban would be a good fit.
Ingredients:
30ml nutmeg-infused whisky
30ml VSOP Cognac
15ml rich (2:1) sugar syrup
5ml absinthe
Six dashes cocktail bitters (preferably Peychaud's)
Method: Rinse a rocks glass with absinthe and set aside. Combine the remaining ingredients in a mixing glass with ice. Stir well and strain into the rinsed rocks glass. Garnish with a twist of lemon peel.
Nutmeg-infused whisky: (Makes 700ml) Crack 10 whole nutmegs and add to a bottle of rye whiskey. Infuse for five days and then strain into a sterile bottle. Keep for up to six months.

Last Reel

Rich flavours: This livener works best with whiskies containing spicy or dark cherry notes


This drink is a small twist on The Last Waltz from Berlin's Pauly Saal bar, with the rye whiskey replaced with a spiced Scotch such as The Macallan 12-year-old Double Cask. Alternatively you could match the dark cherry notes of Dalmore 12-year-old with the Cherry Heering liqueur. Either way, peppered dark fruit, Champagne and spice make this a bold Christmas enlivener when you need to rouse everyone from their post-lunch slumber for a combative game of Trivial Pursuit.
Ingredients:
30ml whisky
15ml Cherry Heering
5ml yellow Chartreuse
Sparkling wine
Two dashes mole (chocolate) bitters
Method: Combine all ingredients (except sparkling wine) in a mixing glass with ice. Stir well and strain into a coupe glass. Top with sparkling wine and garnish with a twist of lemon peel.

Cinnamon Apple Manhattan

Winter warmer: A favourite armchair and a warm hearth complement this Manhattan


This applejack and cinnamon-spiked Manhattan variant just demands to be enjoyed from a slightly worn leather wingback chair beside a roaring fire. Perhaps it's the warming cinnamon-spice, or the knowledge that applejack used to be made by fishing out the frozen water from hard cider left out in the winter, thus 'jacking' up the alcohol content. Either way, pair the 'Jersey Lightning' with a Sherried whisky rich in spice and apple – something like Strathisla 12-year-old, Mortlach Rare Old or Glenfiddich 18-year-old would be a good choice.
Ingredients:
50ml whisky
25ml applejack (American apple brandy)
15ml cinnamon-infused sweet vermouth
Two dashes bitters
Method: Combine all ingredients in a mixing glass with ice. Stir well and strain into a coupe glass. Garnish with a dried apple chip.
Cinnamon-infused sweet vermouth: (Makes 700ml) Infuse 10 cinnamon sticks in a bottle of sweet vermouth and leave for 2-3 days (to your taste). Strain into a sterile bottle and keep refrigerated for two months.

Peppermint Hot Chocolate

Off-piste cocktail: From the slopes to the sofa, this rich concoction is inspired by ski culture


This boozy and bitter hot chocolate recipe takes its inspiration from the peppermint schnapps hot chocolate of the après ski scene, but uses peppermint tea-infused Bourbon instead. If the infusion is a step too far, replace it with a measure of punchy single malt Scotch – Ardbeg Corryvreckan, or Laphroaig Quarter Cask will hold their own and bring a little bit of menthol in place of the mint.
Either way, everyone needs a fantastic hot chocolate recipe up their sleeve at this time of year, and it's possible that arriving at the right moment with a tray of these may also diffuse any Trivial Pursuit or Charades-related tensions.
Ingredients:
30ml peppermint-infused Bourbon
5ml Chartreuse (optional)
Hot chocolate (your preferred brand)
Method: Heat the hot chocolate according to its instructions; meanwhile, add the peppermint Bourbon to a mug. Top with the hot chocolate and add an optional slug of Chartreuse for a richer, more complex flavour.
Peppermint Bourbon: (Makes 700ml) Combine four tablespoons of peppermint tea and 700ml of Bourbon. Infuse for one hour and then strain into a sterile bottle. Keep for up to a month.

Hot Scotch

Mulled over: This fiery drink should thaw you out on returning from a Christmas ramble (Photo: Iron Stag)


Basement London whisky bar Iron Stag offers up this fiery variation on the classic 'mulled' drinks of the season with hot spiced ginger beer and apple juice combined with Glenfiddich 12-year-old. Easily recreated at home, this is exactly the sort of thing you need to get bubbling on the hob once you're back from a chilly Boxing Day walk.
Ingredients:
25ml Glenfiddich 12 Year Old
40ml mulled ginger beer
20ml clear apple juice
20ml hot water
5ml heather honey
Method: Build all ingredients in a heatproof glass or mug and stir until honey dissolves. Garnish with grated cinnamon.
Mulled ginger beer: Combine ginger beer, orange and lemon slices, cinnamon sticks and star anise in a pan and bring to a simmer.