The excitement around Irish whiskey is electric – and, as the fastest-growing spirit in the world, new producers are eager to get in on the action. With such a buzz around the category, one can only wonder: where is Irish whiskey headed? Where will it be in a decade's time? Dave Broom investigates.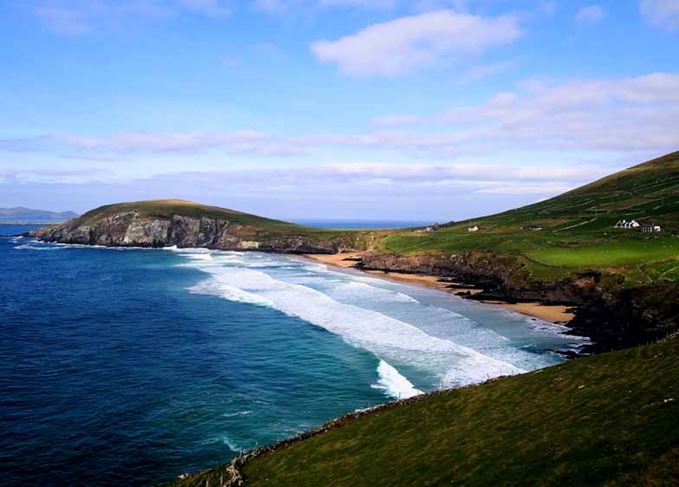 Two weeks ago, the Irish Embassy in London hosted an event showcasing some members of the new wave of Irish drinks: gin, beer, cider… and whiskey. Should the same event be run in five years' time, you wonder how much more space will be needed to accommodate all of the country's new distillers. Ireland is witnessing a distillery building programme the like of which hasn't been seen since the 19th century; conceivably, it even outstrips that.
New builds are just one aspect of the Irish whiskey renaissance. The bigger question is: where is Irish whiskey going? What will it look like in a decade's time in terms of volume and style?
One indication of that was answered a week later with the launch of Irish Distillers Ltd's (IDL's) new experimental range, Method and Madness. 'The inspiration came three years ago when we were doing an innovation session at Midleton,' explains Brendan Buckley, IDL's global innovation and prestige whiskeys director.
'At the end we had a bundle of great ideas which didn't sit within the existing brands, so we thought: why not create a new brand? It allows us to bring stuff to market which might not otherwise ever be seen.'
The first batch contained two grains (one 31-year-old single cask, another finished in virgin Spanish oak); a single malt finished in Limousin oak; and, taking advantage of Irish whiskey's more liberal laws on wood types, a single pot still which had been finished in chestnut casks.
Method and Madness follows Roe & Co, Diageo's surprise re-entry into the Irish whiskey category following the company's sale of Bushmills; a week later, out came the UK launch of Dingle distillery's single malt – the first to come from the new wave of distillers (Dingle was founded in 2012.)
More will follow. As John Quinn, global brand ambassador for Tullamore DEW, says: 'I believe at the moment we have 12 distilleries pumping out spirit, with a further 18 (approximately) in the various stages of planning.'
The Irish renaissance may appear to be well under way, given the number of new brands that have appeared in recent years, but it is worth bearing in mind that most of them are currently third-party stocks – other people's whiskey, in other words. A clearer picture of what the new world of Irish whiskey will look like will take longer to come into focus.

Method and Madness: The innovative range takes advantage of Ireland's more 'liberal' laws on wood types

'The decision for any new distiller is down to a) what kind of whiskey do I want to bring to market in three-plus years' time, and b) what kind of market do I want to play in?' Quinn adds.
'Approximately 94% of all Irish whiskey is blended, sold at standard prices. That means about 400,000 cases is a premium-priced blend, single malt, single pot still, or grain. A distiller who decides to specialise is to withdraw his (or her) self from where "the ducks are flying". This is a valid decision if someone decides that a niche presence in a niche category will suffice to meet his business objectives.'
How radical, therefore, should Ireland's distillers be in creating a new category? This was something which Buckley touched on, describing the rationale behind Method and Madness as being 'purposefully disruptive'.
'Obviously the first releases are using existing stock,' he continues, 'but we already have new distillates from our microdistillery: a rye, malted barley and unmalted barley mash bill; and one with oats, malt and barley. We have also stretched the boundaries of wood type. There's more to come – and what we have done here could be scaled into Jameson or Redbreast, or Green Spot. It's unlocking a whole new potential.'
This question over what is 21st-century Irish whiskey is also occupying Dingle's head distiller, Michael Walsh. 'There's a limit to how innovative people can be at the moment because of the stock, but I'd like the new distilleries to be different. In the long term we have to have diversity, not a lot of "me too" Jamesons,' he says.
'The Irish style which emerged in the 1970s was triple-distilled, smooth and mellow, but it wasn't an engaging experience. There were good whiskies, but it was limiting. There was therefore room, we thought, for an engaging, full-bodied, Irish whiskey, which people could get passionate about.
'I'm also passionate about single pot still and I wanted to add depth to the style, a whiskey which will help with the revival of the style which made Ireland.'
Ireland, it would seem, has to not only be innovative but also rebuild a tradition and exist in each sector of the market. 'There is evidence of a growing interest in the traditional single pot-still whiskeys and malt whiskey,' adds Walsh.
'This would make sense in an age when tradition and craft are attractive platforms for any consumer of food or drink products. The challenge is that this ground has already been fertilised by PR in terms of pot stills with Redbreast, Green Spot, John's Lane, while single malts are already part of the roles played by Tullamore DEW and Bushmills.
'For a new distiller to decide to take them on without a back-up plan of a blended variant might be foolhardy.'

Shiny and new: A sneak peek inside the new £35m Tullamore DEW distillery, which opened in 2014

How, then, will the category evolve? 'In 10 years' time we must have high-quality, interesting whiskies. We've established a quality standard. We can't lose that with poor-quality young whiskey being bottled because people need the cash flow,' adds Quinn.
There are ambitious targets set by the Irish Whiskey Association to sell 12m cases by 2020, and 20m cases by 2030. It's a bullish challenge.
'Investment in marketing is key for the figures above to be achieved and for the many new players to survive,' adds Quinn. 'New entrants can spend a lot of money building distilling capability. This is welcome when high standards are adhered to.
'But investment in building the sales that warranted building those distilleries in the first place is what will make the future for Irish whiskey. The alternative is a category dominated by a few brands, leaving many small players struggling to survive. But we're not going there – not yet anyway.
'Irish whiskey is already attractive to new whiskey consumers and given Scotch alone is 12 times greater than Irish, one could legitimately suggest there's still plenty of room for growth before anything like a saturation point looms.'
That word 'room' is key, as Walsh explains. 'It might be difficult for a new Scotch malt distiller to establish themselves because there are so many other distilleries and established styles, but in Ireland there is room. We have the ability to play around and create interesting new styles for new drinkers to try.'
How it pans out in the medium term will be fascinating to observe.