Irish Distillers' international whiskey ambassador also heads up the Irish Whiskey Academy at Midleton, teaching everyone from fellow ambassadors to whiskey enthusiasts. He tells Matt Evans how foraging helps with cocktail basics and how non-oak casks are the future of Irish whiskey.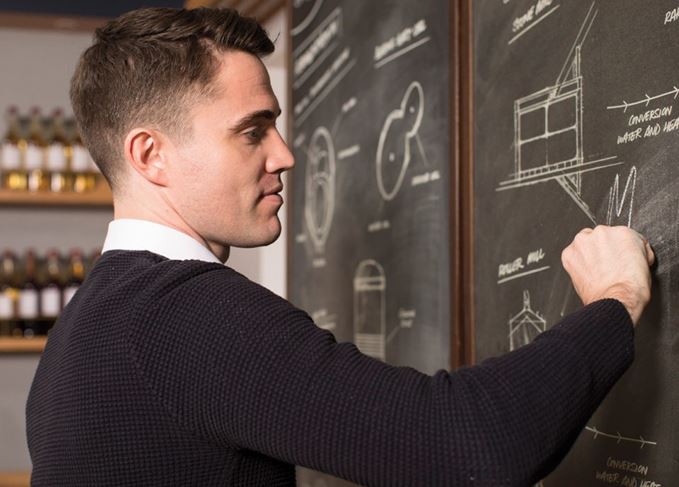 'I would say I have a good grounded knowledge of most of what happens in the distillery. I'm our liaison for marketing, sales and ambassadors, but I've been mining other people for knowledge for years. In the process of that, I've acquired a little bit myself.
'I joined Irish Distillers as part of a graduate programme, as they were looking for marketers to train up into whisky wizards. I worked abroad in Finland as an ambassador for the Jameson brand, then I worked in the United States, in Chicago and New York. America is a huge market for Jameson, and I went to New York as our community manager, connecting with musicians and bartenders to organise events and parties.
'I got into the Irish Whiskey Academy because I was really interested in production and started organising training for our other ambassadors. The opportunity came up back home and I took it – they knew I had strong marketing credentials, but also a passion for the production process.
'Loads of different people come through the Irish Whiskey Academy. Some of them work for Irish Distillers – they might come in as marketers who don't fully understand the brand, or we might do classes specifically for single pot still specialists in America, South Africa or other areas.
'Every so often we teach the really hardcore fans that want to come and spend a couple of days with us at Midleton distillery. For them, it's all about the spirit, from grain to glass, and we teach in-depth modules based on that. We also bring mixologists and bartenders from all over the world and teach them about flavour profiles, blending and cask selection. We take them foraging, finding and picking ingredients in the wild to see what goes into making cocktail ingredients from scratch. The bartenders will then take those basics and go and build drinks with them.

Glass house: Midleton plays host to a two-day blending course for avid whiskey lovers


'In Ireland, we have a very knowledgeable bartending community, and that knowledge is passed on to drinkers. We're surrounded by whiskey distilleries and our bartenders are very conscious of using local Irish spirits. They're very knowledgeable in the UK as well – if you go to London, bartenders are very good, and I've met people from as far as Cameroon who really know their stuff when it comes to whiskey.
'However, that knowledge base is a slower build among drinkers because the spirit is so complex. You're not going to become a whisky expert overnight. It's difficult to define – what is an average consumer? – but I'd say the average person might think Irish whiskey is smooth, they might know it's got an appealing taste profile and they might know about different types of casks, but they won't know anything about pot still whiskey in a blend like Jameson.
'But as the Whiskey Academy is growing, whisky experts are growing and whisky knowledge is becoming more common. In the world we live in, information is at our fingertips. Someone can go into a bar and say 'I'm going to quickly look this whiskey up', or go into a shop aisle and think 'why would I choose Redbreast?' and just look it up on their phone. It's similar to craft beer – people want to check out the reviews, or see what the bloggers are saying. The whisky world is for that knowledge-seeking consumer who wants to pass that knowledge on to their friends.

Mature students: O'Donovan ventures into the warehouse for a hands-on maturation class


'Scotch can do plenty of innovative, interesting finishes with cask types, and distilleries know their consumers are discerning and educated, but in Irish whiskey we have the avenue of not just trying different cask types but trying alternatives to oak.
'The most exciting thing for me in Irish whiskey is this new innovation – wood types. We're ageing whiskey in chestnut, and other distilleries in Ireland are bringing out variations such as acacia. Chestnut is quite a different flavour profile than oak: the wood compounds are coming off the cask into the whiskey at a different ratio, and taste much sweeter. You're going to see loads of interesting variations on this.
'I'm a man of the countryside. Having travelled around the world, I realise what a nice country we have here in Ireland. I never truly realised why it was called the Emerald Isle until I went to Finland. Here it's actually green in wintertime; over there, it's just constant snow. We're near the water at home as well, and I love fishing. When you're away for six years, you appreciate home so much more.'