The US brand ambassador for Tullamore DEW gave up life as a rural Irish egg farmer to sell whiskey. Now based in New York, he tells Becky Paskin how that decision has made him an Irish pub geek and master of the Whisky Sour.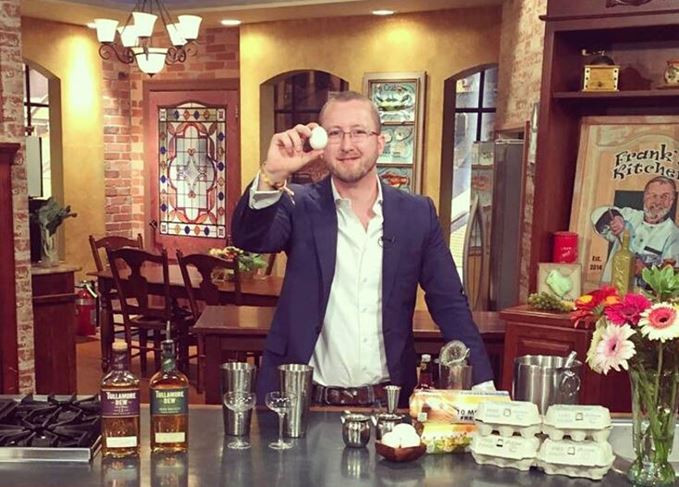 'The US is the place to be for Irish whiskey; it has been for a while. It's booming over here, and we're still in its infancy, really in its infancy. When I first came over you'd go into an Irish pub and there'd be maybe four Irish whiskeys and a wall of single malt Scotches. That's now changing, where Irish pubs are making a statement about their identity through the spirits they're stocking. Not just with Irish whiskey, Irish gins as well.
'I've been in whiskey eight years now. I started off with Cooley distillery, back when it was owned by the Teelings, and weirdly I've only ever been involved in whiskey in America – I never did it in Ireland. I was always a fan of whiskey, but before that I was an egg farmer, so there was a natural transition from eggs to whiskey. Just call me the master of the Whisky Sour – that's my two worlds coming together.
'I grew up in a village called Termonfeckin, named after St Féchín, who was famous for founding monasteries. He's not the patron saint of what you're thinking of, but is arguably Ireland's second most famous saint. I love taking our American friends and visitors to Termonfeckin because as great as Dublin is, they don't get to experience rural Ireland and a country pub is pretty special too.
'Growing up whiskey was weird. It had that "oh, he's on the whiskey" reputation – it may as well have been liquid cocaine, there was that much concern. Whereas in America it was "oh, Irish whiskey is cool, it's edgey". In a lot of ways, people around the world have educated Irish people about what Irish whiskey is. You look at the youth of Ireland now, and Irish whiskey is cool. There's a lot of good talk about whiskey and distilling in Ireland, whether people are looking at it for job opportunities or enjoying it. There's definitely an Irish pride again.

Cosy welcome: New York's Swift bar offers a home away from home for Herlihy

'I'm now based in New York, but I travel three weeks a month. I love it, I book my own travel so I'm the one to blame if ever I'm feeling tired or jaded, but it's absolutely worth it. I've gone to all 50 states at this point. Three years ago I did 50 states in 30 days in search of the best Irish pubs around America, in the build up to St Patrick's Day. That was a lot. The first four days I didn't sleep in a bed – horizontal sleeping is incredibly underrated; love your bed.
'There's lots of good Irish pubs, but my favourite one in all of America is Swift in New York. You have that beautiful people-watching window, and the minute you walk into the pub, straight away the bar is there – you've no distance form the door to the bar. It's tight and narrow, so there's instant atmosphere – there could be five people in there yet there's atmosphere. There's no TV, no distractions of sport, great bartenders, a solid Irish whisky selection, which is on an upside-down church pew, and good Guinness as well. It's a place you can go in by yourself and you'll get to know everyone around you.
'Ireland's a nation of distillers, brewers and publicans – that's our trade, and we emigrated all across the globe. There's six million people on the island of Ireland, but 40 million declare Irish ancestry in America and 80m worldwide, so we've travelled – and been productive when we've travelled – but we've taken that trade with us. So we're good at it, but I always say it's like having an Irish embassy in every town or city.

Smooth operator?: Herlihy believes Irish whiskey, with all its variety, is anything but 'smooth'

'I'm a bit of a geek on the Irish pub. I guess I didn't realise it until I travelled abroad and saw them everywhere. The highest altitude Irish pub that's 100% Irish owned is Paddy's Pub in Cusco, Peru, but the highest altitude Irish bar in the world is in La Paz, Bolivia, called the Dubliner. I think its 60ft higher and it's owned by a Bolivian guy, a Dutch guy and an Irish guy. They're competing with each other – you keep seeing antennae going up from them.
'There's even an Irish pub in Nepal called the Everest Irish Pub, Ulaanabaatar in Mongolia has 40 Irish pubs, and the biggest Irish pub group in the world is in Russia. In Uganda, a gentleman called Nigel Sutton from Dublin bought the fixtures and fittings from a pub in my hometown of Drogheda which closed. He boxed it all up, shipped it to Uganda, refitted it and decided to pay homage to his religious teacher at school so called it Bubbles O'Leary, his nickname.
'Myself, Jack [McGarry] and Sean [Muldoon] from The Dead Rabbit in New York toured Ireland for a new book, From Barley to Blarney: A Whisky Lover's Guide to Ireland. We visited 24 distilleries, a lot of which are brand spanking new or the stills have just arrived, but we also went to 112 pubs and we focused on our favourite 50 across Ireland. It's coming out in [April 2019], and it's really about the old school pubs, the hidden gems, the characterful ones. We've got some good ones there.
'Irish whiskey is often described as smooth and friendly, but they're just synonyms for bland, and Irish whiskey isn't. There's more complexity to it. Smooth is really oversimplifying it. What is smooth anyway?

Travel companion: From Barley to Blarney details the ultimate Irish stopping points for whisky lovers

'This has been said a couple of times, but single pot still will be for Ireland what single malt has been for Scotch, and I really think that's the horse to bet on. It has the history, the legacy, but also taste profile as well. It's different, it's quintessentially classic Irish whiskey, and it's the one people involved in Irish whiskey are pretty excited about.
'I don't think people really know what single pot still is, but we don't make it easy. For years we called it "pure pot still". I think single pot still has been an absolute blessing – it's something that people understand, but at the end of the day we still have the one term for two definitions – a pot still, which is a copper piece of distilling equipment – but what we really mean by pot still whiskey is a mash bill of malted and unmalted barley, but it can also include oats, rye and wheat. We have got a really long way to go in educating people what pot still Irish whiskey is.
'We are entering a new era for Irish whiskey. In the past we've only ever sourced what's available – now we're looking to source what makes it interesting, or what will add value to the flavour profile, make it different, unique. And that's happening in Ireland with everything from mashbills, you're starting to see it a little bit with yeast, and certainly cask finishing, whether its beer, cider, fortified wines, or spirit types. Then the big secret weapon for Irish whiskey is that we can go beyond oak, and age, mature, and finish in hardwoods essentially. That's going to be interesting.
'Americans are very knowledgable spirits drinkers – I'd maybe go so far as saying the most knowledgable in the world that I've come across, maybe Taiwan would argue with that. But when people think single malt they think Scotch, and then Japanese, then American and then, "well, I guess Irish whiskey must do it too". They're very keen to learn and go across categories, but if everyone knew everything I wouldn't have a job.'