As the Cold War returns chillier than ever, it's an opportune moment to recount the story of the Czech single malt born before the Berlin Wall came crashing down. Tom Bruce-Gardyne tells the strange tale of Hammerhead.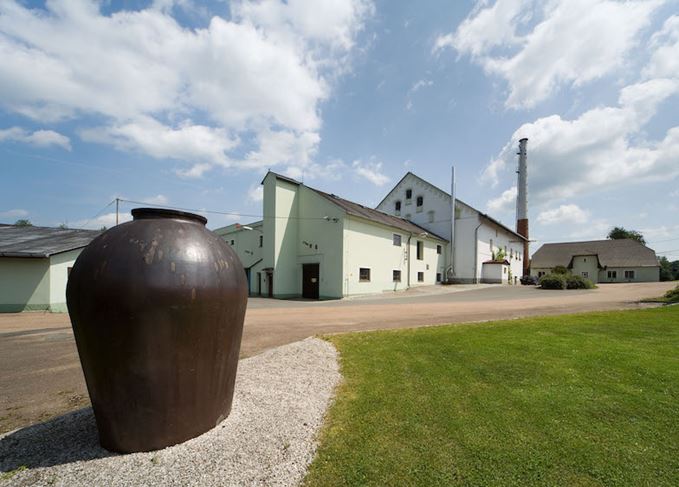 Masataka Taketsuru, as you may be aware, was the founding father of Japanese whisky. According to legend, the Japanese, having tried and failed to clone Scotch whisky in their laboratories, despatched the young chemist to learn its secrets from the coalface just after the First World War.
Taketsuru worked briefly at various distilleries, including Longmorn and Hazelburn, before returning to Japan with his Scottish bride, Rita, later setting up the whisky company that became Nikka. The rest is history.
The father of Czech whisky is the somewhat less well-known Vaclav Sitner of the Prádlo distillery, located near Pilzen on the western edge of the Czech Republic. Unlike Taketsuru, he never had the luxury of travelling to Scotland to work at a distillery or even to visit one on a quick 'O'er the Hielans' bus tour.
It was the mid-1980s and the Iron Curtain was firmly shut. Richard Hayes, sales and marketing director for Prádlo's current owner, Stock Spirits, takes up the story.
'The distillery was founded in 1929 as part of Leonello Stock's Austro-Hungarian empire, selling spirits to Central Europe and the Balkans,' he says. 'It specialised in making local spirits and herbal bitters, like Fernet Stock.'
Lying south of the so-called vodka belt that stretches all the way from Warsaw to Vladivostok, the Czechs prefer drinking bitters, plum brandy and tuzemák – an ersatz rum distilled from sugar beet.

Local hero: Hammerhead initially focused on using Czech barley and Czech oak

A few imported brands were deemed sufficiently 'Soviet' and were allowed in, such as Cuban rum Havana Club because of its Castro connection, but most were either banned, or trickled in sporadically through the specialist shops that only served the party elite.
Spotting a gap in the market, 'Vaclav and his team realised there was a demand among wealthier Czechs and some of the Russian officials for a good-quality whisky,' says Hayes.
Armed with a pot still and a handful of whisky books, they set out to create Hammerhead, the country's first single malt, made from Czech barley and aged in Czech oak, in 1984.
However, as Sitner later admitted: 'It was one thing to read about it in books, but reality is something different.' Attempts to make an even more homespun whisky using Czech peat proved undrinkable, and prompted one of the more bizarre Scottish exports during the Cold War. Apparently, a consignment of Highland peat was brought in by train, though there wasn't a whiff of smokiness in the Hammerhead I tried from 1989.
What you do get is a 4x4 plank of spicy new oak, which probably needs taming, reckons Irish master distiller Darryl McNally – and I wouldn't disagree. McNally, who can usually be found at Dublin's new Liberties distillery, is helping Stock Spirits with its Hammerhead project.
'We're doing a trial with a number of cask finishes to see what extra depth we can get from some of this very old liquid,' he explains. 'Maybe some Port or Pedro Ximénez casks could give it a really nice, sweet burst of flavour.'

Modern face: France is Hammerhead's biggest market, but it's harder to find in the Czech Republic

Hammerhead's website mentions how, at great effort, the distillery managed 'to acquire and install a traditional, cast-iron hammer mill of the same style and make as those found in most traditional Scottish distilleries at the time'.
Mmm, I'm not sure I have ever seen one of those in Scotland, but it does explain the whisky's name. McNally, who has been out to Prádlo twice, remembers the mill as a real museum piece, though he goes on to say: 'They were actually buying the wash in' – in which case the distillery wouldn't need a mill of any kind.
Even stranger was his discovery that they were doing a first distillation in a continuous still, followed by a second in a pot still. 'Nah, I wouldn't do it that way,' McNally told them. 'I would tend to put it through the pot still twice.'
Taketsuru wouldn't have made that mistake with a column still, but then he wasn't relying on an old-fashioned textbook and a possibly dodgy translation.
Given the circumstances, Vaclav Sitner and his team should be proud of their Cold War baby. You might not mistake it for a Scotch single malt so much as a well-aged Bourbon, with all its new oak, but it's impressive nonetheless.
Hammerhead's problem was one of timing. Just as the first casks of this Communist whisky were being bottled, the Berlin Wall came tumbling down on 9 November 1989, followed, just eight days later, by Czechoslovakia's Velvet Revolution. By late December it was all over and 73,500 Russian troops were sent home.

Finishing school: Irish distiller Darryl McNally is keen to try maturing in Port or PX casks

'The barbed-wire fences were pulled down and there was a free flow of goods in, including Irish, Scotch and American whisky,' says Hayes. Tullamore Dew stole a lead it has never lost in the Czech Republic, followed by Jack Daniel's and Grant'sat some distance behind.
This flood of Western brands was beautifully captured in the 2003 film Goodbye Lenin! and it meant that, Hayes says, 'everyone forgot about the Hammerhead laid down in Prádlo. When Stock Spirits bought the business in 2007 and we were doing our due diligence, we came upon thousands of barrels of ageing whisky. No-one had bottled it, it was just lying there – an undiscovered jewel, gathering dust'.
In 2018, the biggest consumers of Hammerhead are the French, thanks to importer La Maison du Whisky, says Hayes. 'It's sold in the Netherlands, the United States and the UK, and even in China people have started drinking it.'
But in the Czech Republic you will only find it in the odd specialist drinks shop, along with a few bottles of Gold Cock, the Czech blended whisky distilled by J R Jelinek. In both cases, they will be there for the tourists, 7m of whom hit Prague every year.
But, with plans to mark the 30th anniversary of the Berlin Wall coming down with the release of a 30-year-old Hammerhead in 2019, this whisky relic of the Cold War might just wean a few Czechs off their beloved Tullamore Dew in the future.