The whisky world is brimming with stories of friendship and love developed over a shared passion for a dram. Becky Paskin recalls three heart-warming tales of romance – and bromance – that stood the test of time.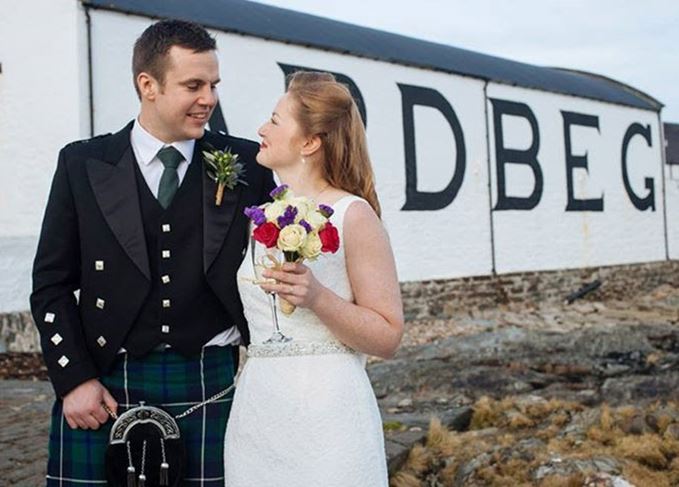 Whisky is not typically associated with romance. The drinks peddled out for Valentine's Day tend to be of the pink variety, a strawberry-spiked rosé Champagne or cranberry juice-laced cocktail perhaps. And yet the whisky world is brimming with love stories.
Whisky lovers are a passionate bunch and the spirit is well regarded for bringing people together. So much so that many of those working in the industry even choose to take their nuptials at their place of work. It's not unusual for distillery workers to tie the knot in a malt barn or stillhouse, while the whisky industry is filled with lovers who met over their shared affection for a good dram.
The following tales are of three of the most inspiring to emerge from the world of whisky, from love rescued from a plane wreckage, to a defiant couple determined to overcome all obstacles, and whisky's greatest baron bromance.
The fateful fall

Home sweet home: Gordon and Margaret at their cottage at Glenmorangie distillery

Was it fate that led Glenmorangie's longest-serving distillery manager to literally crash land into the arms of the love of his life?
Gordon Lennox Smart was born in Dufftown in 1895. As a boy he moved north to Tain with his family, where he eventually worked alongside his father at Glenmorangie distillery in the years leading up to the First World War.
He was just 21 years old when he volunteered to serve in the Royal Flying Corps (later renamed the Royal Air Force) in 1916. But the following year catastrophe struck. While stationed at RAF Waddingham in Lincolnshire, which operated as a flight training station during WWI, Smart was severely injured in a plane crash, breaking several bones.
Although devastating, the crash proved a serendipitous twist of fate, for it was while recuperating in hospital in Glasgow that he met a nurse named Margaret Wooley. Her parents, it transpired, owned the Royal Hotel in Tain, not more than a mile from Glenmorangie distillery where Smart's father was distillery manager.
Margaret cared for Smart and nursed him back to health, and they fell deeply in love. After the war ended the young couple moved back to Tain, and in 1920 Smart took over the reins as Glenmorangie distillery manager.
The couple married in 1922, with the wedding reception hosted in the Royal Hotel of course, and lived at Glenmorangie distillery with their three children. It was during Smart's tenure that a change of strategy from the distillery's owners in 1959 saw Glenmorangie become more widely bottled as a single malt – a decision that led to the brand becoming Scotland's top-selling malt.
Smart eventually retired in 1970, and he remained happily married to Margaret, to whom he owed his life, until his death in 1972.
Enduring love

Overcoming obstacles: Masataka Taketsuru and Rita Cowan defied the wishes of their families to be together

The story of the Mother and Father of Japanese whisky is so captivating that a fictionalised television drama inspired by their love led to a 'whisky boom' in Japan.
Masataka Taketsuru was born in 1894 in Hiroshima into a family of sake brewers. Fascinated by the art of whisky making, and tasked with learning the process by his employer, the Settsu Shuzo Company, he moved to Scotland in 1918, where he took up chemistry at Glasgow University. It was during this time that he met his future wife, Jessie Roberta (Rita) Cowan after lodging with her family.
The couple quickly fell in love, and against their families' wishes, married in 1920 at a Glasgow registry office. During his time in Scotland, Taketsuru had been undertaking apprenticeships at Scotch whisky distilleries – Longmorn in Speyside, Bo'ness near Falkirk and Hazelburn in Campbeltown. But shortly after their marriage he was ready to take what he'd learned back to Japan, and Rita followed him.
On his return however, Taketsuru was dismayed to learn that Settsu Shuzo had abandoned plans to make its own whisky. All was not lost. Kotobukiya (later renamed Suntory) had heard of Taketsuru's distilling know-how and recruited him to help build Yamazaki distillery in Kyoto in 1923. A decade later, Taketsuru built his own distillery, Yoichi at Hokkaido, which produced its first spirit in 1936. Four years later the first Nikka whisky was launched.
Throughout his career Rita was Taketsuru's number one supporter, providing love, financial support and loyalty through the highs and lows, including through the turbulence brought by WWII. Being a westerner in Japan was not easy for Rita, despite her continued efforts to embrace Japanese culture. Still the couple stood strong, side-by-side.
Rita's death in 1961 at the age of 63 devastated Taketsuru. He devoted his time to perfecting his craft and soon after her death he released Super Nikka in her memory. Taketsuru eventually passed away in 1979 at the age of 85, 10 years after the construction of Miyagikyo distillery in Miyagi prefecture.
Decades after their passing, their enduring love and passion for the creation of Japanese whisky still lives on. Not just through their tale, as told through the Massan TV drama, but through generations of whisky lovers and makers across the world.
The Baron Bromance

Brotherly love: Tommy Lipton and Tommy Dewar were extremely close friends

The great Victorian whisky baron, Thomas 'Tommy' Dewar, was known for his flamboyant charm, wit and style. A born salesman and successful entrepreneur, he could quite easily be described as a catch, if it weren't for his disregard for commitment. 'Marriage is a great institution – for those who like institutions,' he is noted as saying. Dewar never married.
Perhaps the closest he came was to Ms Rosalind Secor, the only daughter of the wealthy American lawyer William Secor. It was widely rumoured – although never confirmed – among the American and British press in 1899 that the couple were engaged to be wed. The Dundee Courier reported:
'Miss Secor, who is only 20 [Thomas Dewar would have been 35], is described as charmingly pretty, her fair complexion being set off by masses of dark hair... It was while spending the season in London that she met Dewar, whom she is reported to have captivated as much by her wit as by her extreme politeness.'
However their wedding never materialised, and Ms Secor was later married in 1902 to Guy Chetwynd, the son of a baronet (Dewar was in fact himself made a baronet in 1917, and elevated to the peerage as Baron Dewar of Homestall in Sussex two years later).
Perhaps it was his globetrotting lifestyle promoting Dewar's whisky in every corner of the world that kept him from settling down, cementing his reputation as one of the world's most eligible bachelors, but there was one long-lasting relationship that he held dear.
Dewar had developed a warm friendship with multi-millionaire Scottish tea magnate Thomas Lipton. Also a baron, and one of the 'world's most celebrated trio of bachelors' alongside Sir Arthur Conan Doyle, Lipton was another tale of self-made success, having worked his way up from helping out at the family grocery business in the Gorbals, to running a global business empire.
The Toms – 'Whisky Tom' and 'Tea Tom' as they referred to themselves – were said to be the second and third people in Britain to purchase a motorcar, after King Edward, then the Prince of Wales, in around 1895.
The two 'Scotch Toms' as they came to be known, spent many a day yachting, lunching and pranking one another. Dewar once walked into a Lipton's tea shop in Harrogate pretending to be an inspector for the company, and subsequently gave each member of staff a £1 a week raise. Upon hearing of the deception, Lipton continued to honour the pay rise.
Their closeness became legendary. It was a friendship built on shared interests, mutual respect and sense of humour, but above all there was a mutual warmth between the pair.
In a transcript from The Graphic in 1923, Hannen Swaffer wrote following a lunch with the Tommys:
'And so, while I lunched with Dewar and Lipton, Lipton was dropping little stories about Dewar, each one made up, I know, as he went along, while Dewar was replying with little cynicisms about Lipton. Only a friend of both would have guessed that they were as David and Jonathan [a biblical reference to a platonic homosocial relationship] meeting again after Lipton's long absence in America, and so inseparable that Lipton's last words to Dewar, who was off to Africa the next day, were, "Tommy, what time is your train going? Because, you know, I shall regard it the great privilege of an old friend to be the last one to shake your hand."'
Neither did marry. Dewar died a bachelor in 1930, as did Lipton in 1931, but their bromance endured right to the end.