Witty, charming, a born salesman and a natural extrovert – Tommy Dewar was the polar opposite of his more serious-minded brother, John. But this most colourful of Scotch whisky characters helped build John Dewar & Sons into the global success it remains to this day. Gavin D Smith tells his story.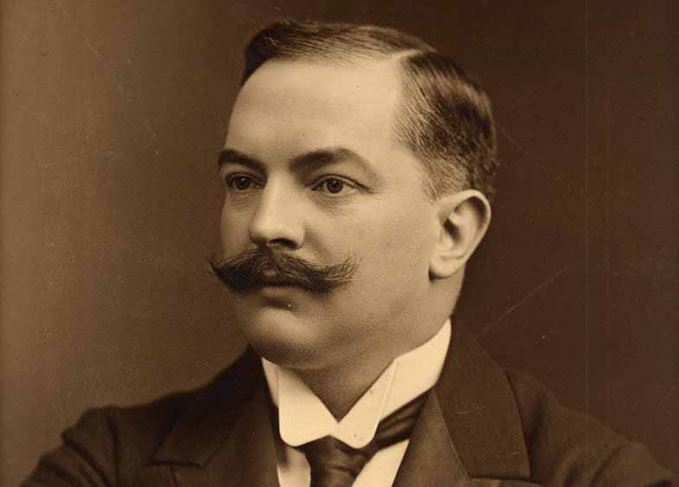 '​A teetotaller is one who suffers from thirst, instead of enjoying it.'
In a buccaneering era for blended Scotch whisky, when colourful characters were not thin on the ground, Thomas Robert Dewar, better known as 'Tommy', was one of the most vivid.
Born in Perth in 1864, he was the son of John Dewar, from a crofting family in the hamlet of Dull, near Aberfeldy. John had left home to work in his uncle's wine and spirits business in the city of Perth, ultimately becoming a partner in 1837.
He set up his own business on Perth High Street in 1846, going on to blend and bottle whiskies. His elder son John became a partner in 1879, a year before his father's death, while younger sibling Tommy joined the family company – renamed John Dewar & Sons Ltd – around 1881, also becoming a partner.
The two brothers could hardly have been more different in character, with the serious and understated John preferring to steer clear of the limelight and oversee operations from Perthshire, while Tommy was a flamboyant charmer and born salesman, with a ready wit and endless style.
At the age of 21 he was dispatched to London to try to develop business there, arriving with the names of two contacts who were to introduce him to key figures in the capital. Dewar was undeterred when one turned out to be bankrupt and the other recently deceased.
Thanks principally to his personal charm, wit and social skills, Dewar's blended Scotch was soon on sale in all of London's most fashionable restaurants and hotels. From around 1893 it was available at the Savoy Hotel, and Tommy Dewar has the record as the guest who stayed the longest – having a serviced apartment there from 1904 until his death in 1930.
Dewar was the toast of metropolitan society, with his much-quoted fund of humorous maxims becoming known as 'Dewarisms'. These included lines like: 'A philosopher is a man who can look at an empty glass with a smile', or: 'We have a great regard for old age when it is bottled', and: 'Of two evils, choose the more interesting.'

International success: Tommy Dewar visited Egypt in 1899 (Photo: Dewar's Archive)

In 1893 John Dewar & Sons Ltd received Queen Victoria's Royal Warrant for the supply of whisky, and Tommy numbered the Prince of Wales, the future King Edward VII, among his friends, along with Thomas Lipton, who did for tea what Dewar did for blended Scotch. The two travelled and sailed yachts together, being dubbed by the press 'Tea Tom' and 'Whisky Tom'. Tommy Dewar owned only the third motor car – a Benz – to be registered in Britain, after those belonging to the Prince of Wales and 'Tea Tom'.
​​'​Keep advertising and advertising will keep you.'
Dewar was a master of publicity, and, at the Brewers' Show in Birmingham during the 1890s, the Dewar's stand – the only one representing a whisky company – was allocated a remote corner of the hall, so Dewar employed a bagpiper in full Highland dress to play loudly and draw attention to the stand. The fuss made by this shameless stunt duly found its way into the newspapers, giving the whisky brand invaluable exposure.
He exploited the great opportunities offered by print advertisements and also had an eye-catching illuminated sign installed on the old Shot Tower near Waterloo Bridge in London. Using 1,400 coloured light bulbs, six miles of electric cable and a programmed circuit, the 'advert' featured a Highlander who poured and drank glass after glass of Dewar's whisky, while his kilt appeared to sway in the breeze. The advert was 68ft high and was said to be the largest mechanical sign in Europe.
Most innovative of all, however, was what is claimed to be the first motion picture advert, also featuring Highlanders, which was screened on a New York rooftop around 1898 to much astonishment.
With business thriving, the Dewar brothers decided to build their own distillery to guarantee supplies of malt spirit, having initially acquired the small Tullymet distillery near Ballinluig in Perthshire. They operated this until 1910, but in the meantime constructed Aberfeldy distillery between 1896 and 1898, just a few miles from their father's birthplace. Royal Lochnagar, Glen Ord, Pulteney, Aultmore, Parkmore and Benrinnes distilleries were all added to the company's portfolio during the next couple of decades. Dewar's also had shares in Yoker distillery near Glasgow and, along with W P Lowrie, purchased Port Ellen on Islay.
'​We should not say how's business, but where is business.'
By 1891, agents for Dewar's were in place as far afield as South Africa and Australia, and the following year Tommy Dewar embarked upon an epic two-year world tour, visiting every continent in the world. By the time he returned home he had appointed 32 agents across 26 countries and opened a New York office. Dewar's White Label was soon the leading blended Scotch whisky in the USA, a position it still holds to this day.
Tommy Dewar's travel journals were fashioned into an entertaining book, entitled A Ramble Round the Globe, published in 1894 and, three years later, he was appointed the youngest ever Sheriff of London. Politically, he was a confirmed Tory and was elected as the Member of Parliament for the constituency of St George's in the East End in 1900, serving for six years before losing his seat to a Liberal.

Shot of the Sheriff: In 1897, Tommy Dewar became the youngest ever Sheriff of London (Photo: Dewar's Archive)

Knighted in 1902, after the accession of King Edward VII to the throne, he was created a baronet in 1917 and elevated to the peerage as Baron Dewar of Homestall in Sussex two years later. Brother John, whose vitally important role in the success of the family firm should never be underestimated, had become the first 'Whisky Baron' in 1917, assuming the title of Baron Forteviot of Dupplin.
The family firm had merged with that of James Buchanan in 1915, though each kept its separate identity. What was titled Buchanan-Dewar Ltd was ultimately absorbed by the Distillers Company Ltd (DCL) in 1925, with John and Tommy taking seats on the DCL board.
Like his fellow blended whisky entrepreneur and rival James Buchanan, Tommy Dewar embraced the life of an English country gentleman, owning and breeding racehorses, as well as greyhounds, poultry, waterfowl and pigeons. During the First World War he lent his pigeons to the armed forces, and they were used to carry messages on various battle fronts.
In racing circles his best horses were Challenger and Cameronian. Both were home-bred by Dewar, with Cameronian winning the 1931 2,000 Guineas Stakes and Epsom Derby, while Challenger became the leading sire in the US after being sold to a new owner following Dewar's death. This occurred in April 1930, when he was aged 66, only five months after his brother John's death. Tommy Dewar was cremated at Golders Green Crematorium and, as he had never married, the baronetcy became extinct with his passing.
One apocryphal story nicely sums up the character of Tommy Dewar. The Scottish singer and comedian Sir Harry Lauder was a friend and frequent visitor to Dewar's Homestall Manor estate. Lauder was known to be careful with his money, and liked to get something for nothing. He asked Dewar if he could have some of the pigeons he had bred to take home with him to Scotland. Dewar obliged, and the birds were duly caged and sent north with Lauder by rail.
What Tommy Dewar had neglected to tell Lauder, however, was that he had given him homing pigeons...