With distilleries attracting a growing number of tourists every year, visitors are demanding more than a cup of tea and a cake in the distillery café. From Islay to Utah, the standard of food offered at our favourite whisky destinations is going from strength to strength. Brad Japhe reports.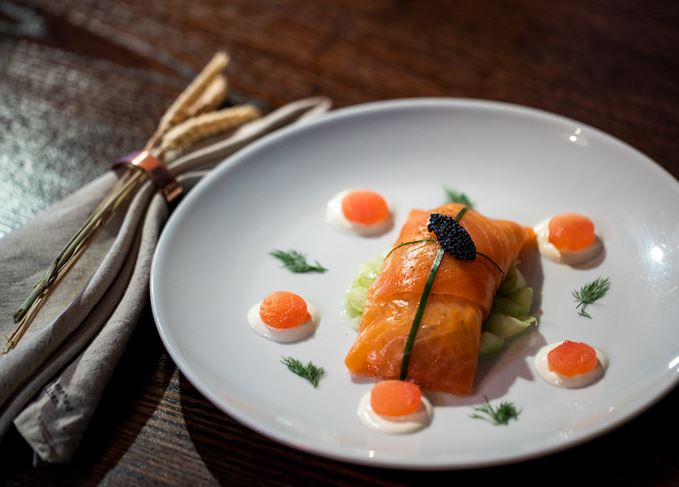 As the demand for whisky has soared during the 21st century, the distilleries churning out all of this liquid have evolved from mere industrial facilities into top-rate tourist destinations.
According to the Scotch Whisky Association, Scotland's native spirit attracted 1.9 million visitors to the country last year alone – more than ever before. Similar spikes are occurring around the globe, from rye makers in Canada to single malt shrines in Japan.
When welcoming all these guests for a wee dram, it would be rude to send them on their way hungry, so a growing number of distillery experiences are concluding in cafés and restaurants popping up on-property.
While many people would be perfectly happy with basic offerings in such scenarios, the more discerning palate craves something more serious than biscuits and scones. After all, you're sipping on a premium spirit, so is a proper food pairing so much to manage? It is most assuredly not – provided you make your way to the following distilleries scattered about the wide whisky landscape.

THE OLD KILN CAFE, ARDBEG
Ardbeg Distillery, Port Ellen, Islay, Argyll, PA42 7EA, Scotland
ardbeg.com/en-gb/visit-us/distillery/old-kiln-cafe

Local fare: The food at The Old Kiln Café aims to match Ardbeg's distinctive character (Photo: Mike Guest)

Perched on the craggy coast of south-east Islay, Ardbeg is a dramatic sight to behold. The bold peated malts of the distillery are equally as heady: rich, rugged, sublime.
In the midst of these outsized surroundings, it would be easy to overlook the Old Kiln Café – if it didn't provide such fantastic fare. Prior to morning tours, the freshly-baked breakfast rolls here are the stuff of legend – a great way to carb-load before a lengthy day of whisky tasting.
But the seasoned vet knows to wait until lunch hours, for a heaped platter of pie. Whether stuffed with the local catch or braised beef, the robust flavours in each find the perfect foil in the salty notes of the distillery's 10-year-old flagship single malt.
To savour an even more direct pairing opportunity, order the haggis, neeps and tatties. They're served with a dram of Ardbeg Uigeadail, the same malt used in preparing the dish's creamy pepper sauce.

STAR HILL PROVISIONS, MAKER'S MARK
Maker's Mark Distillery, 3350 Burks Spring Road, Loretto, KY 40037, USA
makersmark.com/uk/star-hill-provisions

Hometown hero: Newman Miller has earned a reputation for providing deceptively simple food

Chef Newman Miller was something of a local legend in Bardstown, Kentucky, before opening up Star Hill Provisions on the site of the Maker's Mark distillery. With this seasonally-focused, farm-to-table sandwich shop, he cemented his legacy as a hometown hero.
The menu seems straightforward enough: barbecued beef, fried chicken, chopped salads. But simple preparation belies the fully-fledged complexity enjoyed in every bite.
All of this excellence is packaged unassumingly into a charming country store façade, and paired effortlessly alongside the perfect Mint Julep. Everything you ever imagined Kentucky to be, in edible form.

HIGH WEST SALOON, HIGH WEST
High West Saloon, 703 Park Avenue, Park City, UT 84060, USA
highwest.com/saloon

Back in time: The High West Saloon transports guests to 18th-century frontier America

The High West Saloon in Park City, Utah, isn't so much a 'gastrodistillery' as it is a time machine. Step into the bar-room, with its varnished wood fixtures and cowboy couture, and it becomes a portal back to the 18th-century frontier.
If the menu here serves as any indicator, they must have been eating pretty well back in those days. What the kitchen describes as 'Western Mountain Cuisine' includes tomahawk pork chops, New York strip steak grilled in a cast iron skillet, bean stews and pan-fried trout.
On the drinks side you'll have access to the many artful blends of Bourbon, rye and American whiskies that made the brand famous. As it says right on the menu: 'We think pairing whiskey with food is one of the most under-appreciated experiences on the planet.' You won't find many dissenting opinions here.

Macallan Distillery, Easter Elchies, Craigellachie, AB38 9RX, Scotland
themacallan.com/en/the-distillery

Future proof: Macallan's eye-catching new £140m distillery aims to offer food to match

Macallan has grabbed plenty of headlines for its futuristic facility, contoured into the rolling hills of Speyside, which opened earlier this year.
And, while it's hard not to spend your time here marvelling at the unrivalled collection of drams showcased in and around the property's expansive bar, the restaurant will surely give you something else special to chew on – namely, locally-sourced sharing plates highlighting the terroir of the Scottish Highlands.
[email protected] is inspired by El Celler de Can Roca, the three-Michelin starred restaurant in Girona, Spain, which maintains a close relationship with the distillery. The connection is felt not so much in the ingredients as in the artful renderings of [email protected]'s whimsical preparations.
The Carpaccio of Speyside, for example, features smoked venison, hazelnuts and local cheeses, a spectrum of flavours that flourishes under a wash of Sherry-driven single malt.

WHITE TERRACE, HAKUSHU
Suntory Hakushu Distillery, 2913-1 Torihara, Hakushu-cho, Hokuto-shi, Yamanashi Prefecture, Japan
suntory.com/factory/hakushu/facility

Alfresco dining: Suntory's Hakushu distillery nestles in the natural beauty of the Japanese Alps

Suspended within the verdant grandeur of the Japanese Alps, the Hakushu distillery is a veritable mecca for maltheads. On-site is a bar holding some of the country's rarest whiskies, bottles that have become virtually extinct elsewhere across the country.
The selection is enough to make you short of breath, so compose yourself over at the White Terrace. Dine al fresco throughout much of the year, when hearty fare such as roasted duck and gravy-soaked veal medallions can be enjoyed under a canopy of Japanese birch trees.
Pair these savoury gems against that most classic of regional refreshments: a Hakushu Highball, served here with a sprig of fresh mint.

TIMBOON
Timboon Railway Shed Distillery, The Railway Yard, 1 Bailey Street, Timboon, VIC 3268, Australia
timboondistillery.com.au

Tempting dish: Timboon distillery in Victoria offers an eclectic selection of local food

About a two-and-a-half hours' drive west of Melbourne you'll find this boutique distillery built partially into a 19th-century railway shed.
Accompanying the single malt whisky produced on-site is an eclectic array of cuisine ranging from charcuterie to steamed bao. It's hard to run afoul on this menu, but you'll want to steer your selection towards the Black Angus beef.
It's grass-fed cattle, grazing on land owned and operated by the distiller's family. With a steady hand over the entire process, 28-day dry-aged cuts are presented 'paddock to plate', as the menu says. You'll have no trouble raising a glass of single malt to that.

THE OLD MALTINGS COFFEE SHOP, THE GLENLIVET
The Glenlivet Distillery, Ballindalloch, Banffshire, AB37 9DB, Scotland
maltwhiskydistilleries.com/theglenlivet

Local area: The Glenlivet's 'cornucopia' of food is mostly sourced from the surrounding region

Don't let the name fool you. The Old Maltings Coffee Shop at The Glenlivet Visitor Centre offers far more than just roasted beans. It's a cornucopia of classically prepared Highland fare, sourced mainly from within a 50-mile radius of the distillery.
The meat, for instance, comes from a butcher in Dufftown – 12 miles up the road. The fruit jams and preserves come from Conon Bridge, the cheese from dairies in Ardersier. And the seafood is fresh from Moray, as you'll vividly gather in each bite of the restaurant's mouthwatering rendition of Cullen Skink. It's served with a slice of warm bread that echoes the malty flavours found in your mandatory dram.