From tartan tins to Christmas treats, shortbread is synonymous with Scotland – and famous across the world. But what's the story behind this rich, crumbly biscuit? Lucy Britner explores all things shortbread.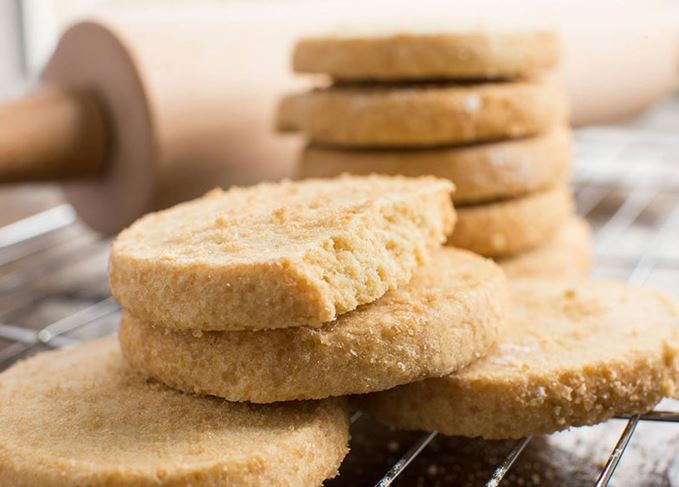 The Speyside town of Aberlour is home not only to its namesake whisky, but also the famous Walkers shortbread factory. With less than a mile between the two, visitors can breathe in the heady aroma of the distillery before the scent of baking drifts over to set up the senses for a dram and a slice of that sweet, rich biscuit.
According to Walkers, the origins of shortbread date back to the 12th century, when leftover dough was sweetened and refashioned into biscuits. The rough biscuit/bread cross was later refined and the modern, sweet and crumbly version we enjoy today is believed to have been made popular by Mary Queen of Scots in the 16th century.
The name 'shortbread' likely comes from the generous quantities of butter used in the biscuit's creation – making the dough 'short' and slightly sandy in its texture.
Though shortbread had already been gracing plates – and waistlines – for a few hundred years, the first record of a recipe comes from a Mrs McLintock, in 1736. Around 100 years later, the inimitable Mrs Beeton described 'Original Scotch shortbread' as a mix of butter, sugar, flour and caraway seeds, topped with candied peel. Mary Queen of Scots is said to have favoured the addition of caraway seeds, possibly leading to their inclusion being noted in the 'Original Scotch' recipe.

Famous factory: Joseph Walker opened a bakery in 1898, and set about making shortbread

Mary is also said to have been a fan of 'petticoat tails' – the large, round shortbread that breaks into triangles with frilled edges, akin to a petticoat. History and heritage website historic-uk.com suggests that, besides the petticoat shape, the name may come from the corruption of the French petites galettes (little cakes). Either way, it's tough to eat only one piece of the petticoat.
Mary wasn't the only queen to enjoy the biscuit and, in right royal contrast, Queen Victoria supposedly preferred hers with a pinch of salt.
Aside from shapes and extra flavourings, Rupert Laing, associate director at producer Shortbread House of Edinburgh, says there are three main traditional recipe variations. The first and most widely recognised calls for flour, butter and sugar, he says. The second sees the addition of cornflour to create a 'softer texture', while number three uses either rice flour or semolina to create a 'slightly grittier, more crisp' texture.
'Handmade is best,' says Laing, adding that it's hard to replicate shortbread-making with a machine, even when it comes to cutting the famous finger shapes. He also emphasises the need to use 'good, rich butter'. Shortbread House uses Irish butter as according to Laing, there isn't enough produced in Scotland. He says butter from the Emerald Isle is 'very rich' because the cattle spend a lot of time out at pasture.

Petticoat tails: Shortbread comes in a variety of shapes

Perhaps owing to the large quantities of butter, shortbread is usually reserved for special occasions including Christmas, Burns Night and Hogmanay.
'It's not an everyday biscuit,' says Laing. He says 'first-footers' often bring gifts of shortbread and whisky on New Year's Day. The offering, usually along with coal, salt and a silver coin, is said to bring good luck to the house (the tradition also specifies the delivery should be made by a 'dark-haired' male – a likely hangover from not wanting to see a fair-haired Viking at the door).
There are also some regional customs involving the famous biscuit. According to Walkers, in Shetland, for example, it was 'traditional to break a decorated shortbread over the bride's head' as newly-weds entered their new home together. 'This would bring good luck and a happy marriage,' the company says. The tradition lives on today, but thankfully it now involves a gift or wedding favour of shortbread, rather than the crumbs-in-the-hair affair.
Shortbread and whisky
While whisky shortbread – such as Walkers' Glenfiddich shortbread rounds – is available, whisky is not the easiest thing to add to the mix. In fact, Shortbread House's Laing says adding a dram to your recipe might not be worth it at all.
'Whisky doesn't bake very well,' he says, 'meaning flavouring must also be added' – a practice he's not keen on at Shortbread House. He is keen on whisky, though, and instead suggests a pairing.
'Start with the original shortbread, rather than one with lots of extra flavours,' he says. 'That way, you can find a whisky to complement the biscuit. I enjoy mine with Glenrothes Select Reserve.'
Delving further into the world of pairing, Andrea Montague, northern Europe brand ambassador for Bacardi's whisky range, agrees that the key to finding the perfect dram for shortbread is all about the complement rather than the contrast.
She splits shortbread into two broad camps – the 'soft, buttery melt-in-the-mouth' kind and the crumbly, slightly salty kind that 'you have to crack open'.

Whisky pairing: Match crumbly, buttery shortbread with light, honeyed whiskies

With the soft, buttery biscuit, she favours a light, citrusy or honeyed dram, singling out Highland single malt Aberfeldy 12 Year Old or Lowlands whisky Glenkinchie 12 Year Old.
'Aberfeldy works well because the light, honeyed notes complement the sweet biscuit, while the citrusy notes help to elevate the shortbread's rich, buttery taste,' she says.
The more crisp style of shortbread calls for a richer dram, with 'stewed or dried fruit notes and hints of orange peel', Montague adds. She picks Royal Brackla 12 Year Old, a Highland single malt finished in oloroso Sherry casks.
'The rich fruit and lightly Sherry-spiced notes of the whisky help to bind the flavours of that crisper, slightly salty style of shortbread together,' she says.
And when it comes to Mary Queen of Scots' favourite, the caraway seed shortbread, Montague heads a lot further east. 'Caraway shortbread would work really well with whiskies from Amrut,' she says, highlighting the Indian distiller's signature spicy character.
Whether you favour Mary's regal recipe or the simple pleasures of a classic, buttery finger, there is certainly no need to wait for a special occasion to enjoy a dram and a piece of shortbread.