Throughout the hot summer months – or not so hot, depending on where you happen to live – salads become a staple part of our eating habits. Selecting the correct whisky to go with your vegetables is not easy, but there are plenty of ways to add a dram to your five-a-day. Martine Nouet is our guide.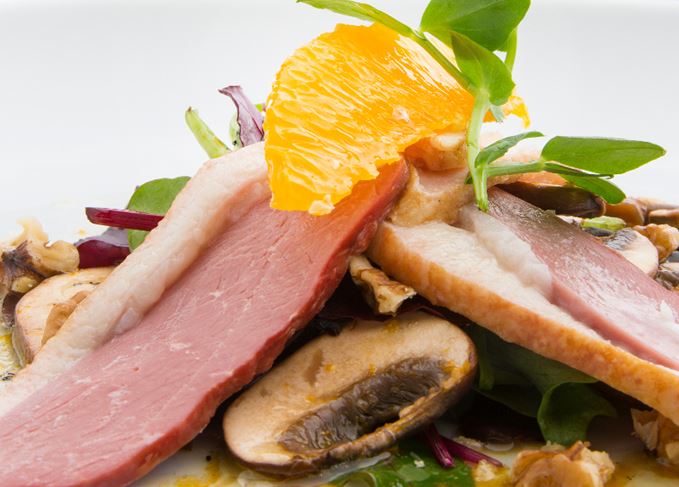 Salads might be the last kind of dish you would ever think of pairing with whisky, and it is true that vegetables don't offer easy 'bridges' with whisky. But matching is no easier with wine, or any other alcoholic drink.
It all depends on what you put in your salad. If you mean only green leaves, it will be difficult to find any exciting combinations with a single malt. We need to look at the concept of 'mixed salad' – a genuine springboard for the chef's fancy. Alongside the choice of ingredients, the salad dressing will be taken into account when selecting the whisky.
Summer is the ideal season for experimenting with original combinations, especially as sunny days are the perfect invitation for picnics, barbecues and garden parties. Time to fancy a refreshing and tasty cold dish, something which can be prepared quickly and easily.
Here are some pairing ideas and suggestions for including whisky in the dressing, according to what your salad consists of.

Fresh catch: Crunchy veg and grassy single malts work in a seafood salad (Photo: Martine Nouet)

Seafood and fish salads
Mussels and cockles
If you have a passion for foraging, mussels and cockles may feature in your salad. One of my favourite vegetables with shellfish is fennel. Its aniseed flavours bring out the sweetness of cockles, to combine with citrus fruit (lemon or lime) and herbs like tarragon or basil – all related to the aniseed family.
Just steam the cockles or mussels over a high heat for a few minutes, filter the cooking juice and reduce it, then add to the dressing (made of 1 tbsp of lemon juice and a drizzle of olive oil). Then why not tease it with 1 tbsp of a young Bourbon-matured single malt, like Bowmore Small Batch, or a blended malt, like Monkey Shoulder?
Smoked fish
You want to give your dinner a true Scottish touch? Prepare a hot smoked salmon and tatties salad. Choose baby potatoes and combine with a crunchy raw vegetable (carrot, celery, radishes) on a bed of rocket. Spice up your dressing with grain mustard or horseradish cream.
I'd rather use a neutral oil like grapeseed oil and white balsamic vinegar (not a real vinegar, but a condiment with a sweeter edge). Chopped parsley for the finishing touch. Grassy and malty single malts will be the perfect companions for this tasty salad (Glenkinchie, anCnoc or Clynelish, for instance).
Meat salads
Smoked meat makes a rich starter or even a main dish for a light supper. It matches with lamb's lettuce or, for a spicier dish, watercress. Smoked duck magret, salad, orange segments and walnuts should be paired with an earthy or oaky whisky (unpeated). I would go for Aberlour 10 Year Old or Old Pulteney 12 Year Old.
You can add a dash of a Sherried whisky – any Dalmore or Glenrothes Sherry Reserve – in the dressing (walnut oil, Sherry vinegar, a touch of honey, 1 tbsp orange zest). This salad offers a delicious array of nutty and fruity flavours.

Light lunch: Mozzarella, tomato and basil salad goes well with a floral malt such as Balbair

Vegetable salads
Summer offers a large array of fresh vegetables to create colourful salads. Let's go Mediterranean and bring sunshine to the plate. The classic mozzarella/tomato/basil salad is light and delicious, provided you buy 'real' tomatoes – I mean juicy tomatoes and not those perfectly-shaped but tasteless long-life ones which would work better as tennis balls than on the plate.
Be generous with basil and pepper. Mozzarella is more interesting for its texture and colour than its taste, unless you find a genuine burrata – a mix of cream and mozzarella – which should be made from buffalo milk. I would serve it with a light, grassy or floral malt such as a young Balblair, Teeling single malt or Auchentoshan Classic.
If olives feature strongly in the salad, a young Caol Ila will match perfectly (for instance, a green pepper and red pepper salad with green olives and fresh or marinated anchovies – the irresistible boquerones, but without garlic of course).
Let's go further into Mediterranean cuisine. After Italy, let's explore Morocco. Grilled vegetables (courgettes, aubergines, peppers, tomatoes) seasoned with olive oil, lemon juice and Moroccan spices could be served with barbecued meats and accompanied by a fruity single malt with a hint of garden herbs. Cragganmore would be my choice.
Any Mediterranean salad including cumin, oranges and cinnamon would pair very well with Glenmorangie Original. From there, let your fancy guide you. Play with different oils and vinegars, a wider array of herbs and spices. Add cheese, nuts, dried fruit. Always vary the textures by mixing something crunchy with something creamy. Have fun.
Fruit salads
My favourite fruit salad of the summer season is poached peaches in a light basil syrup. Make a light honey syrup, and poach ripe half peaches (peeled) in it for five minutes. Place the peaches in a bowl. Reduce the syrup over a high heat for 10 minutes, add 2 tbsp of Bruichladdich Classic and 3 tbsp of chopped basil. Pour over the peaches and allow to cool. Serve chilled.
Another version: make a whisky granité (mix two-thirds of the syrup with the whisky and the juice of a lemon) and place in the freezer, scratching the surface with a fork every 15 minutes to prevent the granité from turning into ice cubes.

Salad dressing: peated malts can even be lightly sprayed over salad before serving (Photo: John Paul)

How to use whisky in salads
Adding a dash of whisky in your dressing will immediately enhance the flavours as explained above. A reminder: if your salad contains smoked ingredients, use unpeated whiskies.
The other way to season your salad is to spray the whisky over it just before serving. That works especially well for peated malts. Not too heavy on the spraying if your whisky is rich and strong.
Bon appétit!