While whisky has been the traditional reserve of post-dinner imbibing, many British restaurants are increasingly using whisky flights to enhance their dishes and provide innovative food matches. Emma Eversham reports.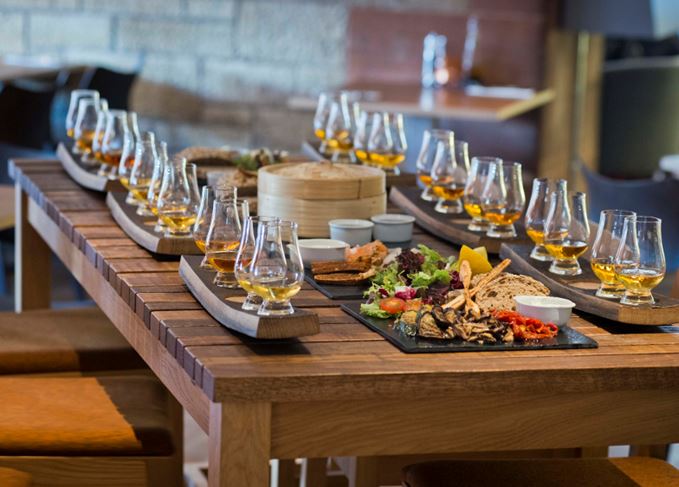 Wine may be considered top dog in the food and drink matching world, but whisky is nipping at its heels. The UK restaurant scene has never been so dynamic and whisky is increasingly becoming suggested as an alternative drinks pairing for all manner of restaurant dishes.
Boasting such a wide flavour profile, smart sommeliers have woken up to the fact that whiskies can sit favourably alongside, or enhance, a great number of plates – from a smoked salmon starter or a meaty main course of grilled steak or venison, to a sweet scoop of artisan ice cream or a carefully-crafted cheeseboard.
And flights – multiple servings in small measures – are the perfect way to show off whisky's attributes. Here's Scotchwhisky.com's pick of five UK restaurants doing just that.
The Taynuilt Etive Restaurant with Rooms, Argyll
Main Street, Taynuilt PA35 1JN; www.taynuilthotel.co.uk

Speyside favourite: The Balvenie flight is a popular Etive choice

When he joined the team at chef patron John McNulty's restaurant within an old coaching inn near Oban, general manager and sommelier David Lapsley immediately added whisky flights to the drinks menu.
'I've never been a fan of "malt of the month" and similar promotions,' he says. 'I prefer to go a little deeper into the tasting experience. We take that approach with most of what we have on offer – good food and drink backed up by knowledgeable service.'
The restaurant now offers two types of whisky flight, grouped by age or distillery. Aged flights allow diners to taste three whiskies from the different regions of Scotland, while the distillery flights offer an insight into the different whiskies from one producer.
Lapsley's favourite, and coincidentally most popular among guests, is the Balvenie flight – featuring measures of Caribbean Cask 14, Doublewood 17 and Portwood 21. 'It's a really good example of the variation within a single distillery,' he says.
The most common whisky pairings are with dessert or the restaurant's extensive cheeseboard, but Lapsley will also recommend whisky to match main dishes, such as venison.
McNulty has also created three ice creams showcasing three different whiskies combined with flavours that play on different elements in the spirit. Currently on the menu are honey and toasted oat ice cream with Oban 14 Year Old; Sherry and milk chocolate with Glengoyne 18 Year Old, and sea salt and peat-smoked salt with Ledaig. 'It's essentially a frozen whisky flight,' says Lapsley.
'The whisky flights definitely do best at the end of the meal, with lots of guests opting for them as a liquid dessert to finish the evening,' he adds. 'I think this is why the whisky ice cream flight has done so well. We put it on the menu initially as a trial, but it's proved to be so popular that it has become a signature dessert.'
Caxton Grill Restaurant, London
2 Caxton St, SW1H 0QW; www.caxtongrill.co.uk​

Seasonal flavours: Caxton Grill pairs flights with the season's produce

Having a Scottish general manager with 'whisky in his blood' has inevitably helped push the spirit to the fore at the restaurant at St Ermin's Hotel in London's Westminster, but GM Douglas McHugh isn't the sole connoisseur.
Available since the restaurant opened its doors in 2011, whisky flights have proven particularly popular with the hotel's American guests, who enjoy selecting one of five options, such as 'Shortbread' (Oban 14 Year Old, Glenkinchie 12 Year Old and Highland Park 18 Year Old) or 'Smoke on the Water' Springbank 15 Year Old, Caol Ila and Ardbeg Uigeadail).
'The aim of the whisky flight is to give our customers the opportunity to compare and contrast complementing whiskies and drive flavour exploration,' says Jorge Vera Schmuling, director of food and beverage at St Ermin's Hotel.
'One of the main stories with the restaurant is the importance of provenance of our food – we have a roof garden on top of the hotel – so we base our menu around what is seasonal.'
Schmuling says the sheer variety of whiskies that the restaurant's bar lists means that it can offer multiple whisky and food pairings.
'The lighter styles of whisky suit our light summer dishes very well as they pair excellently with seafood, whereas more full-bodied whiskies work well with darker meats, which is a perfect combination with our Josper grilled steaks,' he adds. 'Keeping the flavours simple, with the steaks for example, excellently showcases the whisky's depth of flavour.'
Amber Restaurant at The Scotch Whisky Experience, Edinburgh
354 Castlehill, EH1 2NE; www.scotchwhiskyexperience.co.uk/restaurant​

Help on hand: Amber staff suggest flights to match its Scottish tapas

Whisky flights have been on the menu at The Scotch Whisky Experience's Amber Restaurant for 17 years as, understandably for a venue that aims to educate its visitors about Scotch whisky, it would be a missed opportunity not to offer the spirit as a top match to executive chef Dave Neave's food.
Amber Restaurant currently lists a choice of eight different 'Collections' of flights: Regional; Highland; Speyside; Islay; Liqueur; Blended, Grain, Single Malt & Liqueur; Premium Blended; and Luxury Mature Malts. Each flight includes four 25ml measures of Scotch, with whiskies changed regularly to reflect the venue's shareholder and stakeholder brands. In the regional collection, you'll find Glenkinchie 12 Year Old, Glenmorangie Signet, Glen Grant 12 Year Old and Bruichladdich Octomore 6.1, for example.
With such a broad selection of whisky flights, there are multiple suggestions for food matches. Knowledgeable staff are on hand to recommend whiskies to match customers' choices, from its Scottish tapas to main dishes like the roast fillet of sea-reared trout, and smoked haddock and leek cake, or desserts such as the Scottish raspberry cranachan delice with raspberry sorbet and Drambuie anglaise. A regional single malt collection has been constructed to match with its Scottish cheese platter, which includes Clava brie and Strathdon Blue cheeses.
Boisdale, London
Restaurants in Belgravia, Bishopsgate, Canary Wharf and Mayfair; www.boisdale.co.uk

Smoky flavour: Boisdale also matches its flights to its cigar options

There are whisky flights for all tastes and budgets at London-based British restaurant group Boisdale. From the beginner regional flight, designed to 'educate and inform' about the differences of single malt Scotch from one region, through to a more international Scotland vs Japan flight and a specialist Macallan flight (plus many others), Boisdale's group bars manager Joe Boxall is of the belief that whisky should be accessible to all.
'I am of the opinion that you should be able to offer a taster for those guests who have a real passion and interest in whisky,' he says. 'If you're on a budget, this allows you the chance to try a lot more whiskies without having to shell out for a full dram of each.
'A particular favourite of mine is the Mothballed flight – it could be the only flight in the world where Port Ellen is included!'
At Boisdale, whisky flights are mostly recommended to be savoured after dinner, with tasting notes offered to guests who can take their favoured dram to the Cigar Terrace, where a cigar sommelier will recommend the perfect cigar to accompany it. However, during the meal, sommeliers will suggest a whisky match if requested.
'A nice delicate whisky like Auchentoshan goes very well with our smoked salmon gravlax,' says Boxall. 'A more Sherried and robust whisky like Macallan goes well with a steak or game, and to finish off, a smokier/peatier whisky like Laphroaig goes extremely well with a dark chocolate dessert.'
Jackson + Rye, London & Surrey
Restaurants in Bank, Chiswick, Guidford, Kingston-upon-Thames, Richmond and Soho; www.jacksonrye.com

Go west: Jackson + Rye wants to promote rye through weekly events

American restaurant group Jackson + Rye launched Flight Night in February to help educate diners about American rye whiskies – and it proved so popular that it has continued to hold the event every Wednesday night at all six of its sites.
Four different flights of three ryes are available – The Wryeht Brothers (a perfect introduction to rye); For the Love of Rye (three ryes with high rye content); The Many Faces of America (a trio of Bourbon, rye and malt) and The Spirit of America (three traditional Bourbon flights) – for £9.95.
James Goggin, rye expert at Jackson + Rye, says the motivation behind the event is to show how varied rye is, as well as to highlight its attributes as a match to food.
'Rye is an almost unknown in the UK, but in America it's enormous and we are hugely excited to be making a name for it in London and beyond,' he says.
Ryes are matched to American dishes like the truffled mac 'n' cheese, its barbecue baby back pork ribs, beef brisket, and pecan pie accompanied with caramel ice cream drizzled with Bourbon and maple syrup.