With so much food and so many competing flavours on offer, can Scotch whisky find a place at the Thanksgiving table? You bet, says Felipe Schrieberg – all it takes is a little lateral thinking and some expert advice.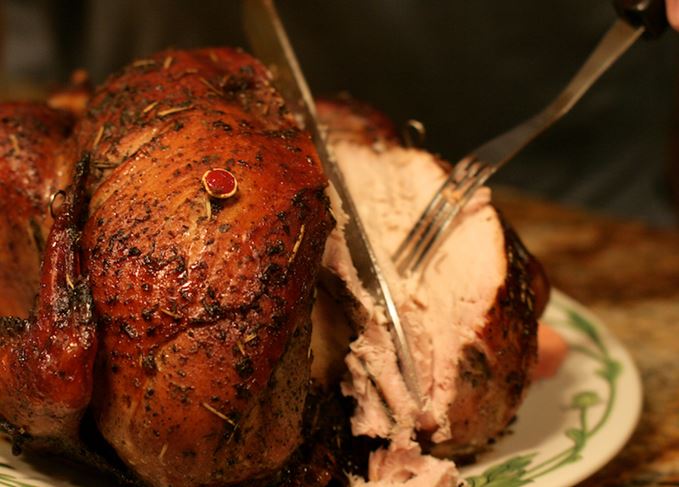 Thanksgiving. A time to spend with family. A time to reflect on what you have been grateful for this past year. But, most importantly, a time to stuff yourself silly with all kinds of delicious food. Why not add some Scotch whisky to that mix?
Matching whisky and food has become increasingly fashionable of late, with many top chefs, from Edinburgh's Michelin-star man Tom Kitchin to New York's David Bouley, all experimenting with whisky-paired dinners. I too have jumped on that particular bandwagon with some of my tastings, collaborating with London chef Alex Cooper to create whisky dinners in a London Underground tube carriage.
Writing about whiskies for a Thanksgiving meal is a great chance for me to mix my passion with my American heritage. But wait a moment: this isn't as easy as it seems for a number of reasons. Time to call Alex to get some advice.
A graduate of Paris' Le Cordon Bleu School, Alex has trained under some of France's leading chefs, worked in some top restaurants and founded Basement Galley: The Underground Supper Club.
One of London's hippest supper clubs, it has been featured by the BBC, in the Guardian, The Daily Telegraph and Time Out, among others. With Alex's expertise on food and flavours, we should be able to figure out the right way to mix whisky with Thanksgiving.
Traditionally, Alex and I pair food and whisky with considerable discussion about each course and how those flavours will complement each other. However, we quickly realised that using this method for a Thanksgiving meal is a lost cause. With its smorgasbord approach to feasting, Thanksgiving is one of the messier big holiday meals.
A typical Thanksgiving is more like a banquet, filled with all kinds of side dishes with the turkey as the centrepiece. Gluttony prevails as you'll probably be mixing everything together in one plate, finishing that, and then going back for more. Vegetables, fruit, legumes and meat all sit side-by-side on plate and palate.
So is there any 'formal' method of pairing all that Thanksgiving food with different whiskies? We think we've found a way.
'Don't pair them by food or course,' says Alex. 'Do it by flavour. There's so many Thanksgiving recipes that are going to be mixed together on a plate, with no particular order, that your best bet is to think about the different flavours that will be on the plate itself.'
Good advice. What we're going to do here is select four different whisky flavour profiles and match two whiskies per profile (so eight whiskies in total). We'll then assign the whiskies to flavours and foods that you might find on your Thanksgiving plate and explain why we've done so – hopefully ending up with some tasty matches.

Tube treat: Alex Cooper is founder of the Underground Supper Club (Photo: Basement Galley)

Soft/Creamy: Auchentoshan Valinch and Aberfeldy 21
Auchentoshan Valinch and Aberfeldy 21 are among my favourite examples of smooth, creamy whisky. Vanilla, oak and Graham crackers [a bit like a digestive biscuit, UK readers – Ed] all shine through here. Pick Valinch if you want something with a serious kick (it's cask strength, so a bit of a beast!), and Aberfeldy for absolute class.
I'd recommend these for dealing with most cheeses, dark fruits (it complements the sweet, slight bitterness of most cranberry sauces, for example), and it goes well with most bacon dishes. Also a safe choice for desserts.
Alex says: 'This is a good choice for any salty meat dish (such as combinations of sweet potato and bacon), and most forms of Thanksgiving corn, including corn on the cob and creamed corn.'

Corn whiskies: Soft and creamy drams offer a great match for most types of Thanksgiving corn

Rich/Fruity: GlenDronach 12 and Bunnahabhain 18
Both of these whiskies have some level of Sherry cask maturation, so they will provide rich, sweet and fruity flavours along the lines of plums, grapes, toffee/caramel and chocolate. Both are great dessert whiskies, and also good choices to add depth to blander sweet treats, such as cornbread or sweet potatoes.
Alex says: 'Drink these with the turkey to add some sweetness to what is usually a pretty dry meat. They are also a perfect complement for pecan or pumpkin pie, and even carrot cake.'

Drams for dessert: Rich, fruity whiskies work well with the likes of pumpkin pie (Photo: Brownies For Dinner)

Smoky/Heavy: Ardbeg 10 and BenRiach Septendecim
I love smoky whiskies and both of these are superb. Ardbeg 10 is a staple for any peated whisky lover, and BenRiach Septendecim is a complex, punchy 17-year-old peated Speyside whisky, a bit of a rarity in that part of Scotland.
Their mix of delicate sweetness and a hard dose of smoke means that they are to be paired with caution with your Thanksgiving meal – that smoky taste will linger for a while.
Alex says: 'If you want what you're eating to have a strong dose of meat-like smoke, go for this. Turkey, bacon, veggies, macaroni and cheese – it's all fair game. These particular examples are also very sweet, so they'll add a lot to mashed potatoes and creamed corn.'

Bring on the smoke: Peated whiskies are 'fair game' for the likes of macaroni cheese (Photo: Steve Depolo)

Smoky/Light: Arran Machrie Moor and Jura Superstition
These are much gentler in the way they handle smoky flavours, compared to peated monsters such as your Ardbegs or Laphroaigs. Machrie Moor is the closest thing I know to a whisky that tastes like breakfast cereal: a weird whisky version of a corn flakes/Rice Krispies mix.
Superstition is a standout from a distillery that is not much loved among whisky geeks, featuring a lovely blend of ginger and citrus. This soft smoke and sweetness would go well with most vegetables, such as beans and peas, and also with most meats if serious smoke is not your style.
Alex says: 'Big fan of the Machrie Moor here. Use these for added citrus zest and smoke on dishes that mix peas/beans and bacon. It's maybe best not to use them with desserts because of the smoke element.'

Lighter touch: Gently smoky whiskies bring an added touch to peas and bacon (Photo: Maggie Hoffman)