Known to many in the whisky world just as 'Simo', the Milroy's of Soho owner is fast making a name for himself across the industry. Melita Kiely caught up with the entrepreneur to discuss motorbikes, tattoos and Chester the Jack Russell.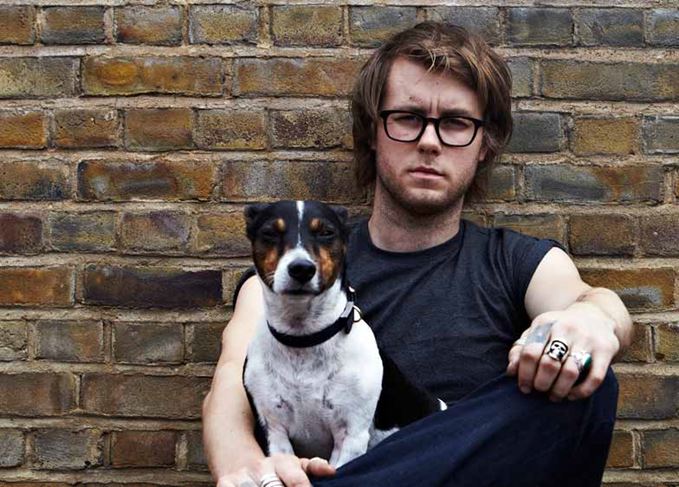 'Milroy's was the place that first got me into whisky. I was buying a gift when I was about 19 or 20, and I walked into Milroy's and was recommended a nice bottle, and the sales guy told me all about whisky and how to drink it.
'When I owned a restaurant round the corner, Milroy's began supplying my whisky. It was owned by a wine company at the time, a big corporation, and it was becoming half wine, half whisky. It was losing its soul and breaking my heart a bit. I imagined other whisky lovers felt the same. I sold my restaurant and bought Milroy's to inject some life back into it like it was in the '60s, '70s and '80s.
'Back in the day, Milroy's was famous for people coming into the shop to try whisky, so I wanted to continue that. I put a bar on the ground floor with about 120 different whiskies we serve in the shop.
'I also put a modern twist on downstairs; I'm a big fan of whisky cocktails, so I wanted an underground bar to offer something different. We also have a barrel room where we host tastings for 8-10 people.
'Aside from whisky, one of my big passions is motorbikes. I got into it through watching lots of Sons of Anarchy. I just thought it was cool, so I did an intensive motorbike course, went to a Harley shop and Triumph shop before I settled on a Harley-Davidson as my first bike. I also had a Moto Guzzi V7 for a bit, an old Honda Cafe Racer and a Triumph Rocket 2.3-litre engine monster.
'Before my restaurant, I had a big location house in Shoreditch and used to host a lot of filming and photography shoots. Then one of the main Sons of Anarchy actors, Tommy Flanagan, shot a film there. I showed him I was a big Harley fan and then took him out around London on the bike. We had such a good time; he gave me the gloves he wore for five seasons of the show.

Inside Milroy's: The famous London whisky shop boasts a bar on both floors

'I go to Paris a lot on the bike, but one of my favourite rides is La Rochelle on the [French Atlantic] coast. I've done a lot of riding through France and loads of tours through England, through the Peak District and Lake District with friends in London who are avid riders.
'The last ride I did with a friend, we went from London to Oxford, to the Peak District to Lincoln all over two days. He basically just turned up and said: "Let's take our bikes and just go." And that was it; we started riding and ended up in Buxton in the Peak District, found a cocktail bar in the middle of nowhere, all off-the-cuff.
'It's tough nowadays with the business, but I do try and get out over the summer. But I spend most of my time riding around London; I'll take my girlfriend with me; she likes to ride on the back.
'Every now and then I get to go to Scotland, but my feet are mainly on the ground as we've not been up and running that long. My favourite distillery I've been to so far is Kilchoman, though not on my bike sadly. I went up with Pol Roger, and Andrew [McEachern] and George [Wills] were great and showed us around. We got to pick a quarter cask from the distiller, which we aged in PX Sherry casks for four months before release.
'We'll probably do another round of whisky releases in the middle of this year, but we're very selective – we don't want to pump out bulk. It's a long process and we're quite particular.
'Another passion of mine is tattoos; I'd say I've got around 25 or 30 tattoos. I got my first one when I was 17. I was a young kid and desperate for a tattoo, so I got "Simo" down my spine. It's good to put your name in case you forget. But I don't regret it; I don't think you should regret any part of yourself.
'I've worked closely with a good friend of mine, Laura Ae Taylor, and she designs these insane tattoos. I just love her artwork. Pretty much everything from my mid-20s – ignore my back – are all her designs.
'I've got one on my arm, which is a crown with I Want It All, my favourite Queen song. Freddie Mercury is such an idol; he was a huge contradiction – a gay, Indian [Zanzibar-born to an Indian family], rock-and-roll superstar, all at a time when it was very hard to do. He was all about music and craft, and he didn't want people to know about his personal life. He definitely inspires me and I feel like I want to be a contradiction too, and be able to do whatever I want.

Double act: Simo's Jack Russell Chester is a regular at Milroy's

'When it comes to drinks, Jack and Wallace Milroy are my idols. I was huge fans even before I bought the shop. It was their ethos that whisky should be drunk, not stored, that I really liked. It's all about drinking good-quality whisky and getting interesting bottlings, not just your run-of-the-mill stuff.
'For Japanese whisky I go to Bull in a China Shop in Shoreditch – they're probably the best in London. I also go to Scarfes Bar at Rosewood. I know the bartenders there and they're good lads. The whisky selection is good and it's got a nice atmosphere. Bull in a China Shop is a much more relaxed neighbourhood bar and the selection of whisky is phenomenal.
'You'll often find my dog Chester at Milroy's as well. I used to promote a night in central London and, after one night, I saw two people sleeping rough who had two puppies that were about five weeks old. I had a bit of a go at them for keeping dogs without injections, gave them some cash and picked up one of the dogs and took him home.
'I woke up the next day with a Jack Russell puppy. He's the best thing I've woken up drunk with. He's about six years old now and comes everywhere. He even has his own hashtag on Instagram, #ChesterofSoho. He's always at the bar in our marketing campaigns. Everyone who comes into the bar loves him.
'He can be pretty selective about who he likes, but most of the time he doesn't really care. We have a few regulars who come in and give him treats. He's very cheeky, very clever – he knows he can chat up people to give him treats.
'We're looking to take over the whole building soon, so the bar on the ground floor will move up one floor, and we'd also like to install another tasting space upstairs. I'd also like to build a 35-seater whisky cocktail bar with over 100 whisky cocktails, and re-introduce a tartan room on the second floor. There's a lot of boring paperwork to get through first, but we'll hopefully launch some time in 2017.'