After 44 years at Edrington, whisky maker Max McFarlane recently joined the yet-to-be constructed Ardgowan distillery. He tells Matt Evans what to expect from the Lowland site, and why Scottish people don't know enough about their national spirit.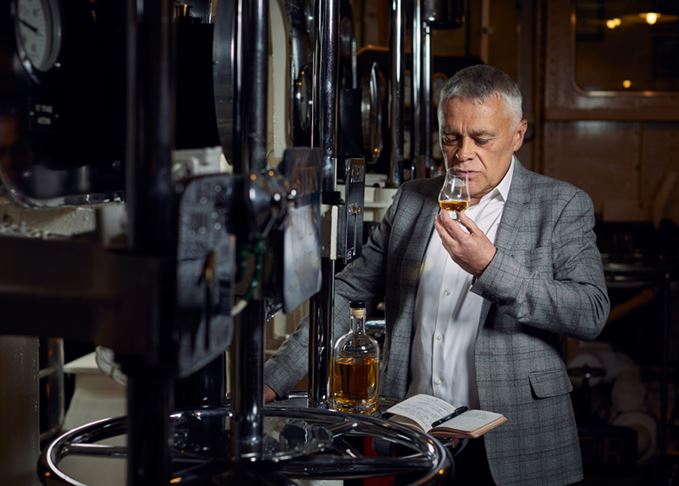 'I'm a great believer that if you don't have great casks, you won't have good whisky. So we have to protect the trees. The industry puts another three trees, on average, back into the soil for every one felled for casks. It's sustainable at the moment, but because of the popularity of Scotch whisky the world over, there's going to be a push for more. Scottish oak is absolutely useless because it's difficult to mature whisky in, so the industry is currently looking at the forests in eastern Europe.
'It was 44 years ago when I first started at Edrington (then Robertson & Baxter). I started in finance, but was soon working in the sample room nosing whiskies from Famous Grouse, Highland Park, Glenrothes, Cutty Sark and Glenturret. I was never on the fence – it was either good enough to go into the blend, or it wasn't. Right up until March this year I was the nose for all of those, conducting sensory analyses and quality control.
'To manage popular and long-running whiskies, the first step is to find a bodega in Spain or a cooperage elsewhere to provide you with casks you can rely on. It's not rocket science – you don't have an industry if you don't have a good ongoing source of casks.
'From there, the next step is to check your new spirit – at Ardgowan, I'm nosing the new spirit running off the stills to make sure it's of a quality I would anticipate will mature really well. Combine the two and with a bit of luck, a few years down the line you'll have a great single malt.

Local terroir: Ardgowan's Inverkip location is said to have a 'unique microclimate'

'Ardgowan, for me, is like a match made in heaven. I live in Inverkip where the distillery project has been proposed, so it was a natural move for me. I expect us to break ground next year and be operational within two years of that, but I'll be able to walk to the distillery from my house.
'Although we are a Lowland distillery, we are on the coast have a unique microclimate as a result of the Gulf Stream. I actually got Mr Willie Philips [former Macallan managing director, now Ardgowan chairman] into the company as well. We now have a great team on board with Willie and Professor Michael Egan – who designed Teeling distillery and headed up the Guinness brewery in Dublin – so we are in great hands.
'Ardgowan's new Coppersmith blended malt is a project I've been looking forward to for a long time. It's a pretty unique whisky – all the single malts going in are from first-fill Sherry casks, which is unique in the industry. It's something I've always wanted to do. I'm pretty sure the next one in the series will be first-fill Sherry cask again, but with a different selection of single malts going into it.
'The things I look for in a great whisky are a great nose, natural colour and non-chill-filtering. First and foremost, before you even drink it, there's the nose. I understand some people can smell very little, but for me, the first thing you look for is great, multi-layered aromas. I've nosed nearly every single whisky in Scotland at one time or another.

Sherry good: Ardgowan's Coppersmith blended malt is McFarlane's first project

'Next is non-chill-filtering. I do believe chill-filtering strips flavour from a whisky, without doubt. Often, non-chill-filtered whiskies are above 48% abv and have no added spirit caramel. If whisky makers add enough water that it goes below that abv, they'll likely need to filter to ensure the whisky remains consistent. However, chill-filtering removes fatty acids in the whisky, which does strip it of some taste.
'Finally, natural colour. Caramel is necessary when you look at huge products like Famous Grouse, when you need the same colour with every bottle and it doesn't add an awful lot to the whisky, so its use is understandable. But I like the idea of natural colour, it's a big thing for me.
'Scottish people need to get educated about whisky, employment, and how important it is for communities. Whisky employs a whole lot of people in communities across Scotland and around the world. It's an industry we cannot do without, but I've had Scottish people in the sample room who've never tasted a drop of Scotch. It's an education thing. The more people understand how important it is for Scottish people and Scotland, the better. We must protect it.'