Kelsey McKechnie, announced last week as apprentice malt master to David Stewart MBE at Balvenie, talks about her scientific background, inspirational mentor and envious friends. Richard Woodard reports.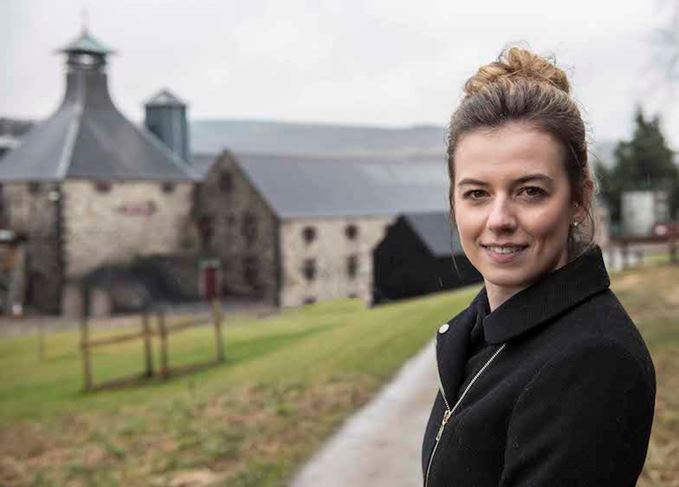 'David [Stewart]'s so easy-going, he's so modest about everything he's done in the industry, it's easy to forget – I mean, 56 years, when you think of everything he's achieved and the dent that he's left in Scotch whisky and continues to leave – because he's so down-to-earth, he definitely gives you the impression that no question's a stupid one. So I can ask whatever I want.
'Where my mum and dad still live, where I grew up, it's a tiny little village in south Ayrshire, just surrounded by hills. We still don't have a phone signal there, so everyone's out on their bikes, building dens.
'I've been in the blending team at William Grant & Sons a few years and it feels like a month has gone by, because you're working on so many different things, and every day's a school day.
'I love being being able to know how we carry out the analysis on our fermentations and on the distillation profiles, and being able to have that insight is something that I enjoy; but when it comes to nosing and tasting, setting up the blends, it's like the first day at the big school.
'Sitting down with David and learning what flavours it is that you pick up and how do you balance out these characters, how do you intensify that Sherry note and the sherbet tingle that you get on your nose – you can't pick that up from a book at all.

Training day: McKechnie says Stewart's experience can't be learned from a book

'David releases all these little nuggets of information, I think, when he doesn't realise it. His openness always strikes me. So, when you move into this team, he's just so down-to-earth you can talk about anything.
'So, for us, talking about the fails in some ways is just as important, because it's learning, so we can see why it doesn't work and why we don't want to take that forward with Balvenie.
'I like a bit of watersports, and a lot of people don't think that in Scotland you can do watersports. You just need your five-mill-thick wetsuit... but I like doing a bit of stand-up paddleboarding, wakeboarding.
'This idea [of becoming apprentice malt master] really came around quite a few months ago, and I've been very fortunate. Like I said, I've been in the right place at the right time in many ways.
'People cannot believe that this is a job. My friends that work in offices or in any other industry, when we talk about a hard day, I don't have the same effect. They say: "Excuse me! That is not a hard day!" So I think we've obviously all got our own little challenges, but everyone's fascinated.
'If we're out having dinner or drinks and they see something on the menu, they love saying: "What's good about this one? How do you make this one?" Because anyone wants to know what happens behind the curtain, don't they?

Learning process: Talking about failures is also important, says McKechnie

'Balvenie is rich, toffee, butterscotch, it's that mouth-coating effect, so it leaves your mouth watering. It's got a little bit of light spice, and toffee notes, the nutmeg coming through.
'David's mentioned that he was an apprentice for 12 years, Brian [Kinsman] was an apprentice for eight, so I'm definitely hoping to trump them both and shave that apprentice period down, but we'll just wait and see.
'Peat Week was really because we wanted to show Balvenie in a different light and, if you like, flex our muscles. We've got our own home maltings, so we wanted to able to really show what we can do. So for us it was a big, puffed-out-chest moment. Look what we can do!
'When I was growing up, my grandad loved a dram or two, and so when we were younger, it would be an occasion or a Tuesday night, or just the weekend and he would be having a dram.
'So you would be accustomed to the smell. When you open a bottle of sun cream, the first thing you think is I really want to go on holiday, or how good was that last holiday? So for me, that's exactly it with whisky.
'When I started in the lab, straightaway I would think: "I love that smell," and just for me it reminds me of being at home and all these great family times. My family aren't actually involved in the whisky industry, but they're just big fans.'