Dufftown distillery Balvenie has launched an unusual, peated style of its Speyside single malt whisky into global travel retail.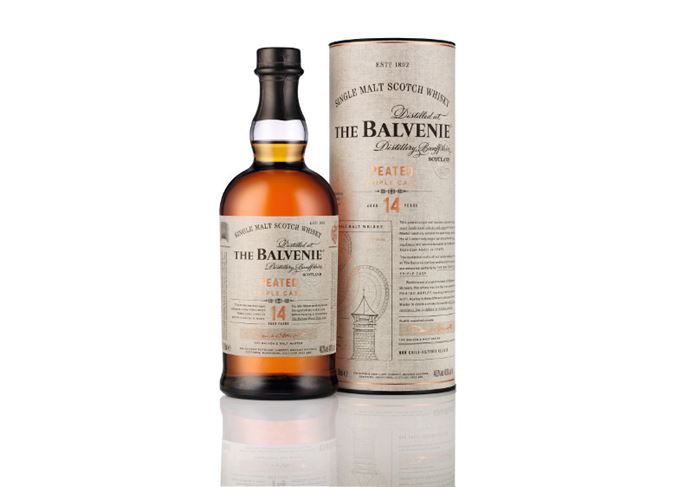 Balvenie Peated Triple Cask Aged 14 Years will be a permanent addition to the distillery's duty free range, and is the result of trials undertaken by Balvenie malt master David Stewart MBE and former distillery manager Ian Millar.
Since laying down an initial batch of heavily peated malt at Balvenie, the distillery has dedicated one week a year, named Peat Week, to the use of peated barley in its production.
Non-chill-filtered and bottled at 48% abv, with an RRP of £65, the whisky was matured in three cask types: first-fill Bourbon, refill Bourbon and Sherry, and is described as a 'classic honeyed whisky enriched with a delicate, sweet and lingering peat smoke'.
'Being able to experiment with different elements of whisky making and stock management is one of the most exciting and important parts of my job,' said Stewart.
'The new Peated Triple Cask is a result of our continued efforts to innovate and trial flavours not typically associated with Balvenie.'
A second smoky expression, named Peat Week after Balvenie's annual peating period, will be released in domestic shops worldwide from October 2017.
According to labels already submitted by the distillery to the American TTB, which is responsible for approving liquor labelling, Peat Week will be a 14-year-old single malt matured in American oak. Further details on Peat Week will be released later in the year.
The new peated Balvenies recall a time when peated whiskies were produced at many Speyside distilleries, including Balvenie. The distillery used locally-sourced peat to dry barley on its malting floor throughout the 1930s, 1940s and 1950s.
'When we first started the experiments it was an incredibly exciting time, as very few Speyside distilleries were using peated malt in production,' said Millar, who is now prestige whiskies specialist at Balvenie owner William Grant & Sons.
'Along with cask type, there's nothing quite like peat to change the flavour profile of a whisky, so it was great to have the chance to undertake these experiments and lay the foundations for future peated malts.'
The Balvenie Peated Triple Cask 14 Years is available in travel retail from June this year.