Following its near demise in the 1960s, pot still Irish whiskey has been making a steady comeback in recent years. In fact, the entire Irish whiskey category has been enjoying increasing levels of success, with Jameson spearheading a dynamic blends segment. But can Irish pot still whiskey ever mount a credible challenge to single malt Scotch? Time to call in the experts. Tom Bruce-Gardyne reports.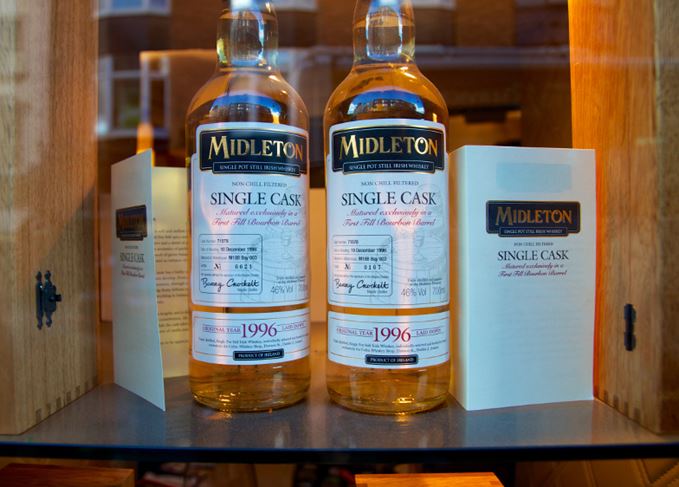 We all know that 'blue is the new black', that 'comedy is the new rock 'n' roll' and that 'gardening is better than sex' (apparently), but where does this leave whisky? Or, to be more precise, Irish pot still whiskey in the context of Scotland's single malts? Of course, they are as different as chalk and cheese, or the colours mentioned above, in the way they are made – and there is certainly no comparison in scale.
And yet Irish whiskey is enjoying a boom, with Jameson a seemingly unstoppable force among blends. So it seems fair to ask if its pot still cousin will ever seriously challenge single malts. Let's not forget that whisky was once a two-horse race between the Scotch and the Irish in late Victorian Britain, and that the smart money was on the Irish. In the words of Peter Mulryan, whiskey writer, television presenter and director of Waterford's Blackwater Distillery: 'It was Irish pot still whiskey, and not Scotch, that turned the world on to whisky.'
As the name implies, pot still Irish can only be made in a pot still from a single distillery, just like single malt. What makes it uniquely Irish is the mix of malted and unmalted barley in the mash bill, which is said to give it a distinctive spiciness. It was the predominant style from the 19th century until the 1960s when it all but died out. Pot still Irish has been recently resurrected by Pernod Ricard's Irish Distillers at the Midleton distillery in County Cork, with brands like Redbreast and Green Spot.
So let's put it to the experts: is Irish pot still whiskey the new single malt?


Yes: Brendan Buckley, strategic and new business director, Irish Distillers
'Clearly we have an ambition with single pot still to one day get to the level of global recognition and scale that single malt Scotch has achieved. That's the long-term vision for Irish Distillers, and I've got reasonable confidence that the whole industry would love to see Irish whiskey – and pot still Irish in particular – reach those levels.
'Now, the reality is we're clearly much smaller than single malt Scotch, and a lot has to happen for us to even begin to get to those levels. I think we'll need many more producers producing and promoting pot still Irish whiskeys. So far, Irish Distillers has pretty much been leading the charge since 2011, when we signalled our intent to put our weight behind this style. But there're now a lot of players, be they multinationals or independents, and quite a few have indicated that they'll be producing pot still whiskeys, so I'm certainly hopeful we'll see more brands.
'Historically, when Irish was considered the pre-eminent style of whisky in the world, the industry had an utter belief that pot still whiskey was the only way to go. It turned its back on fellow Irishman, Aeneas Coffey, and refused to contemplate grain whiskey, which was deemed a "nefarious spirit". Basically we shot ourselves in the foot and a number of factors compounded this. But right now, if you think of all the investment going into the industry, why can't we get back to the level we were once at?
'Looking back, our industry may have been slow to re-embrace pot still Irish, but hindsight's a wonderful thing. Right up to the late 1960s Jameson was a pot still whiskey, but it was decided that consumers were more interested in accessible styles and so it became a blend. That effectively paved the way for the success we see today with Jameson on a roll with sales in excess of 6m cases.
'And being Irish helps. We have a phrase for Jameson: "We're serious in the making, but not in the drinking," and I think that applies to pot still whiskey. We're serious about making great whiskey, but the Irish approach is much more relaxed and involves less ceremony than maybe other whisky types. The likes of Redbreast and Green Spot are absolutely serious whiskeys that sit at the table of the best single malts and Bourbons in the world, but we do it in a more relaxed style.'


No: Lukasz Dynowiak, global brand ambassador, International Beverage Holdings
'I have been lucky enough to visit Midleton distillery and spend time with Brendan and his colleagues, including [former Midleton master distiller] Barry Crockett himself. I can honestly say the level of passion, knowledge and craftsmanship within that team is world-class and on a par with the best Scottish operations. Their wood management struck me as particularly advanced and very apparent when you taste the likes of Yellow Spot – a spectacular dram, and probably my favourite Irish whiskey out there. And the Dair Ghaelach project? Well, it's simply stunning. I love everything about it.
'However, Irish single pot still whiskey absolutely isn't the new single malt in much the same way a tweed jacket is not the new blue blazer. They are distinctly different products, and for me it's the differences, and not the similarities, which make this comparison interesting. It also means there should be more than enough room for both categories.
'Granted, Irish single pot still has been punching above its weight in terms of publicity. It would be easy to conclude that since blended Irish whiskey has been doing well, particularly in the US, single pot still will just follow in those tracks. But experience shows that those tracks may not be right for single pot still whiskey, which is already settling into its own distinct identity.
'I'm sure they will succeed in the long run. As to the scale of that success right now, it's too early to say because the category is growing from such a small base that the sudden rise presented in the wrong context may seem unstoppable. But just to be absolutely clear and keep things in perspective – rich, rewarding, uncompromising single malts will continue to dominate the segment. Scotch single malt whisky is not just the pinnacle of distilling, it's a global icon and for good reasons.
'Single malts, especially those made at smaller, more traditional distilleries, work hard not to lose sight of what made them so successful in the first place following the revival of malts in the second half of the 20th century. Take Old Pulteney, an example I know well. Besides being a masterfully distilled whisky, there is, through the rich, charismatic spirit, a clear line of sight to its heritage, provenance and the ingredients and people who shape it. The whisky speaks of its home in a way that is impossible to define or replicate, and which captures attention everywhere.
'Scottish single malt and Irish single pot still both have stories to tell, but they are different stories. I'm looking forward to more whiskey from my friends in Ireland because more great whisky can only be a good thing.'

In conclusion…
Export figures for the US might suggest that Jameson has been a recruiting sergeant for Scotch single malts, whose sales have doubled in the past decade while blended Scotch has shrunk. If that is at least partly true, those days may soon be over, given the profusion of pot still Irish whiskeys now available. Of course the category will need many more players than Irish Distillers, as Buckley concedes, but it is starting to happen and its success will spread beyond America.
The world is obviously big enough for both single malts and pot still Irish, but the Scots have no room for complacency. Maintaining the quality and diversity of single malts should be paramount, as well as being open and honest, especially on pricing. In the meantime you can't help wondering if Johnnie Walker owner Diageo secretly regrets its decision to swap Bushmills for Don Julio Tequila in 2015.