As whisky maker at indie bottler Compass Box, Jill Boyd has been instrumental in the creation of some of the company's award-winning blends. She tells Matt Evans about her humble beginnings in whisky, why transparency matters, and dishes on one of Compass Box's forthcoming releases.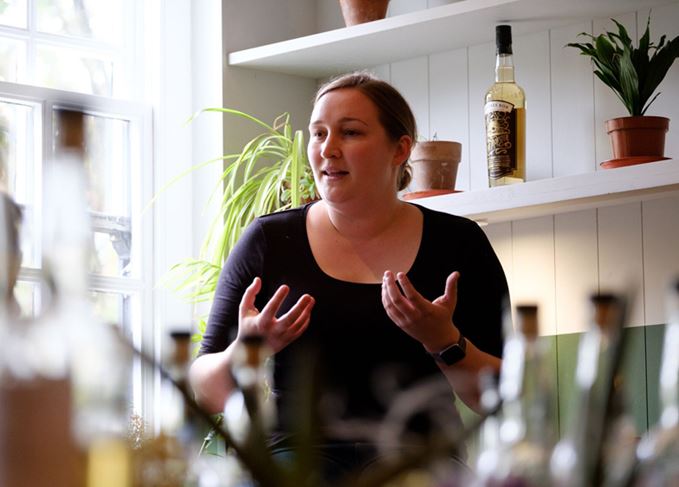 'Mine is not the traditional "I've always wanted to work in whisky" story. I am a really good version of an atypical whisky story.
'I had just finished uni and was working in this fantastic little whisky bar in Elgin [The Drouthy Cobbler] and I just loved it. When I started, they asked: "Do you like whisky?" and I said "No…" They asked "Do you like real ale?" and I was like, "No..." so I wasn't an ideal candidate. But they were kind enough to train me up and give me a love of whisky.
'I remember thinking whisky was not going to be my drink, but I tried a Dalwhinnie 15-year-old and it just turned everything round. That combination of light sweetness opened up a whole new world to me. I just assumed whiskies were always the classic heavily peated stuff, so to taste something so light and so delicate was amazing.
'From there I started getting interested in whisky and just kept learning as much as I could, and very fortunately for me, I was offered some work at William Grant's in Dufftown. I was only meant to be there two months, and I just fell in love. I wasn't going to leave. My main role was day-to-day effluent running and dealing with new make spirit, so for me there was a mystical property to the whisky that was coming out of the casks at the other end.

Inner sanctum: The Compass Box blending room full of 'incredible parcels of whiskies'


'For Compass Box, when it comes to the actual distillation, we don't have much of a say in that, but what we are looking for is what we're filling into. Wood is a passion of John's [Glaser, founder of Compass Box], so he makes sure everything is perfect because wood plays such a huge factor in flavour. That's our big thing. We are lucky to be offered these incredible parcels of beautifully matured whiskies. They just blow you away, and sometimes you'll find one cask and think "this is the one".
'John makes sure the maturation of our whisky is done in the best quality oak. But when people ask us about the components that make up our whiskies, we think it's really important to tell people whether we're using first-fill or refill Bourbon, or what kind of Sherry casks, or where the liquid comes from.
'I think it's fascinating people want to know this minutiae of detail, and it goes to show how far we've come. When I was younger, whisky was an old man's drink. Now people are getting so passionate about different areas of whisky that we wanted to encourage people to say "I'm drinking this Compass Box and this is exactly what's in it." One of the big key factors of our transparency campaign was being able to tell people the facts so they could better understand what they're drinking.
'We don't want [other whisky producers] to feel obligated to follow suit. When we make a whisky, we're happy to tell people what's in it, but we don't want to bully anyone to release recipes that they don't want to. Part of the fun of whisky is the mystery.
'Tradition is really important to us, because it is a big part of the whisky we're making. Innovation is important and tradition is crucial to us, but the main things we look for are new ways to create new blends and flavours. I find it fascinating and we often discuss new ways to innovate within the industry. There are boundaries that are set, and it's something that is put in place to protect Scotch whisky and its legacy, but I think there's so much that can be done within the goalposts that it's really exciting.

Artist's blend: For Boyd, Compass Box's creations are a mix of tradition and innovation


'People have always got ideas. They might come up to us and say, "why don't you make a whisky like this" and then it triggers something. Sometimes it comes from a concept like that, where somebody says, "you should do something heavily peated" and sometimes it's a whisky we try. When I tasted the Muse cask, it was just so incredible we knew we had to use it for something truly remarkable to allow that cask to shine. The whisky has to be beautiful when we put it into a bottle – that's the important part.
'For example, we have this 18-month-old grain spirit from Girvan we've been using to season fresh wood casks. It was always considered a sacrificial whisky, but it tasted of really thick, beautiful caramel. We had an older blended malt recipe we were looking to add that touch of sweetness to; John suggested adding a little bit of the sacrificial grain, and it just lit the blend up. It was the icing on the cake, the cherry on the top. It's our newest whisky, but it's not actually a whisky [as the blend is less than three years old]. It's a grain and malt blend 'spirit drink' called Stranger and Stranger, which is coming soon.
'My favourite experience this year has been travelling up [to Scotland] to try some of our new whiskies. We do a lot of sampling at the bottlers, and they're so kind – they can clearly see me flailing about pulling bungs from casks and they're probably thinking "that lassie needs some help". There's a camaraderie in whisky I don't think you get in other industries, I can't imagine it being this good anywhere else. That's what this industry does, it brings great people together.
'Coming from a small town [Elgin] where most of the fun happens in the pub, living in London's been such a big eye-opener for me. I can go to the theatre and see a play or a movie whenever I want. I like getting into the city, seeing friends and eating as much good food as I possibly can. I don't know where I'm going to get a steamed pork bun in Scotland anytime soon. I've eaten things here I've never even heard of.'