As distillery shop manager, and now private client manager, Mary McGregor has become a familiar, welcoming face for whisky lovers walking through Bruichladdich's blue gates. She tells Felipe Schrieberg about growing up behind the distillery, and a special 40-year-old whisky gifted by Jim McEwan.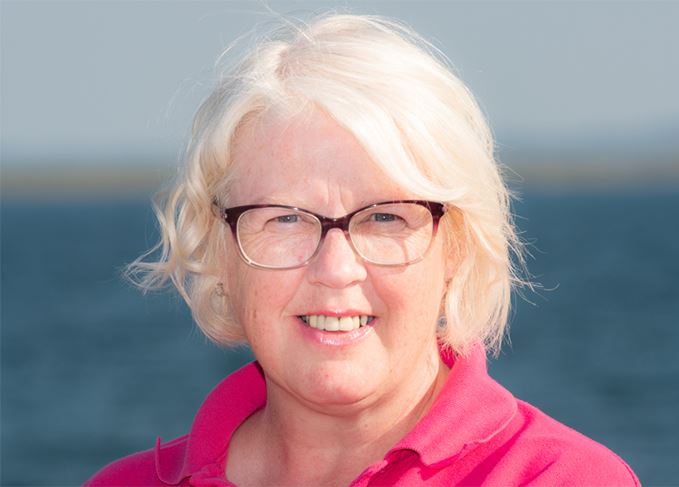 'I grew up on Gartacharra, our family farm located behind Bruichladdich. I've found written records that our family has had it at least since 1830, but it probably goes farther back. The maternal side of my paternal family were on Islay a lot longer than those records too. My paternal McGregor side comes from the Trossachs area outside Glasgow. They're relative newcomers – they've only been here on Islay for 200 years or so.
'The farm is still in the family and my brother runs it. When I was a child it was a dairy farm, then we moved on to cattle and sheep, and now these days it's mostly beef cattle.
'If you ever look at a map of Islay, there wouldn't be much writing on it unless we wrote out the names of all the hills and fields ourselves. Even our fields have names. So right across Warehouse 12 (I call it "The Cathedral"), the name of that field is "Canada". I like the idea that we're growing the barley for Bruichladdich in "Canada".
'My dad used to help take the barley from the pier. It was delivered by boats called puffers which were the lifeline for the island up until the middle of the last century, as they delivered everything to the islands. He would unload the barley off the puffer with one of his beloved horses and take it to the malt floor located above the mill house.
'He also collected the draff from the distillery to feed his cattle. Us children would go along with him to shovel it into the trailer whilst he went upstairs to have a dram with the manager of the time. We would play hide-and-seek in the stillhouse and get chased by the stillman – what an amazing playground to have. Farm children never got holidays, we just worked on the farm helping with all the different and varied jobs to do for each season, which made us very resourceful when it came to playtime. We made a swing using the branches of an old tree, and we used an old barrel and a plank of wood to make a see-saw; hay bales also make a great den.

Family heritage: Even the barley used for Bruichladdich has been grown by the McGregors

'My dad, both my grandfathers, cousins, uncles and aunts have all worked at the distillery and my great-grandfather helped build it in 1881. I started working at Bruichladdich in 2003 although I did assist in the very beginning when Mark [Reynier] bought the distillery. I was mostly in the office, filing and answering the phone. I was lucky to be in the distillery the day the first spirit ran. What an emotional day that was. Jim [McEwan] and Duncan [McGillivray] and all the boys were laughing and dancing around the stillhouse. I'm sure a few tears were shed around the island that day too.
'Since then, we've not really changed since the takeover [Rémy Cointreau bought Bruichladdich in 2012] and we've managed to keep to our values as "Progressive Hebridean Distillers". That idea is our philosophy and we've stuck by it since day one. We're staying true to ourselves.
'Though I worked as the shop manager and senior tour guide for a while (we get more than 30,000 visitors a year), my new role is now private client manager. I get to spend more time with all of our amazing clients, most of whom have been with us on this wonderful "Laddie" journey from the start and whom I now proudly call my friends. There's nothing better for me than to take a client and show them their cask that I sold to them 10 years ago – it's like visiting a member of the family. Some of them have a tear in their eye when they visit their cask; it's a special moment.

Whisky bond: For some of McGregor's clients, visiting their cask is like visiting a member of their family

'Coming back to Bruichladdich is like coming back to visit an old friend – it's a comfort blanket.
'I'll give you an example. I've got a Swedish client that comes over twice a year, and he's lived in the same part of Sweden all his life. When he comes to Islay and the Bruichladdich shop we all know him by his name. When he goes to the Co-op shop in Bowmore he'll get an "Oh gosh you're back again. Where are you staying? How long are you here for? It's so nice to see you," from everyone. He'll drive along the road and everyone will wave to him with the "Islay wave", as it is known. Once he told me, "Mary, I've stayed in the same area all my life and I don't know my next-door neighbour's name". So that brings it home on what it means exactly to visit Islay. It's the people that matter.
'I know that we're the whisky epicentre of the world, and we've got these beautiful beaches, but we also have amazing people, including everyone here at Bruichladdich. We're all superstars.
'My favourite Bruichladdich? The one for me that has the most powerful story behind it is the 40-year-old, as my dad was still working at the distillery at the time it was made. When we decided to release it in 2004 I had also lost my dad that year.
'When we were putting it all together I said: "Gosh, can you believe that those casks have been sitting in Warehouse 6 all my life? I've been walking past that warehouse to go to school, to go on my first date and everything." Jim McEwan then went and came back with a 200ml bottle for me, because he knew I couldn't afford it at £1,000 a bottle. He said: "I want you and your brother to toast this for your dad on Christmas morning". That's exactly what we did, and that's very close to my heart. I can't ever forget that whisky.
'I know this sounds a strange thing for me to say – although I am born and raised here, I now feel I have come home working here. Life is all about the people you meet and the places you visit in your life – I am very lucky in that I get to do all that on my own doorstep.'