Islay distillery Bruichladdich has launched its Rare Cask Series – three single malts taken from the last remaining parcels of whisky distilled in 1984, 1985 and 1986.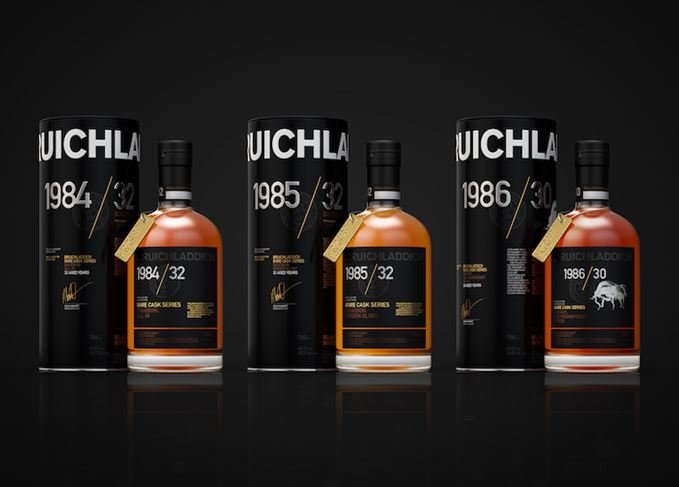 Described by head distiller Adam Hannett as 'the last of their kind', the three single malts have been bottled at 30-32 years old and are available for about £700 per 70cl bottle.
They date from a period when Bruichladdich was owned by Invergordon – a time of reduced production prior to the distillery's closure in 1995 under Whyte & Mackay (Bruichladdich was eventually reopened in 2001 after changing hands again).
'These rare, old single malts are a direct link to our past, to the men who made truly special spirit here while facing very different circumstances to those which we enjoy today,' said Hannett.
The three whiskies include:
Bruichladdich 1984/32 Years Old (3,000 bottles, 43.7% abv): Taken from 12 casks of 'classic' Bourbon-aged Bruichladdich, filled on 31 December 1984 and transferred by former master distiller Jim McEwan into fresh Bourbon casks in 2008.
Bruichladdich 1985/32 Years Old (4,200 bottles, 48.7% abv): Taken from the final 22 casks of legacy stock filled into third-fill Bourbon casks, then re-casked into fresh Bourbon casks in 2012, before a final stint in French oak from 'one of the greatest French châteaux' in 2017.
Bruichladdich 1986/30 Years Old (4,200 bottles, 44.6%): Taken from seven oloroso Sherry butts filled in 1986, then transferred by McEwan into Pedro Ximénez Sherry butts from Bodegas Rey Fernando de Castilla in 2012.
Hannett said of the whiskies: 'They are in their prime, the last of their kind and can never be repeated, never recreated. Nothing quite like them will ever be seen again.'